The Department of Labor's (DOL) Fiduciary Rule is officially, well partly, applicable. Now what? What should you be doing between now and January 1, 2018, when all rules apply? eMoney's overall strategy is to enable advisors to always act in the best interest of their clients, relying on holistic planning, strong relationships and transparency. As such, it seems like a good time to review how eMoney can assist with your DOL compliance efforts.
Building a Framework
Way back in September of 2016, shortly after the DOL Fiduciary Rule was first announced, we at eMoney made an announcement of our own. To help our clients implement stronger compliance practices, we described how we would be building out a Fiduciary Framework comprised of our current and future features. Building upon existing functionality, Fiduciary Framework is our promise to enable more meaningful, advisor-led, client-focused relationships throughout the entire advisor-client lifecycle. With planning at the core of our platform, it was a natural progression for us and quite frankly provides value regardless of the Fiduciary Rule's status.
Here's a snapshot of the many components of the Fiduciary Framework that were launched over the past few months.
Fiduciary Approach Field on Retirement Assessments: This new field helps advisors track which approach they are taking on the account as it relates to the Fiduciary Rule, such as the using the BICE, PTE or Grandfathered provision.

This field is directly integrated into the Fidelity feed for all Fidelity connected accounts, which prevents advisors opening Fidelity accounts from having to manually set it again in eMoney.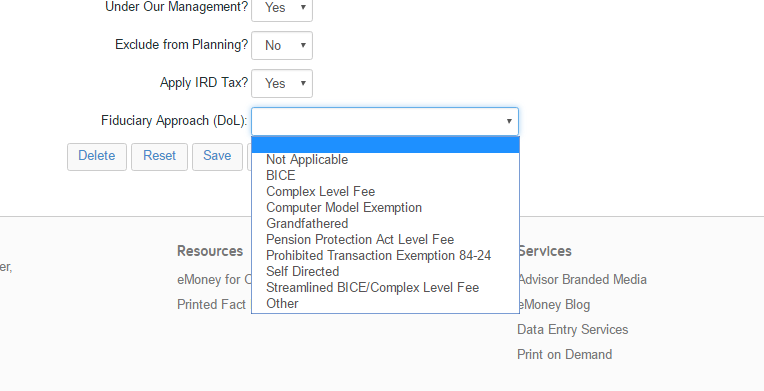 Advanced Analytics:

We added two new charts to help advisors and firms oversee the retirement accounts impacted by the rule that are either under management already, under advisement, or may possibly be under advisement in the future and plan ahead for the fiduciary approach they will be taking.

Retirement Assets Held Away
Retirement Assets Under Management


 We also added a third chart that looks at client data organized by best interest categories to help advisors and firms identify gaps. Paired with Client Onboarding and aggregation, this makes filling in client data and keeping client data up- to-date simple and efficient.
Automated Onboarding: Launched in the fall, this tool helps firms scale the fact-finding process across their organization by engaging the client up front. Gathering and documenting facts that span the client's financial life is the best starting point for proving best interest.
Advisor Assurance: Launched in April, this tool streamlines compliance efforts through the documentation and archival of key advisor-client interactions throughout the entire financial planning process.
Next Steps
To extend our goal of bridging the gap between financial planning tools and compliance software, our efforts don't stop here. Over the coming months, we have several features in the works, including:
Simple Planning: A collaborative, scalable goals-based planning tool that guides advisors through a streamlined planning workflow
401(k) Rollover Tool: A new integration that will help advisors understand when a 401(k) rollover makes sense, which product types are appropriate for a client and which specific annuities align to the client's best interest
Advisor Assurance Enhancements: Continued updates to meet the diverse compliance needs of our clients, such as Manual Account and Consolidated Report Reviews
As the industry shifts toward a focus on holistic planning and the pieces of the Fiduciary puzzle fall into place, we're confident that our clients are positioned for success. For a more in-depth review of our compliance efforts and solutions, sign up for our July 26th webinar: Revamp Your Compliance Efforts in Time for January 1.