The Knowledge Base, eMoney's resource center, features easy-to-use, virtual-learning courses and a library of resources for you and support users in your office to learn on your own time and at your own pace. It's a great way to get started with the platform, train support users, and learn best practices for incorporating eMoney into your business.
You can access the Knowledge Base at any time by clicking on the Help tab on your homepage.
Knowledge Base Courses
First, let's review the Knowledge Base courses. These interactive courses guide you through everything from getting started to creating advanced planning techniques. The Knowledge Base coursework includes whiteboard videos, interactive training modules, and in-app quizzes to test your eMoney knowledge.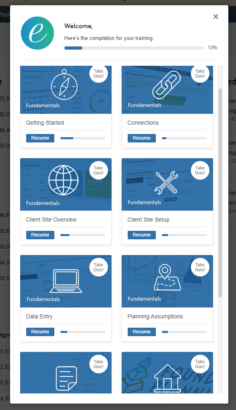 Knowledge Base Resources
The Knowledge Base also provides a library of user guides, video tutorials, and interactive how-to's that help set up your eMoney page, onboard new clients, input data, and create financial plans. Don't miss the Client Facing resources that you can share to educate and engage clients with the Client Portal.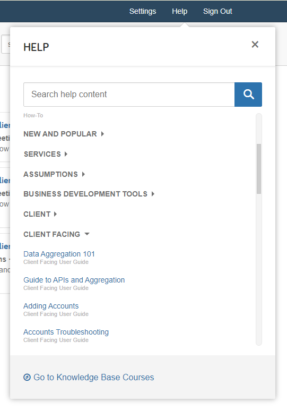 Frequently Asked Questions
Next, take a look at the interactive Frequently Asked Questions (FAQ) module. Developed based on your feedback, this page provides quick answers to the most common questions received by eMoney's Client Services, Financial Planning, and Data Services teams.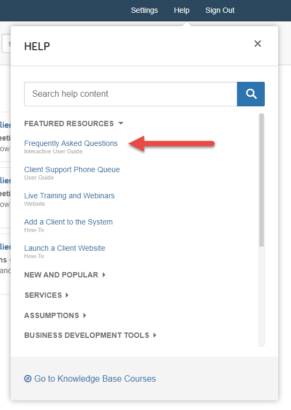 Organized into easy-to-navigate categories like Annuities, Estate Planning, and Monte Carlo, the FAQ lists the most common questions related to each topic.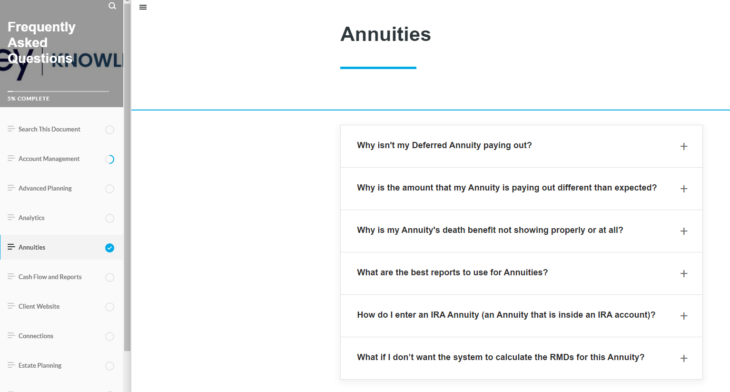 eMoney Services
Finally, don't forget to review the Services section. You can continue your eMoney education with weekly webinars and recorded sessions. The eMoney training team host webinars every Wednesday at 2:00 p.m. ET. Weekly sessions focus on topic overviews, best practices, and new product releases.
Pro tip: Can't attend a weekly webinar? Register anyway. All registrants will receive a webinar recap email with the recording each week.
Have a question? Give us a call at 888-362-8482 or send us an email.