While this tax season may be over, you can still work to reduce your client's tax burden for next year.
Are you able to include your tax-saving strategies in your clients' comprehensive financial plans? As the center of your client's financial lives, eMoney can help.
The introduction of the Tax Cuts and Jobs Act (TCJA) in 2018 has been positive for many clients, but it's important to mitigate any negative side effects. According to an in-app analysis by eMoney's Financial Planning Group, a jointly-filed family with two dependent children could expect income tax reductions of 20% or more.
The analysis compared single and joint filers' income taxes with and without the TCJA inside the eMoney platform.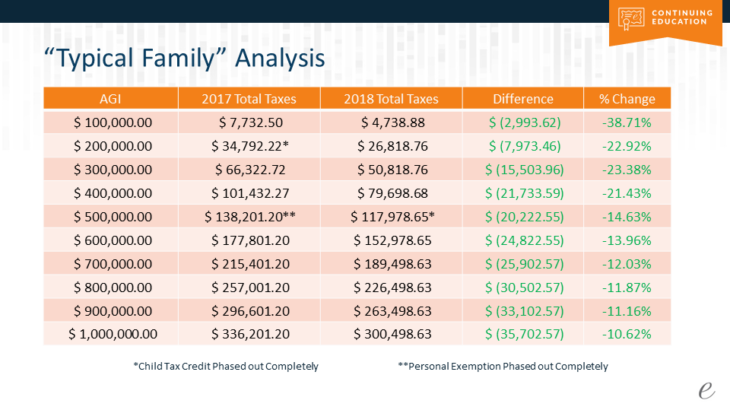 As you can see, almost all clients in our analysis will benefit from the changes. There is a great opportunity over the next few years to show clients the difference that changes to the Internal Revenue Code made to their lives. Use this as a chance to "fill the gap." Think about implementing strategies that bring their taxes to the level they would have without the TCJA: Roth conversions, low-basis harvesting, stock option exercises, etc.
We understand that telling clients, "We're going to increase your taxes this year," is a hard sell. So eMoney also offers robust tax-savings capabilities. With the eMoney Decision Center, you can demonstrate the comprehensive plan benefit of advanced tax strategies in a concise and intuitive way.
You can show clients the impact of transferring highly appreciated assets into a type of Charitable Trust (click here to view). Alternatively, you can present something simpler such as whether to save to Roth vehicles or qualified vehicles.
Most likely your clients' taxes have been filed this year. Although we have until 2025 before the TCJA changes sunset, that doesn't mean we can't take advantage of these strategies in the years to come.
Whether you prepare your clients' taxes, work closely with their CPA, or simply want to strengthen the relationship, eMoney can help engage in tax conversations without delivering tax advice.
To learn how eMoney can help you, claim your free, 14-day trial.