Good news! As more and more investors look to manage their finances with technology, you're in the best position to deliver an unmatched digital experience.
The problem is, as financial technology saturates the market, how do you convince clients and prospects that your technology and expertise offers the best experience?
Enter our Advisor Branded Media. With a library full of compelling videos and presentations, you can introduce investors to your tech solutions with professional and engaging media.
Below you'll find some helpful tips on when to use your Advisor Branded Media to set the stage for both your service and your technology.
Celebrity Narrated
Telling investors about the benefits of your tech can only do so much. In fact, when people hear information, they're likely to remember only 10 percent of what they heard 3 days later. Pairing that same information with visuals increases a person's retention to 65 percent 3 days later.
This is what makes your branded media so powerful. Videos such as Life in a Box, What's In a Number?, and Let's Look Forward educate investors about your technology while crafting an entertaining story to keep their attention. The warm, familiar voices narrating each video sets the tone, encouraging your audience to learn more about your process.
How to use: Embed these videos on your website, use them in your emails, or play them during your client meetings. You can even loop some Celebrity Narrated videos as your phone system's on-hold audio by sending the .mp3 file to your phone system administrator.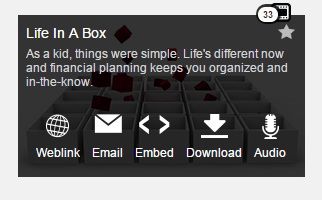 Wealth Management Presentation
The initial client meeting gives you an opportunity to introduce your approach to financial management. Additionally, it's a chance for clients to share the reasons that brought them to you. With the Wealth Management Presentation, you have the tools to explore both aspects.
When we developed the Wealth Management Presentation, we talked to advisors from all over the country to see how they present a typical first client meeting. By taking the best elements of this meeting, we organized our presentation so that nearly any advisor could easily implement it. Throughout the presentation, we've layered in your branded videos and interactive widgets to show investors how their financial picture comes to life with your technology.
How to use: You can play the Wealth Management Presentation online or download it for a Mac and PC. This way, you can take it with you wherever you hold your first client meetings. Whether it's in your office, at an investor's home, or out on the go.
Target Markets
When it comes to niche markets, the way you speak to your audience carries a lot of weight. Right from the first introduction, clients and prospects need to know that you understand their unique goals and challenges.
The Target Market videos carry that message for you. In your media library, we have over 20 audience-specific videos, including Athletes, Business Owners, Firefighters, Veterans and more. These videos allow your audiences to visualize the true value of your technology and how it serves their needs.
How to use: Similar to the Celebrity Narrated videos, you can feature your Target Market videos on your website or social media pages, in your emails, or during strategic prospecting events and client meetings.
Make it Work for You
Distributing your content is equally as important as having the right content in place. So in addition to the suggestions above, look for opportunities within your own marketing channels to get your branded media in front of clients and prospects.
Learn how to use your videos and presentations in the Media Hub. Or, select "Getting Started" also in your Media Hub.