Market Index Historical Data Update
Your capital market assumptions are the core of eMoney's powerful simulation. They are the foundation of all of your client's financial plans. That's why eMoney makes new historical data available quarterly, so you can keep these building blocks up-to-date.
On June 3, we're releasing the latest market index data as of March 31, 2020, to eMoney. Once available, action is required to update your capital market assumptions with this data.
eMoney's Capital Market Assumptions are calculated using historical performance. Due to the recent bear market in February and March, the updated Capital Market Assumptions for 3/31/2020, if accepted, will result in:
Lower rates of return for equity indices.

Several other indices, such as investment real estate, commodities, and high yield bonds, also have meaningfully lower returns.

Lower assumed growth rates in your eMoney projections.

Lower Monte Carlo scores and funding ratios, notably for clients more heavily weighted to equities.

Not all indices saw decreased rates of return. Most bond indices have a slight increase in their rate-of-return.
Learn more about the Q1 2020 Market Index Historical Data update here. We recommend reviewing existing plans and the changes to your capital market assumptions when deciding whether to update your indices. We've also created a short email template you can use to help with communicating this update to your clients.
How can I update my market index data?
Use the Compare / Update Market Indices How-to under Help or follow the steps below to update your capital market assumptions:
To update the market indices across your advisor assumptions:
Select More, then Investment Assumptions.
Click on Model Portfolios.
Select the Market Indices
Click Compare/Update Indices.
Select either Update Advisor Assumptions or Update All My Clients.
To update the market indices for a single client:
Select the client.

Click Facts, then select Advanced.
Go to Assumptions, then Investment.
Choose the Market Indices tab, then Compare/Update Indices.
Select either Update This Client Only.
For more information on your market indices, asset classes, and model portfolios in eMoney, check out Understanding Your Investment Assumptions on the eMoney Blog.
AVAILABLE NOW
Desired Remainder Rate Added to Reports
By popular demand, last month we added the ability to index the desired remaining amount of portfolio assets at death.
The Desired Remainder Amount in Advanced Planning and Leave to Heirs Amount in Foundational Planning can now be assigned to specify a static rate at which this dollar amount should grow.
This month we are enhancing the feature by adding editability to the Desired Remainder Amount indexing rate to all solver reports that have the "Assets Remaining" field:

Advisor Branded Marketing Video Branding
Today's buyers have an abundance of choice when it comes to selecting a service or product, making it critical for businesses to establish and display their brand identity as often as possible.
With the latest enhancement that addresses the number one product suggestion for ABM, advisors can prominently display their brand in video content to prospective and current clients. Advisors will be able to personalize the video player to display their logo so it's visible when embedding a video on a website, as well as anytime a viewer engages with the video.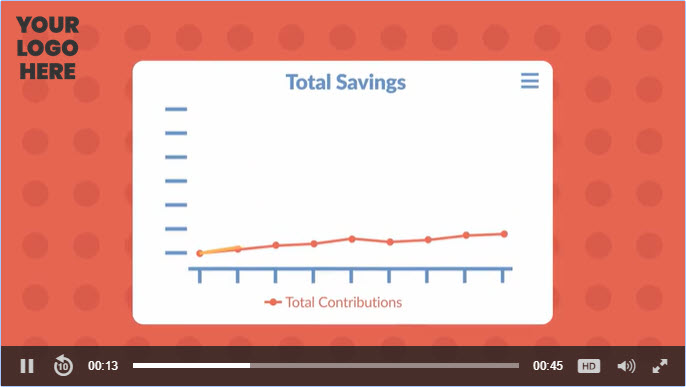 How do I enable branded videos?
Go to Settings on your Navigation bar in eMoney.

Scroll down to Marketing.

Set Include logo on ABM videos to Yes.

Click Save. That's it!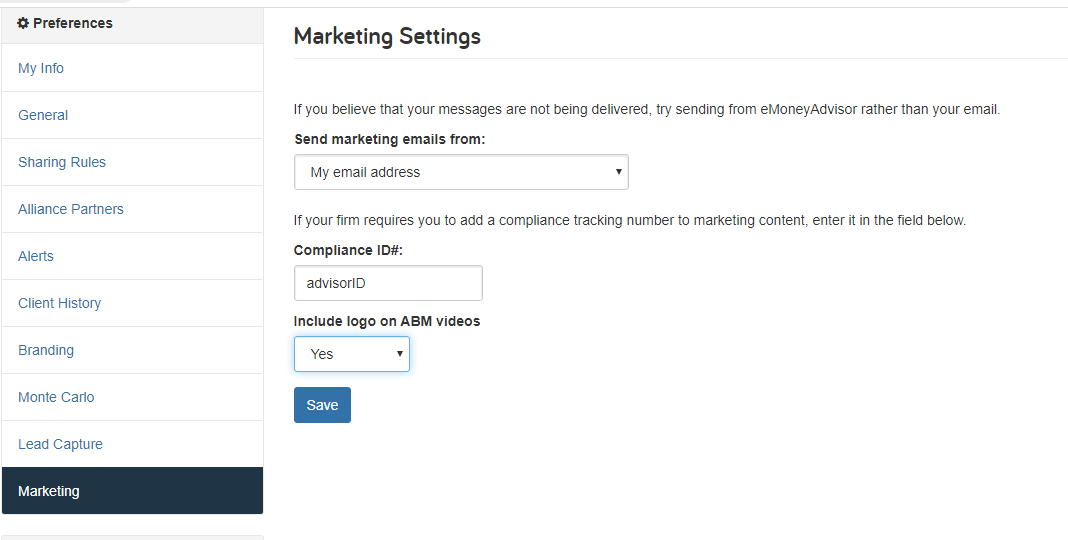 Are you an Advisor Branded Marketing subscriber? This new video branding provides a less intrusive and more intuitive way for the viewer to see the branding as they interact or engage with the video. We welcome feedback for the new functionality and ask that it be submitted through UserVoice so we can track any requests.
Client Portal Spending and Budgeting Enhancements
Building on last year's updates, we've added even more improvements to the Client Portal Spending and Budgeting tools. We've adjusted the Transactions page format to improve readability and streamline access to essential information for your clients. As you can see below, the transactions no longer require scrolling to see all the necessary information, and Pending Transactions are placed automatically at the top of the list.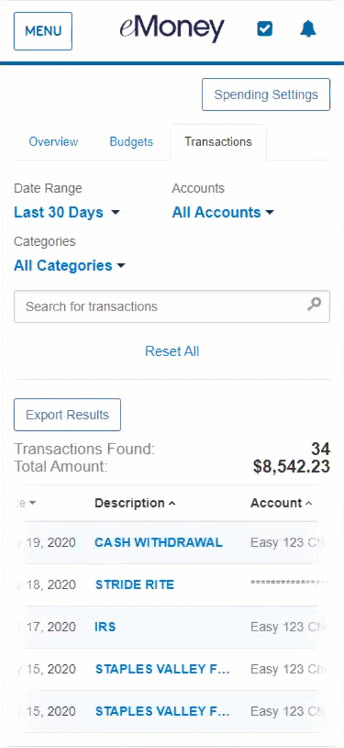 While workflow improvements to search and categories and search make it easier than ever for your clients to find and update the transactions they need.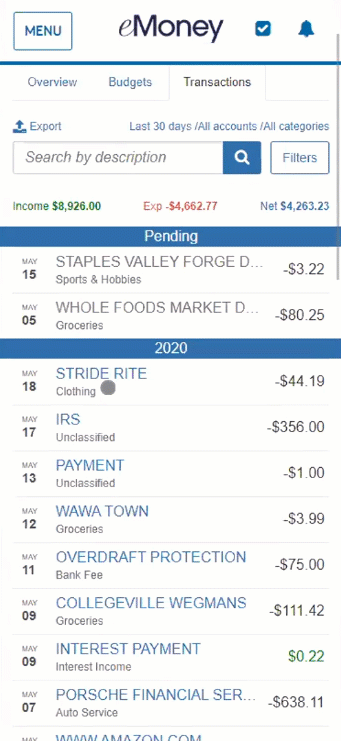 Stay tuned for more updates to our Spending and Budgeting tools later this year!
Client Services Co-Browsing Support
As part of our efforts to improve your support experience, earlier this month, we updated our co-browsing feature.
Now when you call eMoney Client Services, we can initiate a co-browsing session, similar to the advisor-to-client portal screen-sharing, streamlining the process of identifying and resolving your questions.
Since the release of this feature, our beta support team has received positive feedback in regards to issue diagnosis and resolution. We're dedicated to providing best-in-class customer support to our clients and look forward to adding even more efficiencies in the future.
So the next time you call eMoney and need to show something to a representative from eMoney Client Services, start a screen-sharing session!
Stay tuned for more updates coming next month!