Targeted for release this summer, the Salesforce integration will help advisors increase efficiency in their businesses and create a single source of the truth for their client data.
The new Salesforce integration will allow advisors to simplify their client onboarding process, connect with their customer's on a whole new level, and create a single view of the truth for their business by synchronizing key data between systems.
Get ready for the first financial planning application on the Salesforce AppExchange!
---
Simplify Your Client Onboarding Process 
Create a streamlined onboarding workflow and eliminate the need for duplicate data entry:
One-click access to eMoney with single sign-on
Clients created in one system can be automatically generated in the other
Connect with Your Customers on a Whole New Level 
Drive growth by tightly connecting your team and your clients through a 360-degree view of customer interactions.
Notes and Tasks entered in one system automatically update the other
Create a Single View of the Truth
Promote collaboration by updating client information across platforms:
Pre-filled information for new clients
Client information automatically synchronizes between systems
Learn more about everything that syncs between platforms with this guide.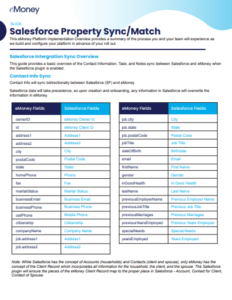 ---
How will it work? 
With the plugin, you can create a client in Salesforce, then click a button to automatically create that client in eMoney as well.
Client information will include their address, phone number, email, and more. And this biographical information will continuously synchronize between systems so that no matter where you update it, it always remains up to date.
There will also be bi-directional sync of Notes and Tasks for a unified view across systems.
So regardless of where a comment is entered, you'll have access to the information when and where you need it.
---
Stay tuned for the Salesforce integration, releasing to the AppExchange soon!