Starting on June 28, Advisors who use the Fidelity WealthscapeSM integration will be able to open accounts from within their eMoney platform.
eMoney simplifies the account opening process by passing some of your clients' contact record data directly to the WealthscapeSM account opening fields, reducing the amount of data entry and streamlining the process. This is the same account opening feature that currently exists in WealthscapeSM, and it will soon be introduced in eMoney to enable the opening of traditional Fidelity brokerage accounts.
Here's how the process will work:
Once the Fidelity WealthscapeSM integration is enabled, simply go to your client's Facts, then click on the WealthscapeSM Account Opening button.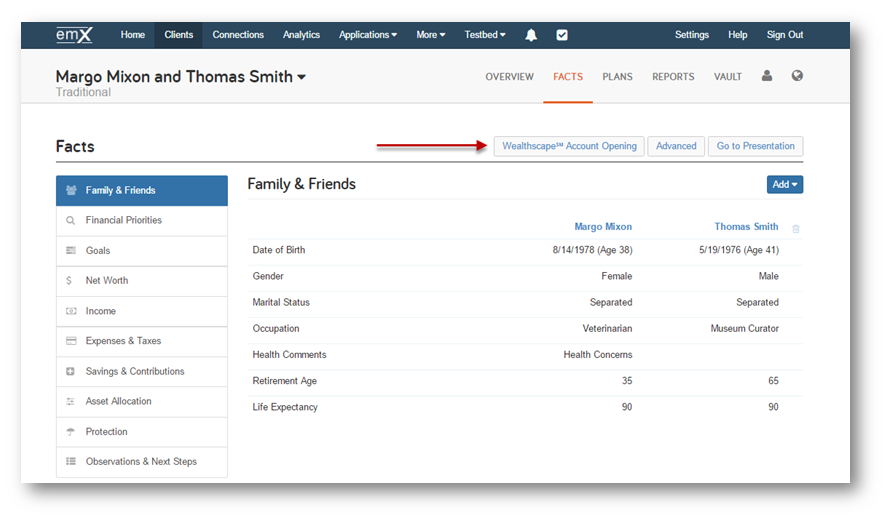 If the client belongs to a household, you will have the option to select who the account is being opened for (primary client, spouse, or both).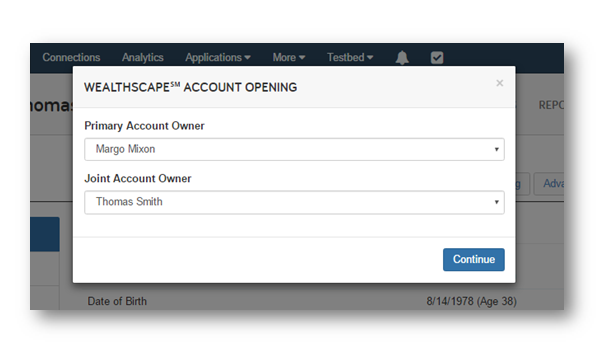 Click Continue to launch the WealthscapeSM account opening flow in a new tab in your browser, where the client's contact information, such as name, address, employment, etc., will be prefilled in the form fields. Simply complete the remaining fields and submit the new account application.
---
Haven't enabled the Fidelity WealthscapeSM integration yet? View our detailed instructions on Enabling the Integration for Broker-Dealers and RIAs, or check out our complete Fidelity Integration User Guide for steps on launching and using the integration.