With education costs rising at unprecedented levels, many of your clients are concerned about the impact of their children's cost of school on the rest of their financial picture. In the eMoney, there are ways that you can help your client plan to ensure their children's college education is paid for.
It starts with the facts, you must input all the relevant information about the client's children and their current education assets are included in the fact finder. This information will include the child's birthday, any current funding sources they have such as a 529 Plan under Investments, as well as what contributions are currently being made on their behalf.
Under Expenses -> Education is where you create the actual college education expenses.  These expenses include the annual expense amount, index rate for the expense and how long they are anticipated to be in attendance.
The worksheet tab under the Education Expense allows you to search by State/Institution and eMoney aggregates information on tuition and related expenses from the National Center for Education Statistics (NCES). An important tip for how the system recognizes whether the child is in-state or out-of-state tuition is the contact information under Family Information-Client & Spouse-Contact Info, by selecting the State here will dictate the appropriate education expense.
On the Funding tab, you can specify the funding sources your client wants to use for the education expense such as a 529 plan. Also if the client will only be using the designated funding sources for the education expense remember to specify that this expense cannot be funded from normal cash flow.
Once you have completed the client's base fact information, the Education Planning section of reports can help you solve any shortfalls the clients may have for funding their child's education.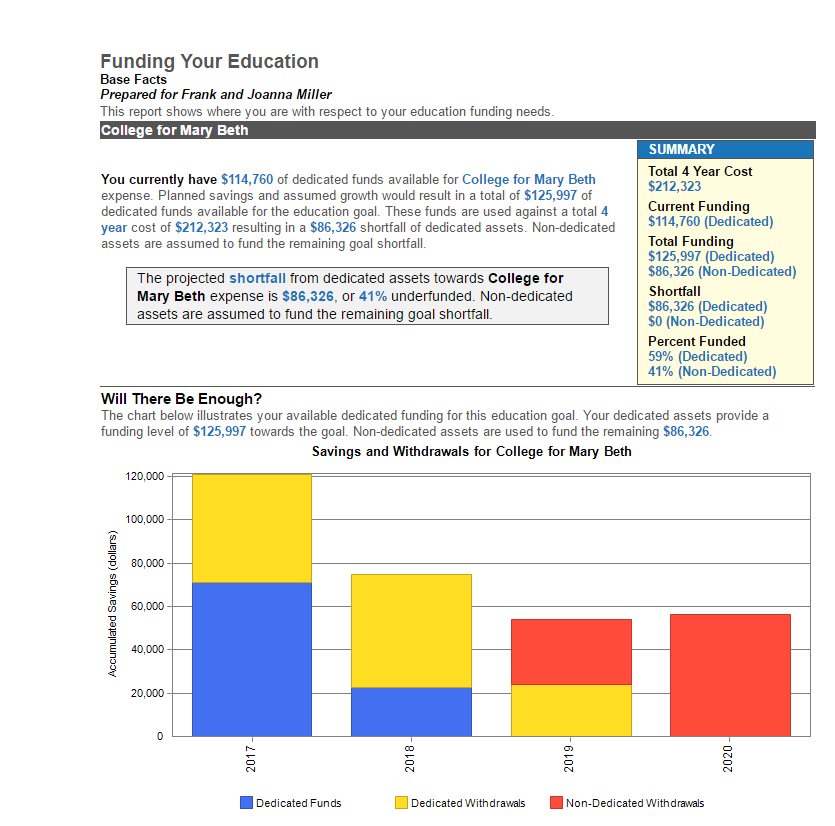 The Funding Your Education report is a holistic view of the education expense and how much of a potential shortfall the client may have.
Options for Meeting Your Needs is another great report that will give you up to three solves for the education expense. The Options for Meeting Needs report will solve for the projected shortfall by saying how much the client must save more each month, how much they should put aside now and the maximum expense they can afford with their current rate of savings.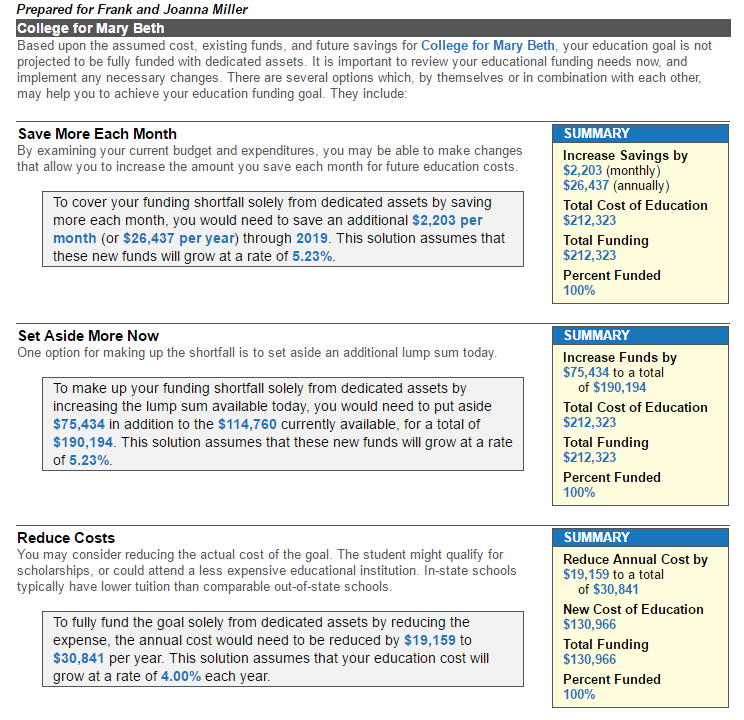 After checking all the appropriate reports, you can also use the Advanced Planning Tool under the Plans tab to make any further recommendations. eMoney is a great tool to show financial security for your client's children education expenses and illustrate how they can reach their goals.