We know that your clients' experience with you and your staff is just as important as their experience with the technology you offer. And with new features like the new Goals tab and redesigned Client Homepage, we're constantly working to improve the way your clients interact with their finances – and with you!
But with hectic schedules, your clients don't always find the time to learn their way around their Client Portals.
So we're simplifying the way your clients learn to navigate their Client Sites with interactive How-To's. Functioning just like the How-To's on your Advisor Site, your clients will have immediate guidance on the most common tasks on their Client Site, like connecting accounts, uploading Vault documents or entering living expenses.
With How-To's on the Client Site, your clients will have access to answers to their most common questions at their fingertips, so you and your support staff will have more time to focus on what matters most.
---
What are How-To's?
How To's were released for the Advisor Site last year, adding on-screen guidance designed to simplify the process of using eMoney for new and experienced users. Now we're bringing that same functionality to your clients.
Client Site How-To's will allow clients of all learning styles to quickly and easily understand how to navigate and operate their personal financial management websites.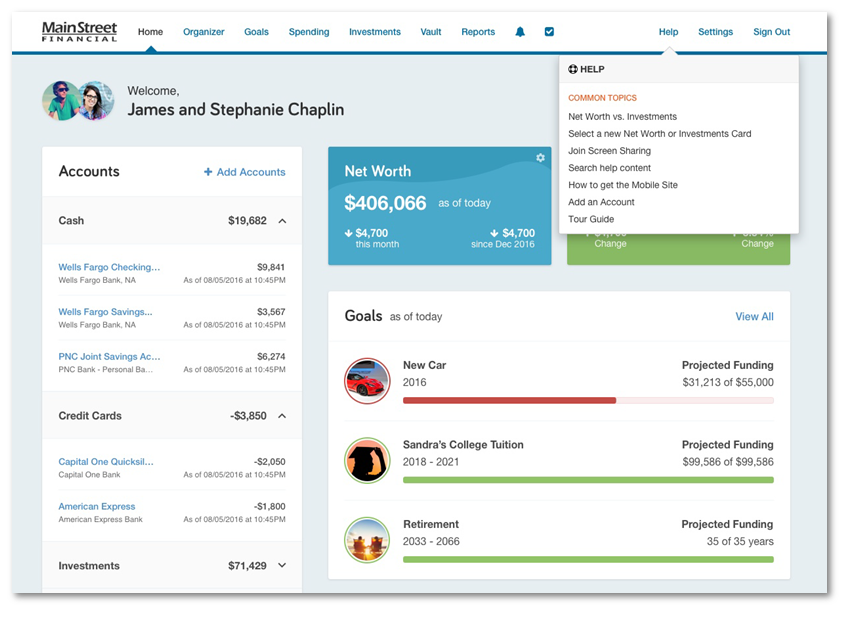 Here's how it works:
Clients can start by clicking Help and – depending on where they are on their Client Site – their How-To list will populate with guides relevant to the content on each page.
Then click the How-To to activate the interactive guidance and follow along with each step.
That's it!
Once the guided action has been completed, the How-To will automatically close, allowing your client to continue navigating throughout their Client Site without interruption.

Here are some of the Client Site How-To's releasing early next year:
Home

Join Screen Sharing
How to get the Mobile Site
Add an Account
Organizer

Upload a Picture
Edit Your Personal Information
Add an Income Source – Organizer + Editing Options + Income Tab
Enter Living Expenses – Organizer + Editing Options + Expenses Tab
Add an Account – Organizer + (Editing Options OR Connections) + Accounts Tab
---
What should I tell my clients?
Let your client's know what's coming next year with this client-facing email template.
---
Stay tuned for more information on Client Site How-To's releasing Q1 2018!