We kicked off our eighth annual eMoney Summit yesterday with one purpose—to help you become better financial planners.
To make it happen, we listened to your feedback from our first ever all-virtual event last year and added more on-demand sessions, new opportunities for networking, and shorter sessions aimed to fit into your schedule. If you were there for day one and want a refresher, or you're at your office and weren't able to attend this year—check out our Summit opening video and a short recap of our day one keynote presentations below.
Planning with Purpose with Ed O'Brien and Matt Schulte
During his opening presentation, eMoney CEO Ed O'Brien reflected on the challenges of the last 18 months. He shared that whether there's a pandemic, an election, new legislation, economic challenges, social justice reform, or any other event, we know you are committed to evolving and getting even better—not just for your clients but for yourself.
Ed touched on "the great reset" and how millions of people of all ages and demographics are reevaluating critical facets of their lives—where they live, what they do for work, how much they need, and how they spend their time. People are asking themselves critical questions and the eMoney team is paying close attention, which leads us to this year's theme—Planning with Purpose.
Ed discussed how purpose is the fuel for intention and how having a clear sense of purpose can make you a better planner and help drive better outcomes for you and your clients.
Ed then introduced Matt Schulte, our Head of Financial Planning, who further explored the theme Planning with Purpose and where financial professionals find their purpose.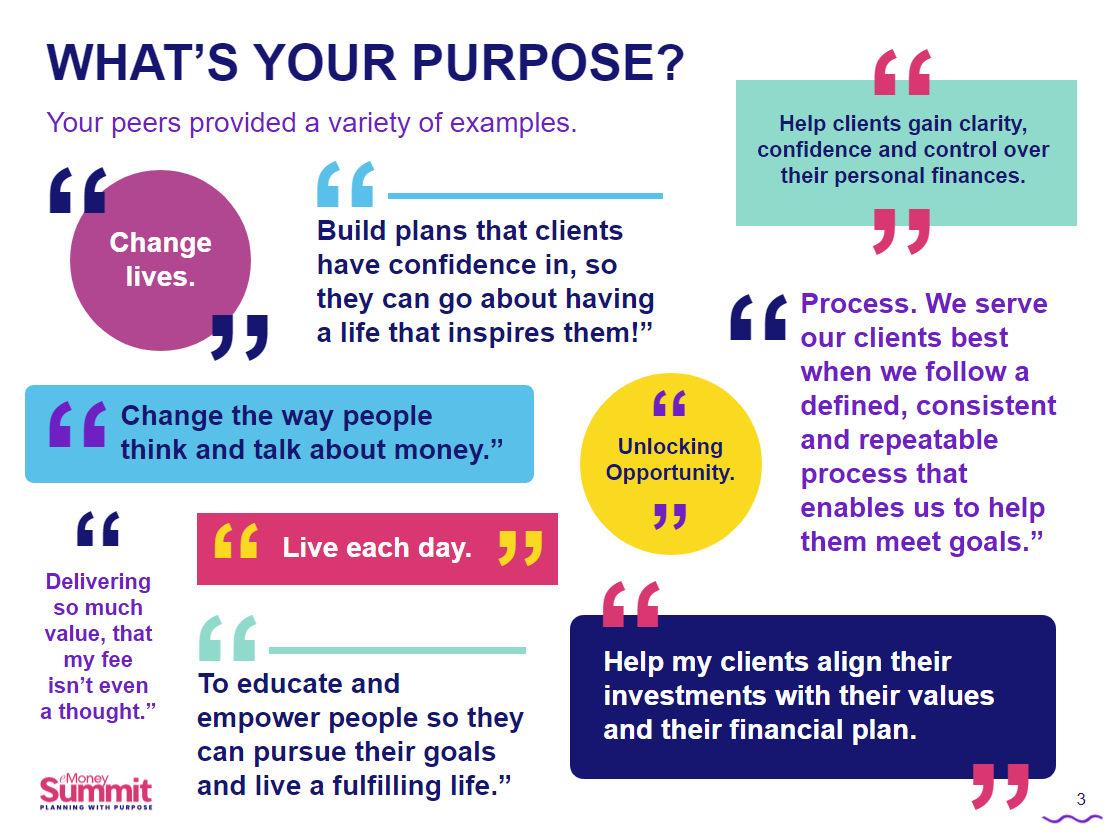 Matt shared new research from hundreds of advisors and end-clients about what motivates them, what they're expecting from planning, and where they find the most significant value. Included in these findings is what end-clients want when they seek an advisor and where there is a clear overlap between the motivations that bring you fulfillment and the outcomes your clients are seeking.
He continued by sharing real opportunities to transform how you engage clients and build stronger relationships that can bring increased fulfillment to you and your clients.
As he wrapped up his presentation, Matt encouraged attendees to reflect on their purpose throughout the next few days at Summit before introducing Head of Product Jess Liberi whose presentation shared our vision and roadmap for 2022 and beyond, designed to help you serve even more people and deliver more plans.
Product and Company Vision with Jess Liberi
Jess Liberi provided insight into our product strategy and roadmap and shared how looking back on our past helps eMoney power into the future. She reminded attendees of the eMoney mission—helping people talk about money—and our vision—financial peace of mind for all.
And she stated firmly how our mission and vision are driven by our purpose, which is at the center of all the decisions we make and all of our actions. How we continuously look for opportunities concerning our "why," which is, of course, closely tied to each of yours.
Jess shared an exciting way to identify and live by your purpose through a Japanese concept called Ikigai (ee-key-GAHY).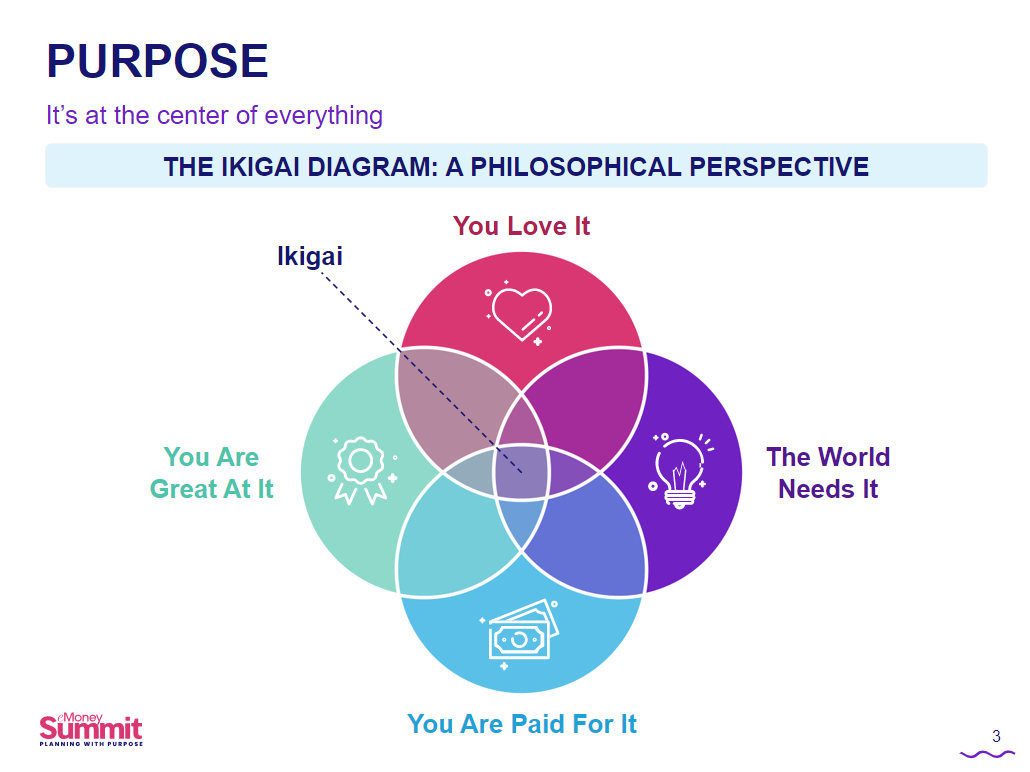 She shared how at eMoney, planning is at the core of everything we do and is central to our purpose. And how, based on what you've told us, you need solutions to enable more planning in more efficient, scalable, and easy-to-use ways.
For this reason, our goal is to provide advisors with solutions that allow them to serve their clients most effectively, balancing one-on-one interactions with more automated, self-service, and digitally-enabled experiences.
Jess showed insights into our planning roadmap, which is shifting the center of our planning experience into the Decision Center—to create that one true hub for all your planning workflows and activities, and makes creating, editing, and presenting plans even more effortless.
eMoney is committed to helping you do more planning by building solutions that support identifying the most impactful opportunities for your clients, enabling your clients to understand and frame important decisions, and automating key activities throughout the entire planning process.
We'll continue to elevate and streamline our planning platform, creating more seamless, engaging, and digitally-enabled experiences in support of helping you recalibrate your conversations, with a focus on both planning and action—so you can focus on your unique purpose.
---
Safe to say we covered a lot of ground on Day 1! Learn more about keynote speakers Marci Rossell and Jay Shetty in our Day 2 recap.