When this year's theme, "Power to the Plan," was chosen back in 2019, we had no idea where 2020 would take us. We began planning the 2020 Summit, as always, with one commitment—to improve upon last year based on your feedback. While we would have loved to see everyone in person this year and despite the challenges that every one of us has encountered, we're proud to deliver the 2020 eMoney Summit as a virtual event for the first time.
If you were there for day one and want a refresher, or you're at your office and weren't able to attend this year—check out our Summit opening video and a short recap of our day one keynote presentations below.
POWER TO THE PLAN with Ed O'Brien and Matt Schulte
During his opening presentation, eMoney CEO Ed O'Brien reflected on how the unplanned events of 2020 reinforce the power and value of planning.
Ed shared research from the eMoney COVID-19 Pulse Survey, which showed clients with plans not only felt more prepared but were also more satisfied with their relationship with you. Most notably, and maybe even surprisingly, 93 percent of financial professionals surveyed felt the current environment had a positive impact on client relationships—probably because clients with a plan felt less discomfort and anxiety.
That's POWER TO THE PLAN!
Ed introduced Matt Schulte, our Head of Financial Planning, who provided even more depth on the power of planning and emerging trends in the advice industry. He summarized how the role of an advisor is changing and how new generations are shaping the market. And while sometimes the pace of change occurs as a slow evolution, other times it seems more like a revolution.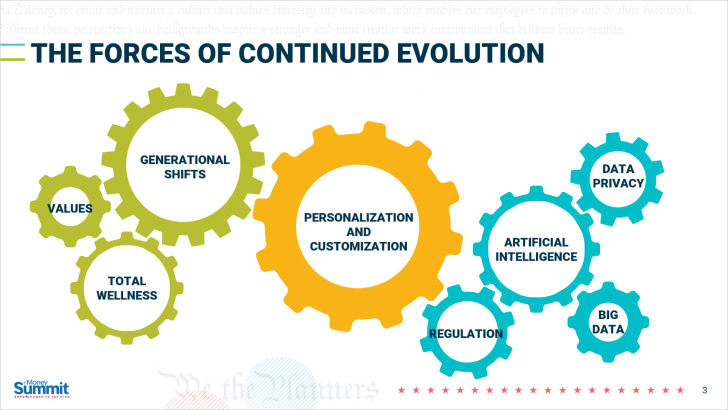 Matt dove into the factors that are going to shape the advisor of the future, including the growing importance of artificial intelligence and big data, which allow the advisor to save time and focus on high-value tasks. He also notes the importance of understanding the next generation of clients' needs and expectations and incorporating total wellness into your practice. He makes it clear that, most importantly, one must be open to the idea of a revolution.
EMONEY COMPANY VISION with Jess Liberi
Head of Product, Jess Liberi, provided insight into our product strategy and roadmap and shared how looking back on our past helps eMoney power into the future, building solutions to deliver that exceptional client experience.
She stated firmly that financial planning has, and always will, remain at our core. And we will continue to surround that planning experience with a platform of additional capabilities that improve your ability to manage your practices more efficiently, enabling you to drive more and more engagement and collaboration with your clients.
Jess also discussed how, as we think of the future, we continue to enhance our planning experience with a focus on four key pillars:
She defined our vision for the future of eMoney as one that centers on you and the increasing demand for advice across our industry. eMoney is looking to support you and your clients' needs throughout the entire client lifecycle.
"By building upon the strong legacy of the past 20 years, and by continuing to look ahead to the future, with a focus on productivity, on personalization, and on showcasing your relevancy and value, we are confident that our technology will continue to play a significant role in driving your success going forward, and will be the engine that provides the power to YOUR plans for the next 20 years." – Jess Liberi, eMoney Head of Product
eMoney helps advisors fundamentally change how they run their practices and interact with clients—making them more productive, fostering more personalized relationships, and delivering more and more value to their growing client bases.
Recent enhancements and eMoney's product roadmap focus on these themes include:
Productivity

Advanced Planning: Enhancements to the Decision Center in eMoney's leading financial planning solution include interactive cash flow, estate and monte carlo views. As well as the addition of state-specific inheritance taxes, followed by estate taxes coming soon.
Foundational Planning: Additional retirement goal and life insurance gap analysis enhancements to continue to streamline the planning experience.
eMoney Access: New developer storefront contains hundreds of REST-based APIs and thorough API documentation and use cases to deliver more powerful integration options. In 2021, the APIs will be available to both select third-party partners and a broader range of eMoney clients.

Personalization

API-Based Connections: Over 1.5 million accounts have been transitioned to API-based aggregation methods in the last 12 months. In 2021, nearly 70% of all end-client aggregated accounts will be transitioned on the platform.
Incentive: Formerly known as Project Avocado, the client-led financial planning and wellness mobile application is anticipated to launch in January 2021.
Client Portal: Future enhancements include features that further involve end-clients in the planning process, providing them the ability to directly explore how making specific changes can impact their financial plan.

Value-Add

Advisor Branded Marketing: Updates to eMoney's digital marketing solution include end-to-end, fully automated lead generation campaigns, a redesigned Advisor Branded Marketing dashboard and enhanced campaign analytics.
Getting Started Onboarding Program: New program offers advisors personalized onboarding and strategically aligned training resources to help them become acclimated to the eMoney system.
That Makes Cents Podcast: Launched in 2019, the podcast features discussions with industry experts and financial advisors about financial planning trends, technology, behavioral finance and more. Season 2 is expected to launch in the fall.
THE GEN-SAVVY FINANCIAL ADVISOR with Cam Marston
Expert on the generations, Cam Marston, presented how the next generation of financial services clients has arrived. In his impactful presentation, he discussed how they buy, the value they place on different types of information, their definition of "expert," how they apply it to financial professionals, and what they want financial professionals to teach them.
For decades, financial services professionals have focused on demographic groups moving into and past retirement. The Matures (born 1945 and prior) and the Baby Boomers (born 1946–1964) are the generations that the financial services industry grew up with, and traditional business models defined their client relationships.
Cam explains how the new generations have different economic and cultural experiences and are moving into age ranges that make them prime markets for investments, retirement planning, insurance, and other financial services.
Cooking with Chef Betty Fraser
Betty Fraser from Season 2 of Top Chef, led a 25-minute cook-along where she invited attendees into her kitchen as she walked us through the steps for preparing a delicious brown butter parmesan chicken pot pie with roasted fall veggies.
Attendees will receive an eMoney cutting board and chef's knife as a gift for registering, along with a grocery list and recipe for the festive fall dish.
We hope you get a chance to make this recipe for your family and friends soon or for the upcoming holidays! If you do, make sure to share a photo including the hashtag, #eMoneySummit20.
We can't wait to see how yours turns out!
---
For real-time updates on the Summit, follow eMoney on Twitter (https://twitter.com/eMoneyAdvisor) or search the hashtag #eMoneySummit20.