Client Site Explore Mode on the Client Site Goals Page
Released December 7, 2021
Your next meeting isn't for another few months, but your client's finances are top of mind. She's been toying with the idea of purchasing a beach house for years where she can vacation with her future grandchildren. And with her daughter's recent pregnancy announcement, she's ready to do whatever it takes to make her dream a reality.
So she logs into her client portal and adjusts her savings goals to see how it impacts her readiness to make the purchase. She has some other ideas and questions she's jotted down to discuss with you. She's ready to enter her next meeting engaged and empowered to discuss her financial goals.
Meanwhile, alerts keep you notified about her changes and you're prepared with a corresponding plan created on the advisor side based on her aspirations so you're just as ready to have a productive, meaningful conversation.
With the latest Explore Mode release to the Client Portal, this interactive scenario can come to life for you and your clients.
Explore Mode not only provides a sandbox where clients can test and explore the impact of changes on their finances, but it also creates a corresponding Client Site Planning Explore Mode Scenario under Plans on the advisor side of eMoney. This Explore Mode plan gives you even more insight into your client's financial priorities that will help you spark conversations with them about their goals.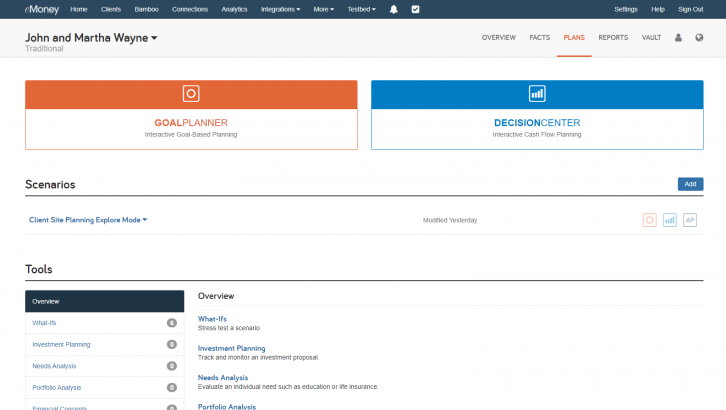 How does it work?
When Explore Mode is enabled, end clients will see a new toggle option for Current Goals or Explore Mode at the top of the Goals summary page. Clients can simply toggle over to Explore Mode and they'll gain the ability to edit their current goals.
How do you enable Explore Mode?
Explore Mode is disabled for existing Client Site users by default. To enable the feature for these clients follow the steps below.
From the Client Overview, go to Manage Client Website and select the Goals page settings. Here you can toggle Explore Mode to Enabled before clicking Save Changes.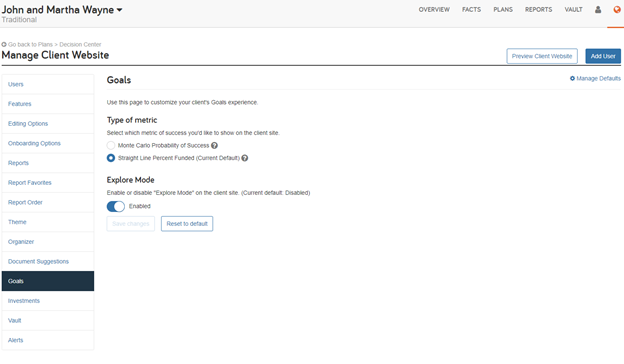 Note: Explore Mode setting is enabled by default for all newly created clients after December 7. You can also update your default settings by clicking Manage Defaults on the top-right of the page.
How can I tell my clients about Explore Mode?
To help you communicate this new feature to your Client Site users, we've created a client-facing email template and user guide you can repurpose for your firm below.