Enrollment into 2-Factor Authentication (2FA) is now required for the Advisor Site and Client Site. Advisors, their support staff and clients currently opting out of 2FA will be prompted to enroll the next time they log in.
But don't worry – neither you nor your clients will be required to enter a security PIN every time you log in.
Our "Standard Security" default uses a risk-based approach that intelligently monitors your and your clients log in activity, which will typically only require a PIN upon your first login.
With online security threats and large data breaches happening more often every year, it's important to ensure your clients that their cutting-edge wealth management technology employs the highest security measures in order to safeguard their financial data.
Visit this page learn more about mandatory enrollment in 2FA for clients or watch our recorded webinar below.

---
 Why are we requiring all advisors and clients to enroll?
eMoney is truly looking out for our clients' best interests in deploying this technology, as this is the type of risk-based authentication that large financial institutions leverage in order to protect their clients. We know that the greatest risk to you is the security of your data and your clients' data. We strive to be at the forefront when it comes to a rapidly-changing security environment.
Rather than allowing advisors and clients the opportunity to opt-out, we are offering two levels of Security: Standard, which is adaptive and will only prompt for a PIN when a login exceeds a risk score threshold (which rarely occurs); or High which is available for those who place a premium on security and want to be prompted at each login.
What is the difference between "Standard Security" and "High Security"?
Standard Security uses adaptive risk-based scoring, which only requires you to enter their PIN when "high-risk activity" has been identified. Standard Security is offered to advisors (and your clients) by default– even if you've previously enrolled in 2FA – and typically only requires a PIN upon first login. It is only triggered again if our system detects a security threat. This option is best used if you'd like enhanced security but prefer the convenience of avoiding a PIN each login.
High Security will require you to enter your PIN every time you log in. This option is recommended if you prefer the highest level of security available.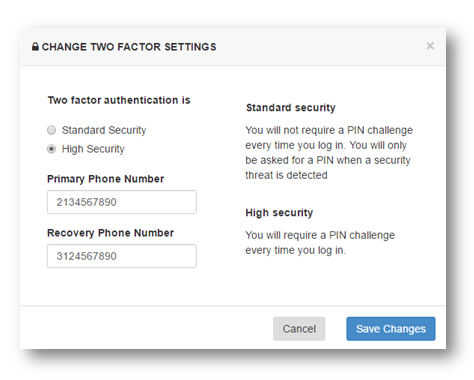 How is "high risk activity" defined?
Standard Security uses risk-based authentication to create a user profile, and looks for unusual and suspicious login activity. Users who are accessing eMoney in a manner consistent with their typical behavior will rarely be prompted to enter a PIN. However, there are certain circumstances where you may inadvertently trigger our security system on their own.
For instance, if you log into your website for the first time from a new device, or attempt to log in while traveling outside the country, you may be required to enter your PIN.
If I'm already enrolled, how can I switch to High Security?
By default, you will be updated to the new Standard Security setting, which will only require a PIN upon first login and if "high risk" behavior is identified. If you'd like to change the security option back to "High Security," simply go to Settings on your Advisor Site Navigation Bar, then click into 2-Factor Authentication under Security to toggle between the two security options.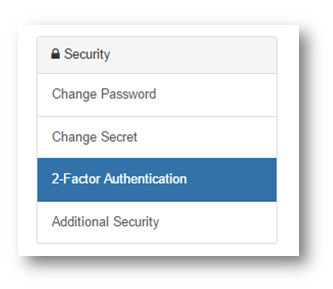 Are international phone numbers supported?
With this update, international phone numbers are supported. Anyone with an international phone number must enter + and the country code before their phone number.

---
Questions about our 2FA enrollment update?  Call us at 888-362-8482 or send us an email.