By now you've probably heard that the next generation of Advisor Branded Marketing – a complete marketing toolkit that arms you with all the resources you need to attract, convert, and retain clients – is coming September 19!
Advisor Branded Marketing doesn't just build on the existing Advisor Branded Media content library, it lets you modernize your marketing so you can elevate your brand and build a digital presence to meet prospects and clients where they are online.
As an ABM subscriber, on September 19 you'll have access to new tools, content and campaigns. Keep reading for more on what'll you need to know to hit the ground running.
Your branding has been unified.
With the new Advisor Branded Marketing, your marketing operations will be fully integrated into your eMoney wealth-planning platform. This means the Media Editor is being removed and your branding and disclaimer will be tied directly to your eMoney Branding & Disclaimer within your Advisor Site Settings. Introduction animations will also be removed from your videos.
Moving forward, your video links will play on a custom webpage that includes the video, your branding and matches the theme of your Client Site.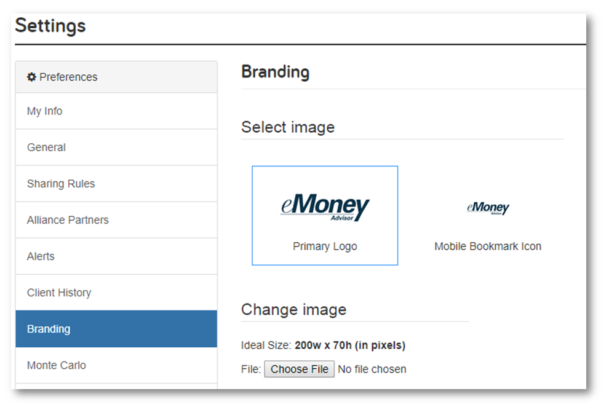 Your video URLs are going to change.
Don't panic, they're not changing immediately and your existing video links will work for now. As part of the release your video URLs will be updated. Any videos you currently host on your website or have embedded elsewhere should be updated to these new URLs before the end of the year. Existing video links will expire after December 31, 2017.
To access your new URLs simply locate the video you will be updating and click the Share link. You will then have the option to Get a link to embed. Use this embed link to update any videos on your website.
You'll have access to a variety of new features.
With Advisor Branded Marketing, you're going to get access to a TON of new content. We're introducing over 2500 new pieces including articles, client-facing PDF's, eBooks, social media posts, emails and more.
But new content isn't all we're including in Advisor Branded Marketing. Here's a preview of what you'll have access to.
Content Campaigns are bundles of content that work in unison to attract, nurture, and retain a specific target market. Each month, you'll receive a new content campaign featuring a variety of content from eBooks, videos, social media ads with suggested content posts, and emails — making it easy to deploy a campaign across multiple channels.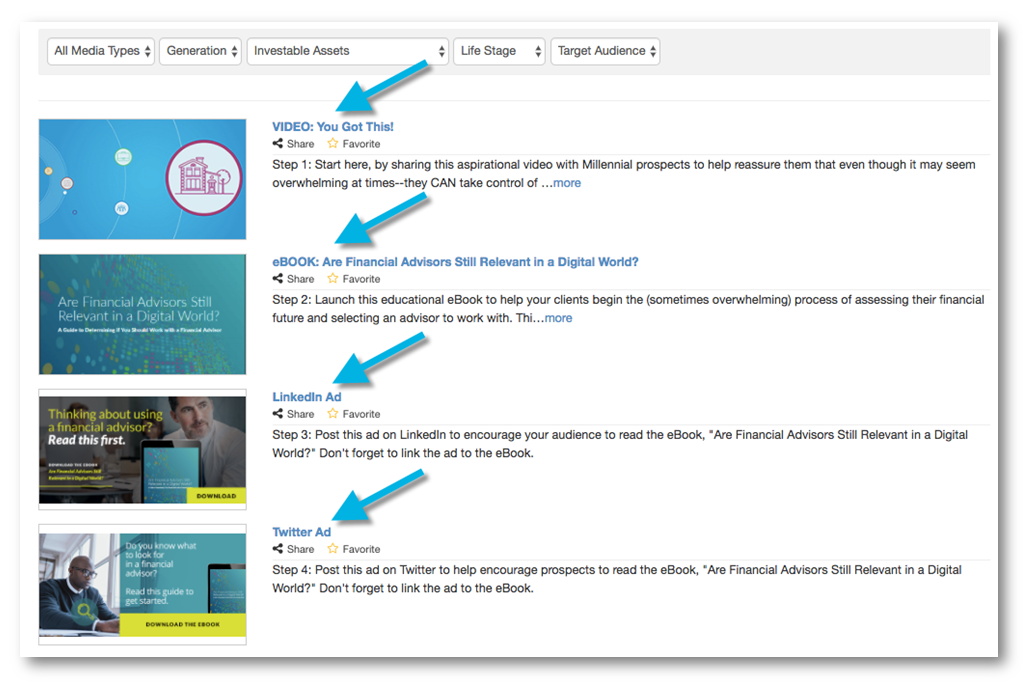 Featured Content will show you the new and relevant content in your library. Not only will any new content be highlighted here, but timely and relevant content will populate as well. On day one we'll be featuring brand new Client Site onboarding materials, available only to Advisor Branded Marketing subscribers, so make sure to check it out!
eMoney Materials focus entirely on your clients' experience with eMoney. So whether they have questions about Client Site features or just need help getting started you'll have the Client Site onboarding materials, user guides, PDFs, and videos they need. eMoney Materials are yet another way to differentiate your offering from the typical advisor experience.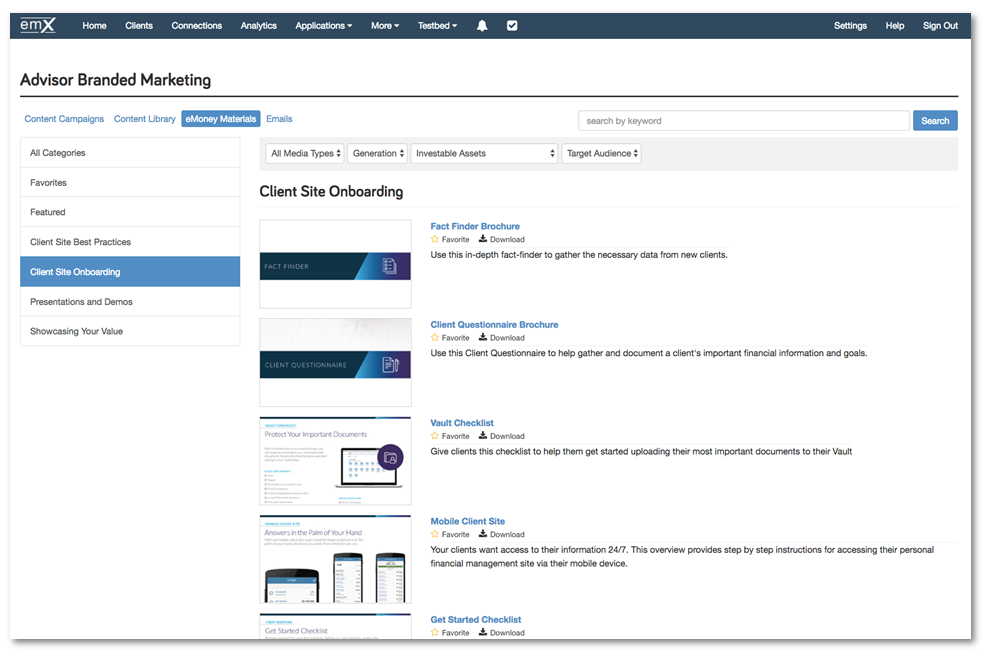 Suggested Email and Social Media Posts will make engaging with your clients and prospects a whole lot easier. With the option to send an email or post to your social media channels directly from your Content Library, the process of building complete messages will be easier than ever. You can use the suggested content as a base to create your own custom content or create a completely different version to save as a template for future clients.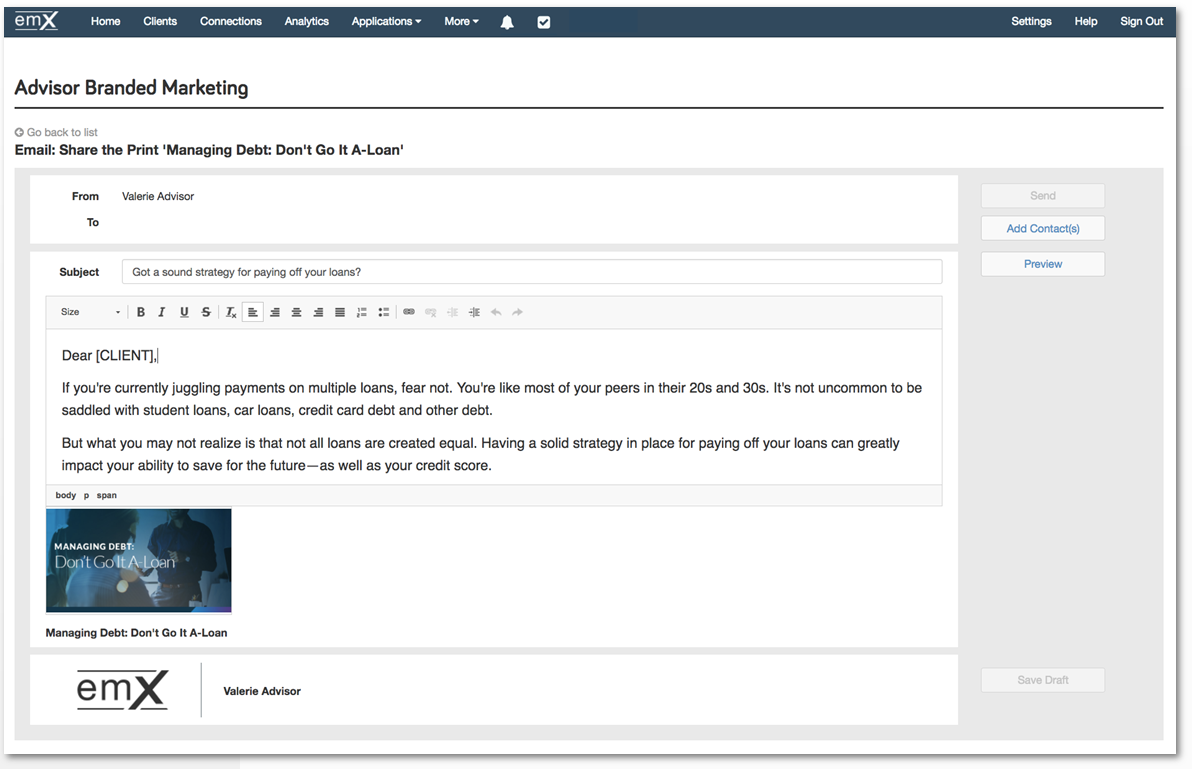 Content Filters are a new way to sort your marketing materials, allowing you to quickly drill down and filter not only the type of media, but your targeted audience.
With Content Filters, you can specify your Media Type (Print, Video, Social Ad, etc.), take into account their generation demographics (Millennial, Gen X, Baby Boomer, etc.), then consider your client's financial demographic (High Net Worth, High Income Not Rich Yet, Mass Affluent, etc.) before finally selecting the best content for your audience by life stage (Single, Married, Widowed, etc.).

Subscribers will enjoy a discounted rate through the end of the year.
The complete marketing toolkit offered in Advisor Branded Marketing is $1500. As an introductory offer, we're offering this new platform at a discounted rate of $1200 – the same cost as Advisor Branded Media – through the end of the year. Any existing Advisor Branded Media user whose contract renews in 2018 will receive the discounted price until their contract renews.
Some existing features are going away.
While there's a flood of new features and content coming to Advisor Branded Marketing, to support a fully integrated experience, a few features will be changed or discontinued.
Because the New ABM is fully integrated, access will only be possible via an eMoney login.
In addition, the ability to download videos is being removed.  This change will allow for improved analytics and tracking capabilities as well as ensuring ABM users always have the latest content highlighting the most up-to-date version of the Client Site. Audio only recordings are also being discontinued and will not be included in the new Content Library.
Finally, we will no longer be partnering with Mimeo for print materials.  Advisors can still send the PDFs to any printing service and have physical copies made.
There's more to come.
Did you think that was it? Stay tuned for more information on Advisor Branded Marketing – coming September 19!
*This updated offering will not be available to Corporate Marketing subscribers at launch, but we expect to debut this new tool to you in the future.