eMoney's Advanced Analytics are designed to give you never-before-seen insights into your book of business. Our newest charts are designed to provide you with insight into the key fiduciary facts important to your client's financial plans and the life insurance policies that protect their families from the unexpected.
eMoney's latest products – Advisor Analytics Pro and Office Analytics – give you insights that allow you to identify where true opportunities lie and enhance the experience you offer your clients.
Check out the latest additions to Advanced Analytics below.
---
Fiduciary Coverage Chart: 
Our new Fiduciary Coverage chart is designed to help you look at your entire book of business and visualize how every fact helps meet your clients' best interest. It begins by immediately identifying which clients are missing facts that align to the Assets, Liabilities, Income, Expenses, Goals and Risk categories.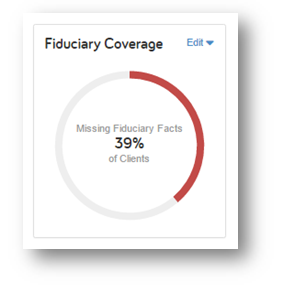 Notice something missing? Jump directly into the client's Fact Finder to add the information or enable Onboarding to empower your clients. No matter what happens with the DOL rule, Advanced Analytics makes it easier than ever to ensure you have all the necessary facts when constructing you client's financial plan.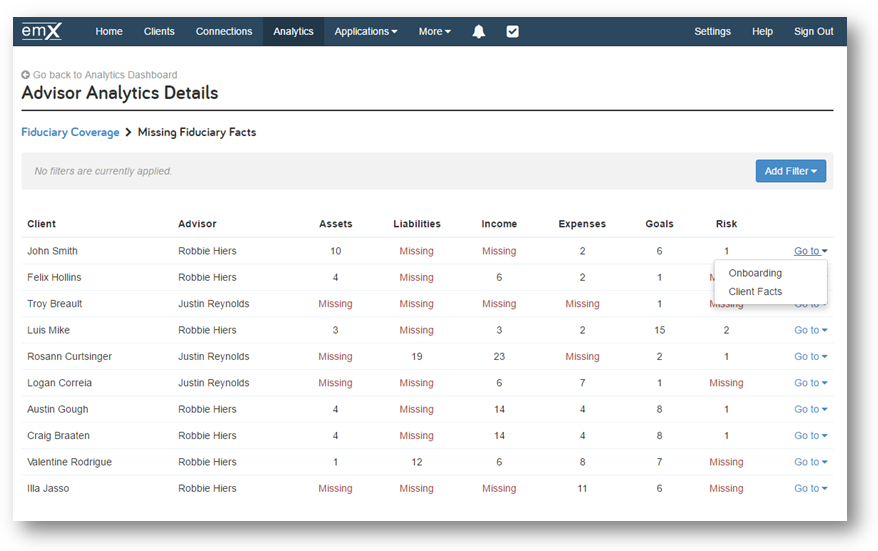 ---
Life Insurance & Insurance Anniversary Charts: 
Planning often starts with Insurance. Whether it's a need to protect their loved ones from the unexpected or a desire to leave a legacy to their heirs, most clients have or need insurance. That's why we've built 3 new charts this month to help you oversee insurance.
The Life Insurance Under Management Chart shows a detailed breakdown of the types of life insurance that are under your management.  Use this chart to help assess the layout of your insurance products and strategize on how to transition clients from one type of insurance to another.
The Life Insurance Held Away Chart shows a detailed breakdown of the types of life insurance that are held away.  Use this chart to create and send compelling and custom marketing messages to the clients in each of these product types that stresses the value you bring if these policies were under your management.
Lastly, use the Insurance Policies Anniversaries chart to send a personal reminder to existing clients that their policies are approaching their due date.  Or as a reason to reach out to clients who have a held away policy to again stress the value you could bring if the policy was under your management.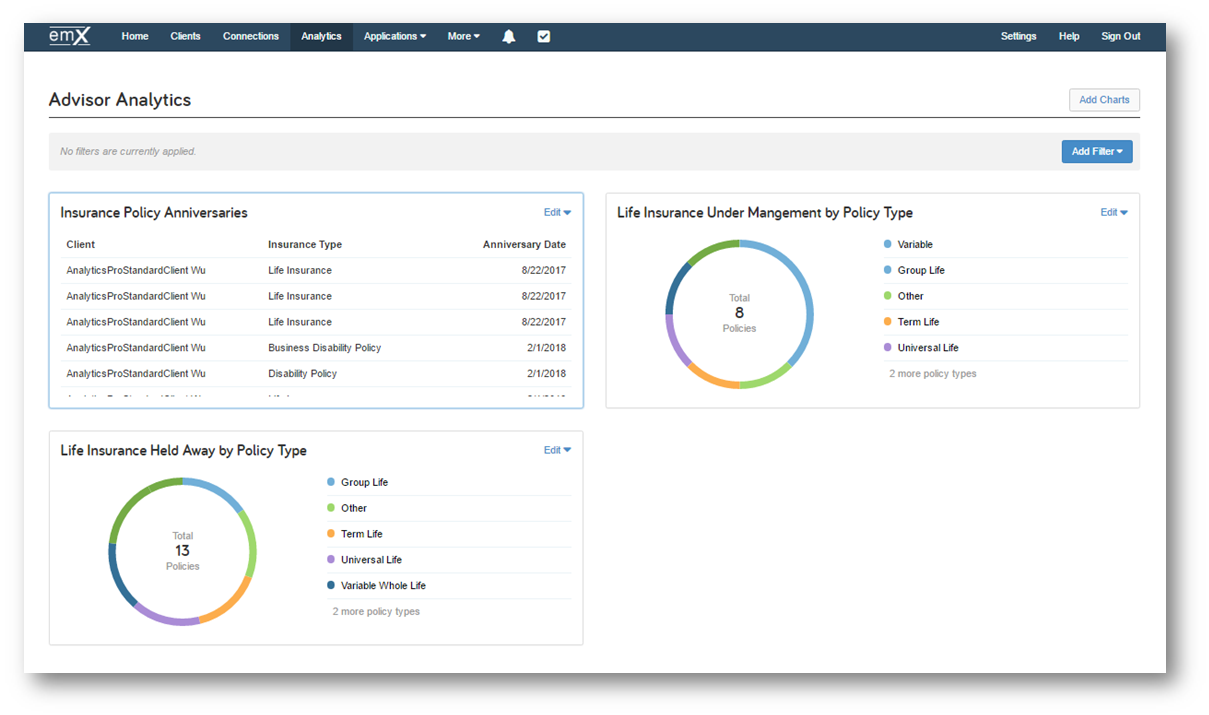 ---
New Account Connection Status Filter: 
Accounts that rely solely on manual data entry have a higher risk of error than connected accounts.  That's why we've added a new Account Connection Status filter to give you a way to segment your entire dashboard by Connected and Not Connected accounts.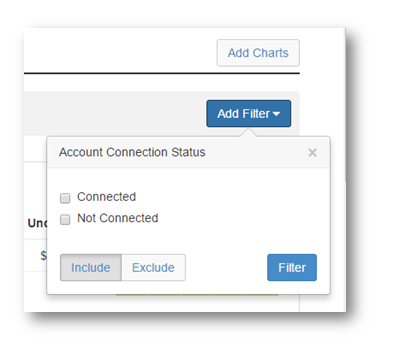 ---