Modern investors are faced with an abundance of choice—from digital advice platforms to online trading options to traditional advisors. The only way for an advisor to cut through the noise is a unique value proposition, a cutting-edge Client Portal, and a digital marketing presence that demonstrates their expertise.
On September 19, we're launching the next generation of Advisor Branded Marketing – a complete marketing toolkit that arms you with all the resources you need to attract, convert, and retain clients.
---
To learn more watch a recording of our Advisor Branded Marketing pre-release webinar.
---
Building off the existing Advisor Branded Media content library, Advisor Branded Marketing gives you the tools you need to personalize your marketing strategy and your client communications.
So whether it's a prospective client who's just heard of your business, or new client who needs help with the Client Website, you'll have the videos, articles, and guides to educate your clients and establish thought leadership for your firm.
Read on for more info on how you can make a big marketing impact without the big marketing budget with the brand NEW Advisor Branded Marketing.
---
Brand new look and feel, improved navigation, and fully integrated with the eMoney dashboard
Using disparate technology platforms to power your business is time-consuming and inefficient. With the new Advisor Branded Marketing, your marketing operations are fully integrated into eMoney's wealth-planning platform, allowing you to easily leverage client data to launch targeted content campaigns and monitor engagement —all from a single interface.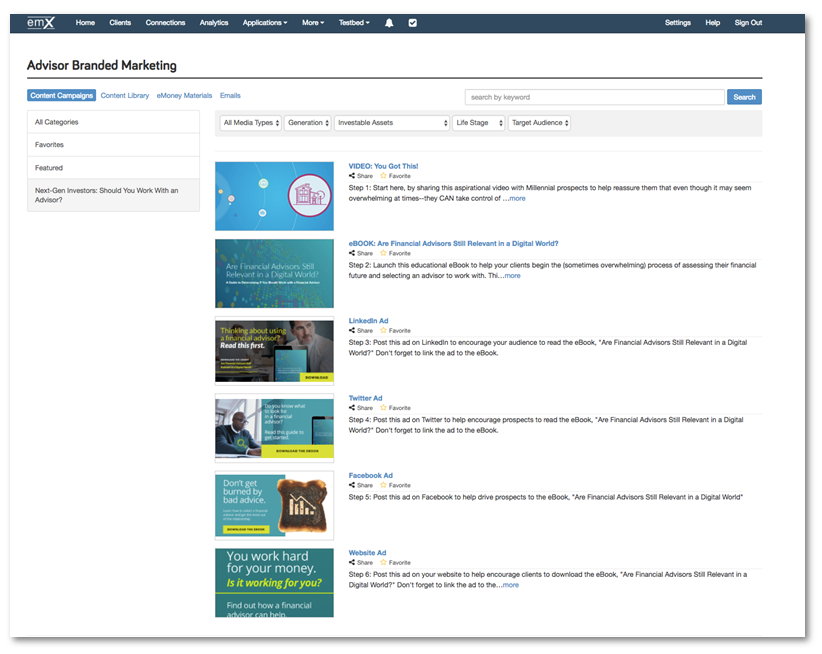 Social media tools and suggested posts for easy sharing
With simple sharing tools for Twitter, Facebook and LinkedIn, and suggested posts, elevating your social presence and engaging with prospects and clients online has never been easier. Advisor Branded Marketing allows you to increase brand awareness and connect with clients where they are.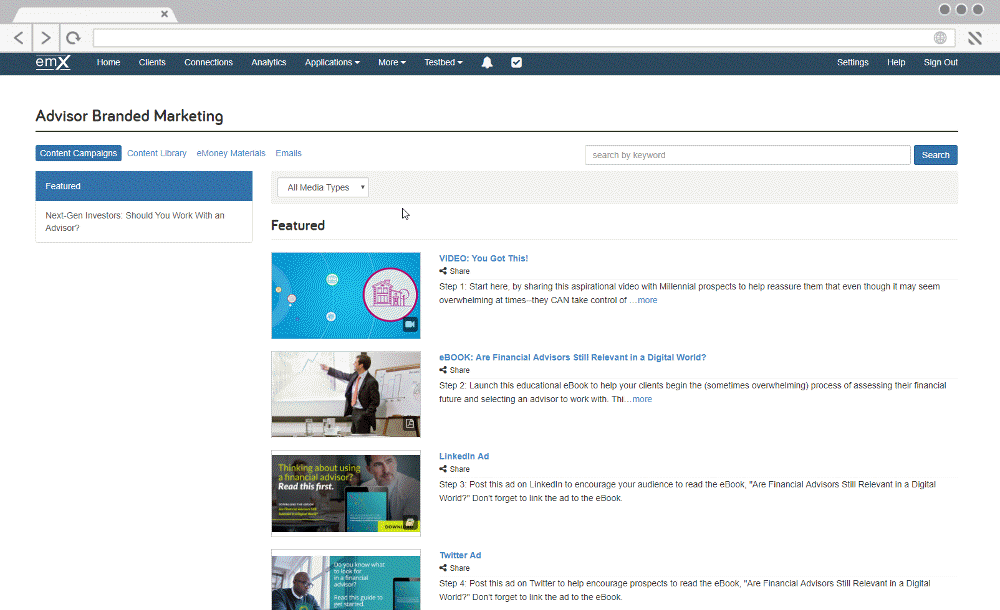 Personalized custom-branded content to encourage engagement and action
Now more than ever, clients crave personalized, targeted, customized experiences from their advisors. After all, offering your clients impactful, relevant content establishes credibility, builds relationships, and strengthens the partnership between client and advisor. But we know writing your own content isn't always practical when you're focused on meeting the needs of your clients.
Advisor Branded Marketing gives you custom-branded, industry-relevant content on the topics investors seek most right from your eMoney dashboard—sharable with just a few clicks. New videos, tutorials, articles, email templates, and more will be released regularly, helping you keep your message—and your brand—top of mind with clients.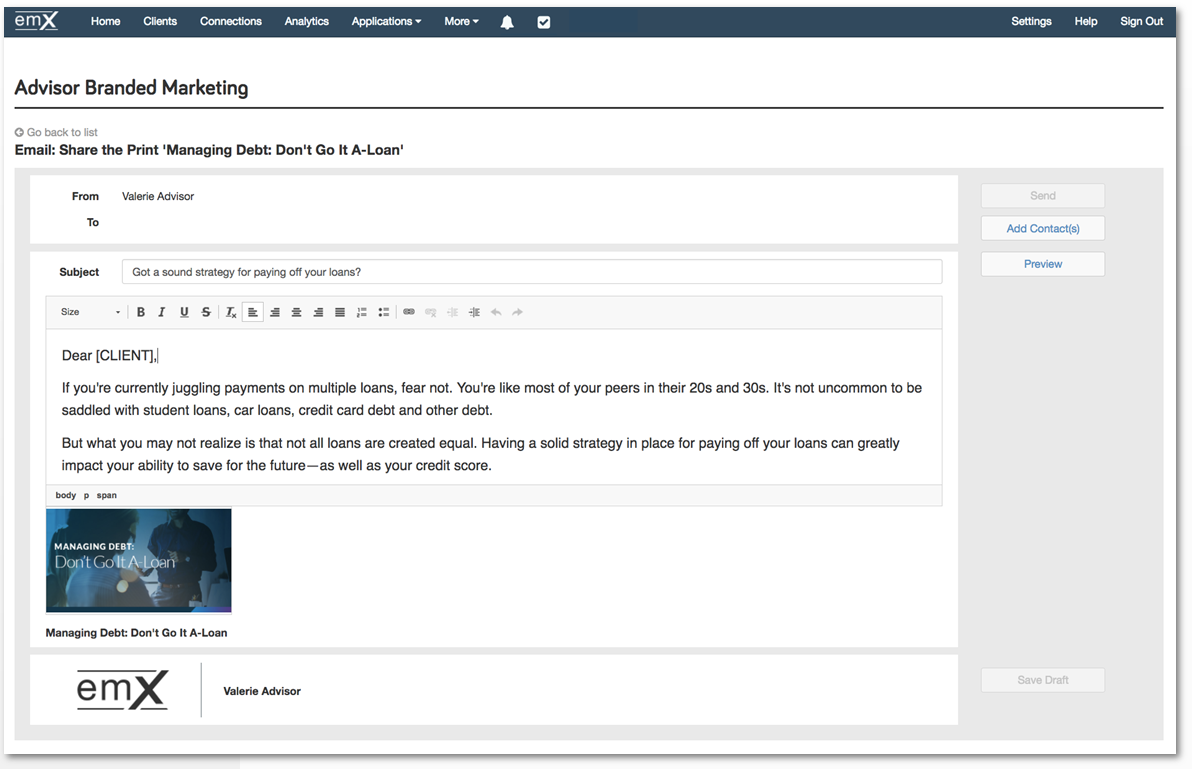 Differentiate your client experience
Every experienced advisor knows that if there is one thing more important than gaining new clients it's retaining your current ones. With onboarding guides, easy-to-follow videos, and a wealth of "getting started" resources, Advisor Branded Marketing gives you the tools you need to seamlessly bring clients onto their very own personal financial website, so you can start delivering exceptional client experiences right from the very first client meeting. And, all content is digital for easy sharing and accessible on demand.
Email analytics for monitoring and tracking campaign effectiveness
Only 61% of marketers believe their marketing strategy is effective and 24% don't know whether their efforts resulted in closed-won deals. If you're not measuring the effectiveness of your marketing and prospecting efforts, how can you improve them?
With Advisor Branded Marketing, you can monitor email delivery and opens to see who engages with your content and inform your future campaign strategy.
Ready to kick start your marketing? Download our Digital Marketing Playbook for modern marketing strategies and tactics.
And stay tuned for more information on Advisor Branded Marketing – coming September 19!
*This updated offering will not be available to Corporate Marketing subscribers at launch, but we expect to debut this new tool to you in the future.