With eMoney's Sample Clients, you can easily experiment with different planning techniques and build advanced planning scenario's that allow you to show prospect's the benefits of your expertise.
For advisors that are new to eMoney, practicing with these Sample Clients is a great way to get familiar with navigation, planning, and presenting before you start working with your own clientele.
To start working with Sample Clients simply go to Clients on your Navigation bar and click Add Client before finally selecting Sample Client. 
You will then be prompted to add one of five Sample Client templates available in eMoney.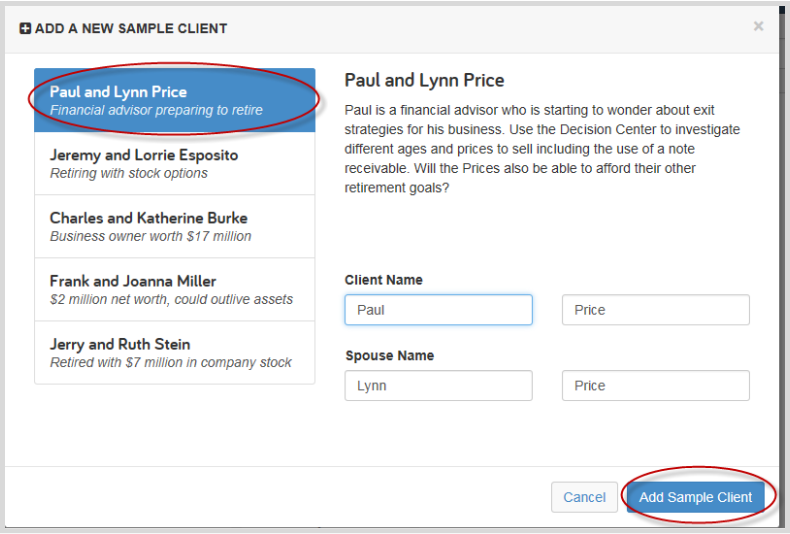 Every Sample Client was designed with a unique demographic and financial situation that allows you to model a wide variety of planning scenarios.
Paul and Lynn Price are looking to retire by the time they're both 65. Paul run's his own advisor firm and they have a net worth of approximately $4.7 million dollars today, but the system projects that, based on their expenses, Paul and Lynn will run out of money by Paul's age 78. This sample client is an excellent opportunity to use a Buy/Sell Transaction to explore the sale of Paul's business to cover their retirement funding gap. You can also explore alternative recommendations that would help a client like Paul live out his life with financial certainty.
Jeremy and Lorrie Esposito currently have a net worth of approximately $4 million dollars. Jeremy is 64 and will be retiring next year. Jeremy has generous stock options from his employer but is worried what could happen if there would be a reduction in option value. Use our Decision center to model that loss in value, as well as opportunities the Esposito's, could explore to counteract that event. This client also has one child and two grandchildren, making them an optimal choice for modeling trusts, wills, and gifting.
Charles and Katherine Burke have a Net Worth of approximately $17 million dollars. The bulk of this amount is tied to their business, Burke Enterprises. In their current situation, they have a 0% probability of success reaching their goals per the Goal Planner. They would like to be able to retire at their ages 65 and 64 and help pay for the college expenses of their grandchildren: Morgan and Adam. Use the planning area to model hypothetical techniques to increase their Monte Carlo score, like investing into a 529 plan or selling off a portion of their business.
Frank and Joanna Miller are your more average family with a net worth of approximately $1.8 million. Part of that net worth includes a vacation home in the mountains. They have two kids, Beth, and Lucas. The Millers have an education expense goal of $50,000 per year for both children. Currently, they are expected to run out of money at Frank's age 84. Their investments are already returning aggressively so we cannot recommend a much higher allocation for the Millers. Here, we can try delaying Social Security until later in life or adding an annuity. Use the planning area to illustrate changes to their plan. Learn more about presenting the Miller's in this best practices post.
Jerry and Ruth Stein are currently retired with a net worth of worth of approximately $20 million. Jerry owns $7 million in company stock. This sample client is living comfortably with projected assets to be more than enough to last them through their lifetime. This gives us the option to get generous and conservative at the same time. Here, was can demonstrate charitable gifting, investing more conservatively via the reinvestment technique, and even spending more in retirement. After making your changes, be sure to check your reports like Cash Flow, Monte Carlo, and Detailed Estate Calculations in addition to the planning suite tools.
---
Pre-built sample clients open new eMoney possibilities and assist you in using the software. Use them to start new conversations and to develop existing ones with your clients to present them with the plan that meets their goals.