The holiday season has ended and the new year has kicked off! But while you were away from your office, some things may have become outdated. Make sure your plans have the most accurate information by keeping connections, alerts, tasks, and budgets up-to-date. Because by getting organized early, you help ensure a prosperous and productive year.
CLEANING UP CONNECTIONS
While you've been away from eMoney, connections may be in an error state causing outdated data. Keep the information accurate by selecting the Connections option on your blue navigation bar and checking for warnings displayed at the top of your page. Monitor the status of connections and follow the steps to troubleshoot. If problems persist, report a problem in the Actions box to create a ticket and our Data Services team will promptly respond.

CHECKING ALERTS
Alerts are an excellent way to monitor your clients' activity while you are away and see what they were doing over the holidays. Review any alerts that have been triggered by clicking on the bell icon on the blue navigation bar or viewing most recent alerts on your home page under Financial Feed. These alerts can also be set to keep account of client activity based on their goals for 2017.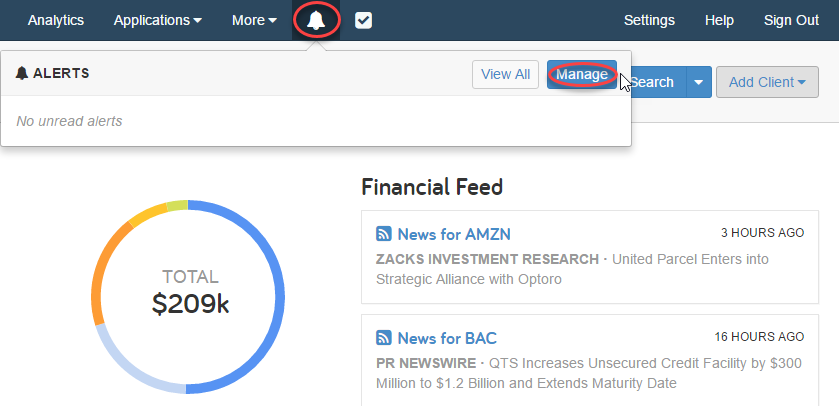 SETTING TASKS
To make sure you completed all of your pre-holiday work, take a fresh look over your tasks and schedule time to complete them. As we set annual objectives, add tasks for projects you would like to take charge of. You can also create tasks for the clients related to client connections and alerts. These tasks will show up on the client website and notify them when tasks are due. For example, you can set up an alert to remind the client to enter their credentials for a connection if it got disconnected over the holidays.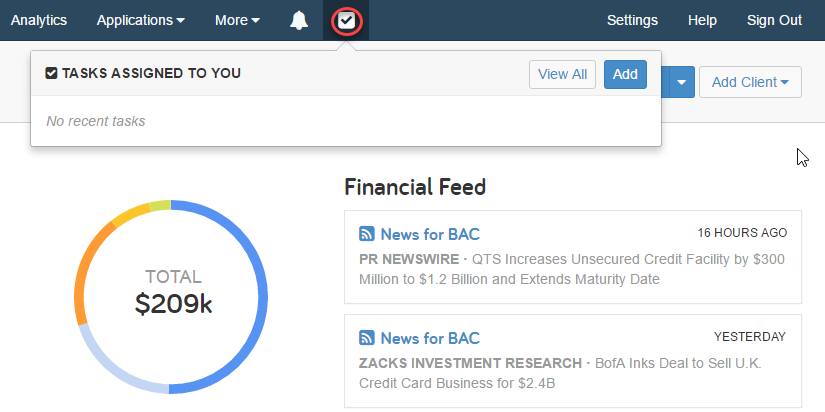 CREATING NEW BUDGETS
New year, new budget. During the holidays it is easy for your clients to overlook their budgets and spend more than other months. If your client would like help with their budget they can grant you full access to the Spending tab in their Settings. Compare their budget with last year's spending habits and adjust numbers as needed for 2017.