eMoney offers three interactive planning tools, Goal Planner, Decision Center, and Distribution Center, that help you present plans to your clients in a visual way and quickly show the impact of their financial decisions in real time.
These tools focus on goal planning, cash-flow planning, and estate planning.
Goal Planner
Goal Planner is our interactive, goal planning tool designed to show if a client can successfully achieve their future goals.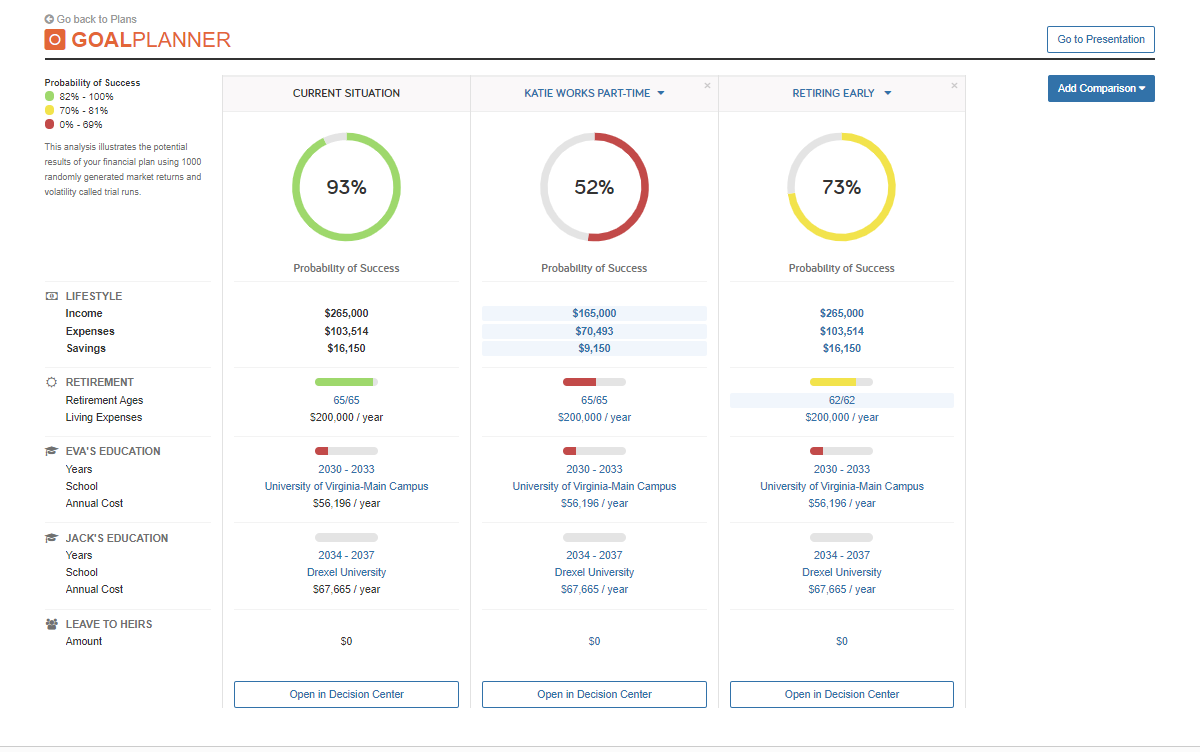 Goal Planner automatically runs our Monte Carlo simulation and shows a client's probability of success. You can also use straight line projections to show percent of goal funded by updating your advisor settings.
To get started with Goal Planner, enter you client's goals in Facts (note that we include Retirement and a Leave to Heirs goals for all clients). Your Facts inputs show as your Current Situation and these cannot be changed in Goal Planner.
Next, compare up to four scenarios, created directly in Goal Planner or using your previously created advanced planning scenarios. Click on the blue hyperlinks to show more detailed information about each goal and  make adjustments. With every change, we'll re-run the Monte Carlo simulation to show an updated probability of success.
Once you have all of your comparisons created, use the built in presentation to share with your client.
Decision Center
Decision Center is our interactive, cash-flow planning tool designed to show your clients how their decisions can impact their overall plan.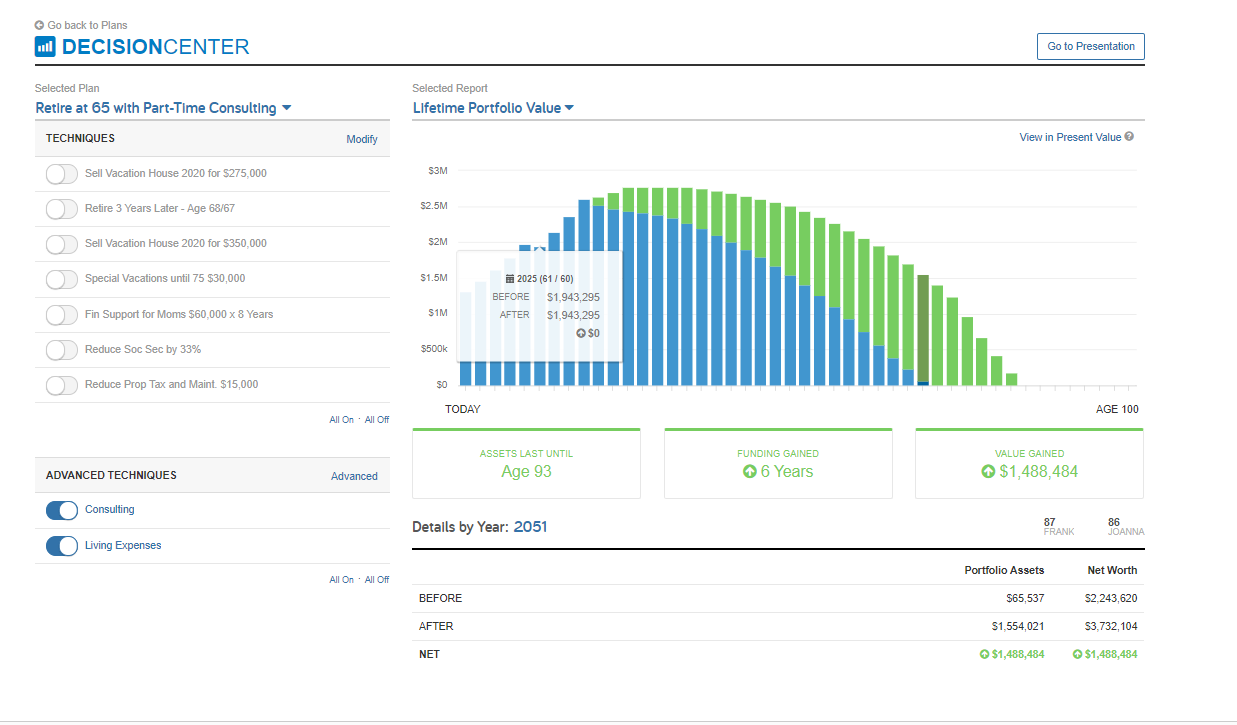 Decision Center currently offers three core reports – Lifetime Portfolio Assets, Cash Flow, and Monte Carlo, allowing you to show a client what age their assets will last until, their retirement income, expenses, and withdrawals, and their plans's probability of success in one place.
Techniques and Advanced Techniques, help you illustrate alternatives and recommendations. Techniques are best used to show a quick and simple change such as adding an income source during retirement. Techniques will only be available to use in Decision Center and Distribution Center, not in reports.
Advanced Techniques are first built as advanced plan in Scenarios. You can then choose any pre-built scenario to as your Selected Plan in Decision Center. Advanced Techniques are best used to show your recommended plan that includes multiple changes and are available to apply in reports.
When you add a change, client's can see the impact on their plan with color coded bars. The blue bars represent the base plan, red bars represent value lost, and green bars represent value gained.
Finally, all reports are dynamic and will update with any changes to the Techniques or Advanced Techniques and there is a built in presentation that you can share with your client.
Distribution Center
The Distribution Center is our interactive, estate planning tool designed to show clients what they have in their estate and how it will be passed along at their death.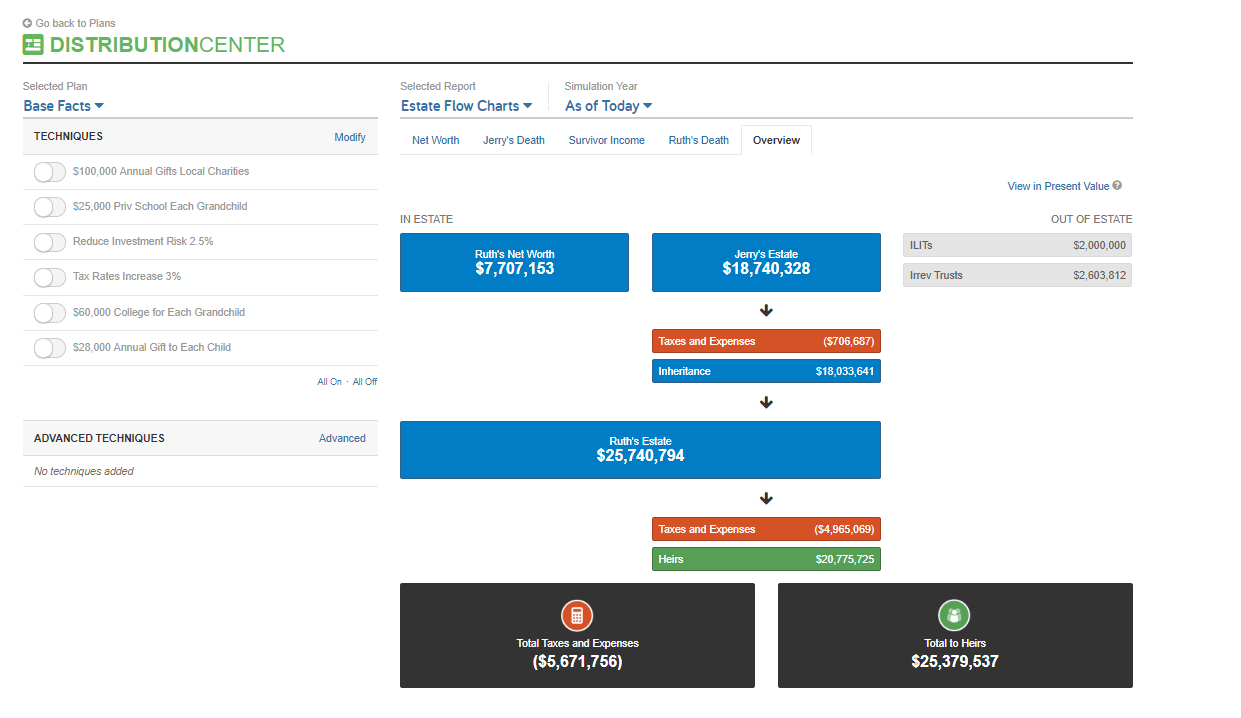 You can use Distribution Center to propose new estate planning techniques using Techniques and Advanced Techniques, similar to Decision Center. For example, you can quickly illustrate how a pre-mature death or how adding a trust can impact their financial plan.
It's important to note, we assume death of both client and spouse in the Simulation Year that you select. It defaults to current year but you can change it to any future year.
You can also view three reports – Estate Flow Charts, Compare Survivor Income, and Compare Distributions. These will show a client their net worth, survivor income, how assets transfer at death, and what's in and out of their estate.
You can also click each box within the flow chart to see more detailed look at assets, liabilities, taxes, and more. The Estate Flow Chart Overview shows a client's full flow chart, total taxes and expenses, and total leave to heirs.
Looking for more training? Check out our interactive user guides, webinars, and more in the Help section of your advisor site.