With inflation increasing to historic levels, your clients may have questions about how their finances might be impacted. When they come to you with concerns, rest assured that eMoney can help by forecasting rates of inflation on a client's plan. We encourage you to demonstrate the impact of different forecasted rates of inflation on a client's financial plan by discussing inflation with them and modeling different rates/timeframes to determine if they need to consider alternative courses of action.
Setting Up Inflation Rise What-If Scenarios
Here's how to set up Inflation Rises what-if scenarios as desired and then utilize reports like Cash Flow, Income Tax, and Monte Carlo to understand how a client's financial plan may be impacted by higher rates of inflation…
Locate the client you wish to work with from your client list. Once on their Overview, select Plans.

Scroll down to Tools and select What-Ifs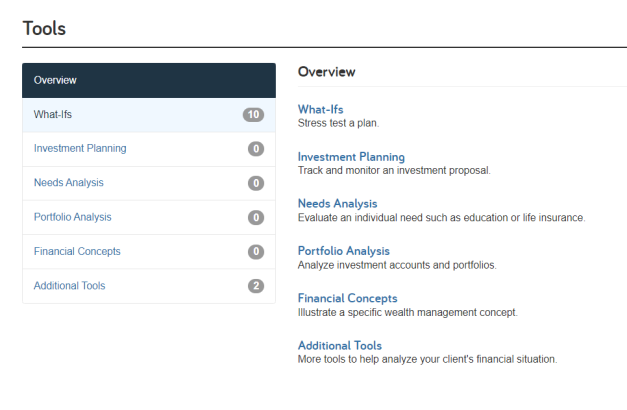 Select Inflation Rises when clicking Add from the What-Ifs drop-down menu.

Here, a technique is available to apply changes to current inflation/market assumptions.
Once you select the technique, you'll be presented with two ways to adjust the simulation's underlying assumption for inflation:
Average Returns
Atypical Market

Average Returns
This new inflation rate will replace the prior assumption that is listed to the right for the entire cash flow simulation.

Atypical Market
The Atypical Market section gives you the ability to define a start/end date to control when the new inflation rate is applicable and when it reverts to the initial assumption.

The Average Returns or Atypical Market sections cannot be used at the same time. You must choose one or the other.
Note: Don't use the Portfolio Rate of Return also found in the Atypical Market section, as this field demonstrates a bear market to stress test a potential drop in the market. Please search "bear market" in the Help menu for more information on this assumption.
Finally, you're ready to share with your client.
Access the Cash Flow report from the Reports window found on the left-hand side of the screen. Help your clients better plan for their future by showing them how inflation may impact their finances over time by comparing the Base Facts with your new What-If models.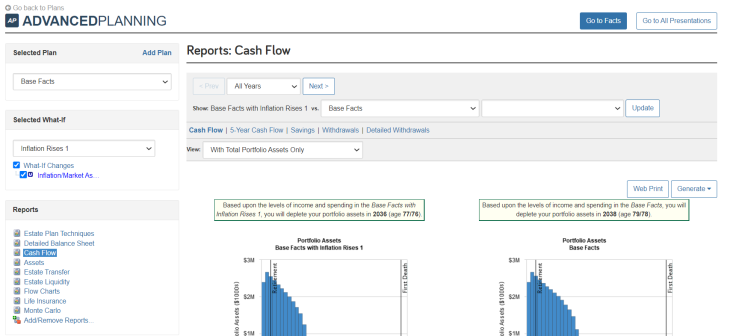 Additional Resources: