An often under-utilized feature of the Foundational Planning proposed plan is the ability to include a recommended reallocation of assets. This change can have a powerful impact on a client's probability of success.
Keep reading below as we discuss best practices for generating the recommended portfolio with Foundational Planning and how to apply the recommended reallocation to a Proposed Plan.
Risk Assessment and Recommended Allocation
For this example, we'll start with the sample clients Alesandra and Luis Rodriguez. The Rodriguezes are a young family with two small children. They are both high earners but are not on track for retirement, especially when factoring in paying for their children's educations.
The pre-built Recommended Plan for the Rodriguezes already calculates to a 95% probability of success. However, this plan requires them to wait until age 68 to retire. If they want to retire earlier, say 65, they drop out of the "green" zone to only an 81% overall probability of success.*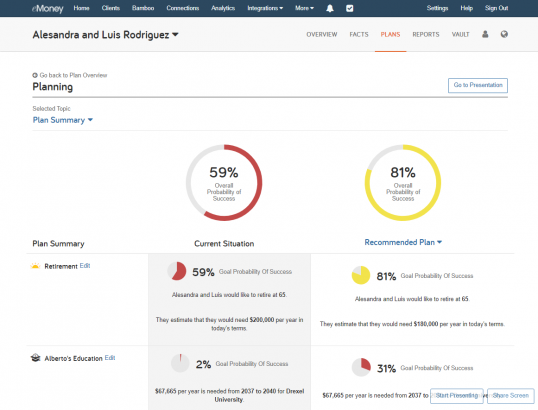 This success gap presents a perfect opportunity to investigate whether their assets are appropriately allocated based on risk tolerance.
Let's click into the Asset Allocation tool under Additional Topics. From here, you can easily open the risk tolerance questionnaire by clicking Take Risk Assessment on the top—right next to Recommended Allocation.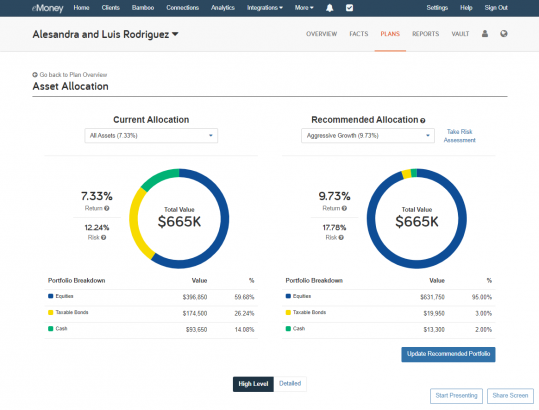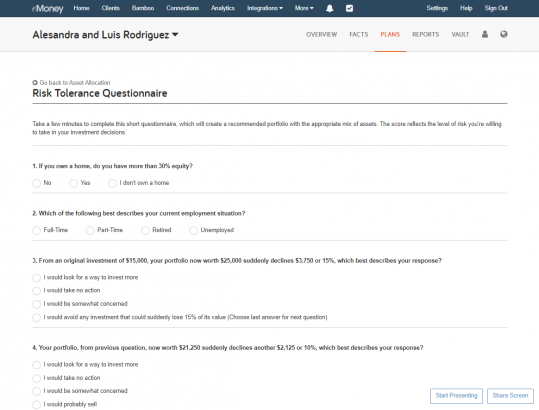 This action will pull up a short 12-question risk tolerance questionnaire that, once complete, shows the "risk-assessed" recommended portfolio under Recommended Allocation.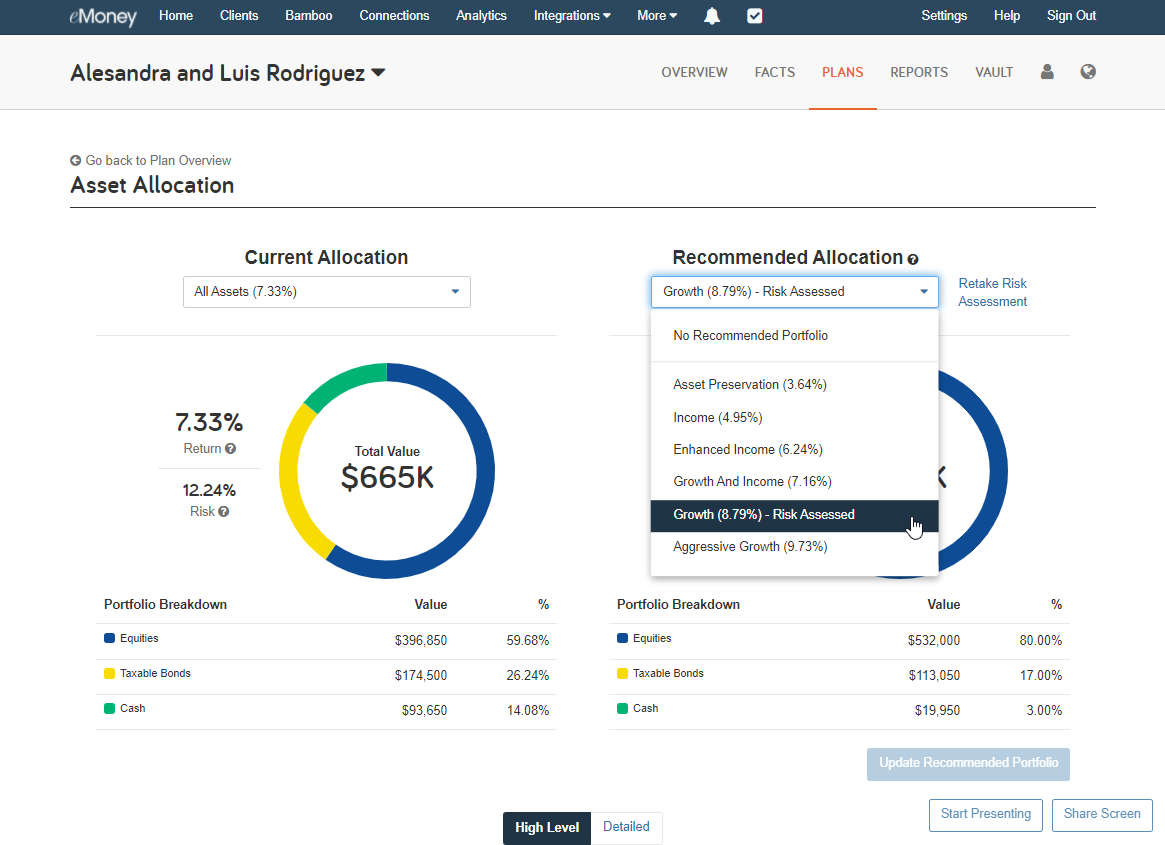 Pro-tip: Return is calculated as the weighted average of the gross growth rates of investments selected to be reallocated as of today. In comparison, Risk is calculated as "standard deviation," a measure of the portfolio's volatility of returns around its average annual return.
Now that we've determined their risk-assessed portfolio recommendations, we can go back and see how reallocating assets within their Proposed Plan will impact their probability of success.
From the Plan Overview, click Go to Plans, click into the Selected Topic drop-down menu, and open Asset Allocation.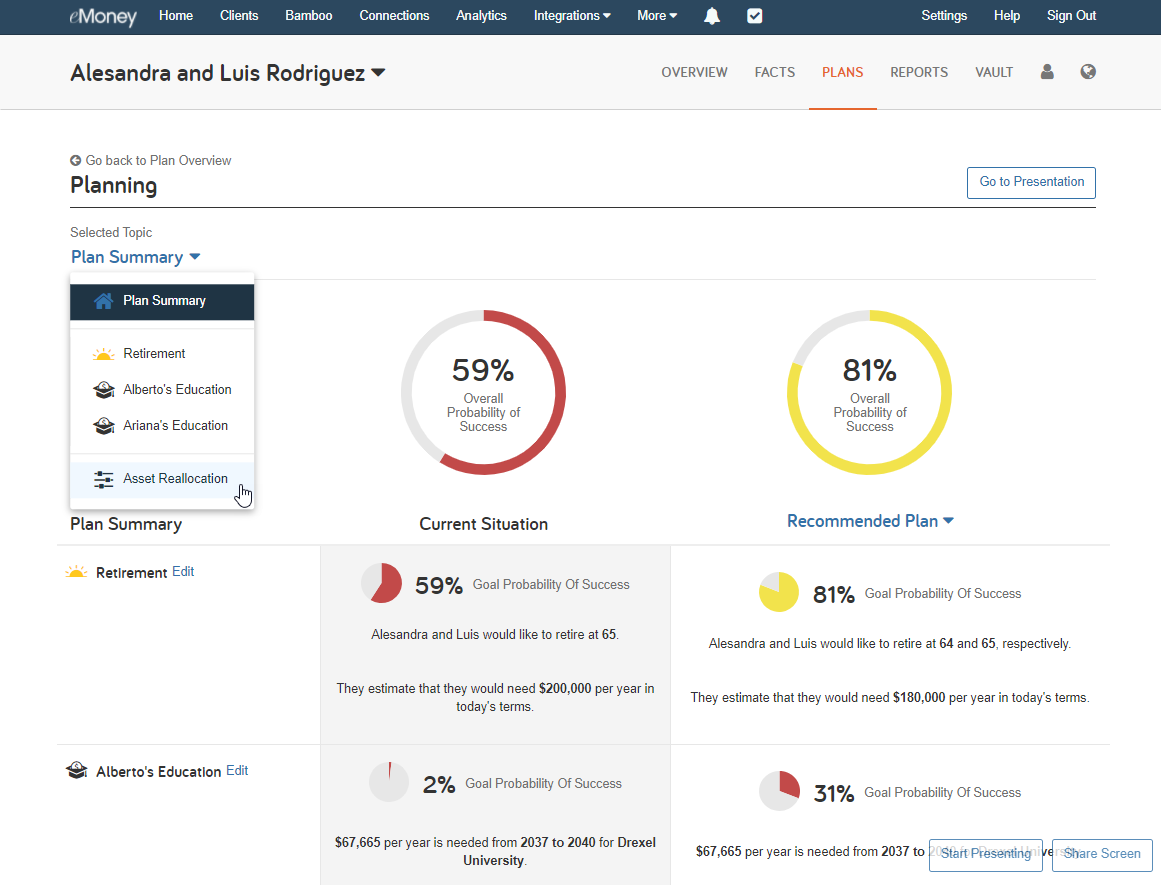 You should immediately see the +Reallocate Assets button under the Recommended Plans column. Click this button to open the reallocation module and select the appropriate New Allocation based on their risk assessment. You can opt to reallocate All Assets by selecting by group (e.g., Non-Qualified, Retirement, Taxable), or select a specific asset.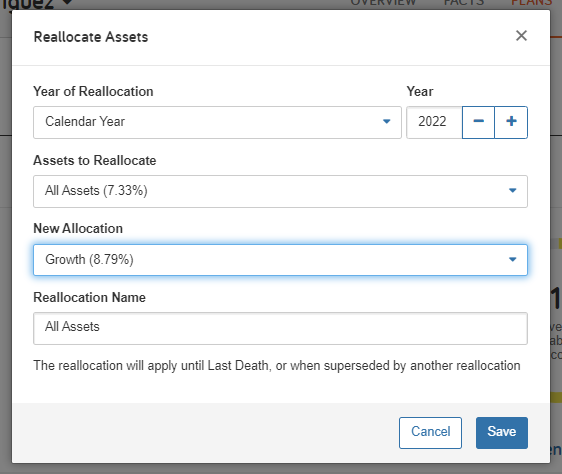 For simplicity, we're selecting All Assets to reallocate for the Rodriquez's. Upon recalculating their probability of success, their Recommended Plan has gone back up to 95%!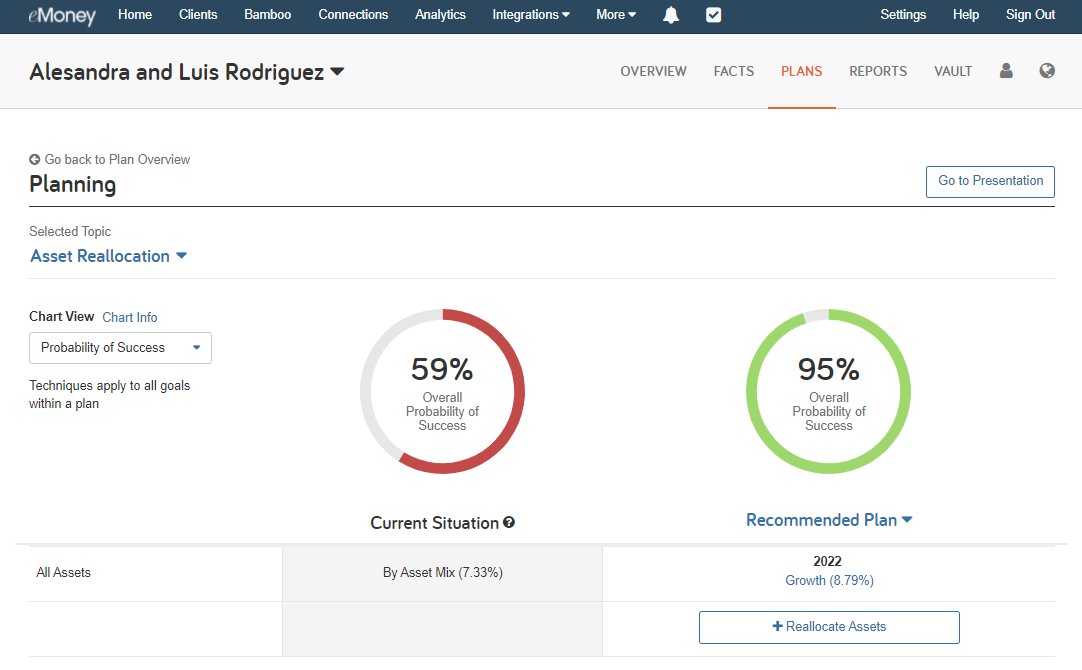 As you can see, Foundational Planning's asset reallocation tools provide a simple way to demonstrate to clients and prospects how reinvesting their assets can provide a long-term boost to the probability of achieving their goals.
Additional Foundational Planning Resources
*Sample client calculations are subject to change based on market assumptions and updates to their plan data.