Underneath the bright Arizona sun, eMoney employees, prominent FinTech providers, and hundreds of the industry's best advisors from across the nation all gathered together to experience three days of non-stop training, practice management, and networking for the fourth eMoney Advisor Summit. And as the eMoney team was hard at work setting up the Fairmont Scottsdale Princess hotel, over 600 advisors streamed in, eager to get the event started.
Now that you've seen the #eMoneySummit17 main stage, take a look at this time lapse to see how it came together. pic.twitter.com/D3LarNSqxJ

— eMoney Advisor (@eMoneyAdvisor) September 25, 2017
Check out this advisor's perspective as they walked into the opening session of #eMoneySummit17 pic.twitter.com/O9LfDiMYN4

— eMoney Advisor (@eMoneyAdvisor) September 25, 2017

Early arriving attendees were greeted to 1:1 coaching sessions courtesy of some of our top trainers a few hours ahead of opening remarks from our Master of ceremonies Mike Hemmert. After taking care of some housekeeping, Mike set the scene for eMoney's CEO and Head Nerd (Mike's words not ours), Ed O'Brien. As the guiding force behind eMoney's innovation, Ed proudly and enthusiastically introduced this year's theme: Plan It Forward.
After Ed passionately detailed the integral role advisors play in shaping their clients' futures, he introduced the best keynote speaker we could ask for: Guy Kawasaki. Guy is an American marketing specialist, author, and Silicon Valley venture capitalist. Most notably, however, he was one of the original Apple employees responsible for marketing their Macintosh computer line in 1984. And his presentation left the audience with equal parts wit and wisdom.
Fueled by his clever insight and comedic delivery, dotted with stories from his time in Steve Jobs' Macintosh Division, Guy's talk took the audience through 10 points for mastering the "art of enchantment." He stressed the importance of the right smile (apparently crow's feet are a good thing), gave us the rules of a good presentation (don't try to be as good as Guy), and of course, emphasized the need to use technology (couldn't agree more).
.@GuyKawasaki is every bit as awesome as I always thought he would be. #eMoneySummit17

— Ryan W. Neal (@ryanWneal) September 25, 2017
The morning was closed by Stephen Langlois, eMoney's Head of Business Development and resident scholar of all things financial technology.
#emoneysummit17 Steve Langlois explains aggressive feature rollout – impressive progress pic.twitter.com/bGrv0IBoDC

— Thom K. Hall, CFP (@ThomKhall) September 25, 2017

After a much needed lunch on the hotel grounds, Jeffrey Kleintop, Chief Global Investment Strategist for Charles Schwab, took the stage. Jeffrey encouraged us all to take a deep breath and relax; by all indicators the economy is good. And it's staying that way.
We're experiencing the slowest Fed rate hike action in history- chance next recession into 2019(but no one knows for sure)#eMoneySummit17

— Cathy Curtis (@cathycurtis) September 25, 2017
To round out the first half of the afternoon, Jeffrey Bush brought some sense to the the United States political landscape with his talk, "A View from the Hill." He went through all the day's most pressing issues from healthcare to tax reform to the national debt, providing much needed insight into what these issues mean for financial advisors. He even made his slides available for those who email: slides@jeffbush.net.
Jeff Bush giving a family analogy to our US fiscal issues. Just add 7 more zeroes #emoneysummit17 pic.twitter.com/8dRPAByAgw

— Bud Heintz (@bud_heintz) September 25, 2017
After a quick break, Fintech Feud flipped the traditional panel discussion on its head, pitting a group of three advisors against three FinTech notables for game show hosted by Trish Haskins of Fidelity whose one-liners could give Steve Harvey a run for his money. The game show featured FinTech trivia, audience interaction, cheesy music, and that famous Family Feud buzzer, among many hysterical moments. Needless to say, it was a big hit.
Fintech Family Fued at #eMoneySummit17 pic.twitter.com/AcPAYSkhyd

— Ryan W. Neal (@ryanWneal) September 25, 2017
Kicking off the #Fintech Feud at the #emoneysummit17. This is a great idea! pic.twitter.com/a7UNmYX5Hc

— Alex Chalekian, CEP® (@AlexChalekian) September 25, 2017
Oh my god this is actually amazing. #eMoneySummit17

— Ryan W. Neal (@ryanWneal) September 25, 2017
To end the first day, Andy McAfee gave us a scientific take on the future of business. He presented his data driven thesis on emergence of the Second Machine Age, which will blur the division of labor between machines and rely on heavily on the power of crowdsourcing.
Live from the eMoney Hackathon
For the uninitiated, the eMoney Hackathon is a three-day long contest that pairs together teams of financial advisors with eMoney developers to brainstorm new product ideas and code a working piece of tech, all in the hopes of creating a new eMoney feature. This year, participants were given a problem statement and tasked to find an innovative way to help solve challenges advisors face when onboarding new clients.
With the problem in hand, participants gathered together the Sunday night before the official start of the Summit.
After being split into five teams, the Hackathon kicked off with a round of process mapping, wherein each team outlined what they saw as an advisor's entire process in eMoney. And with this information, the Hackathon was off and running.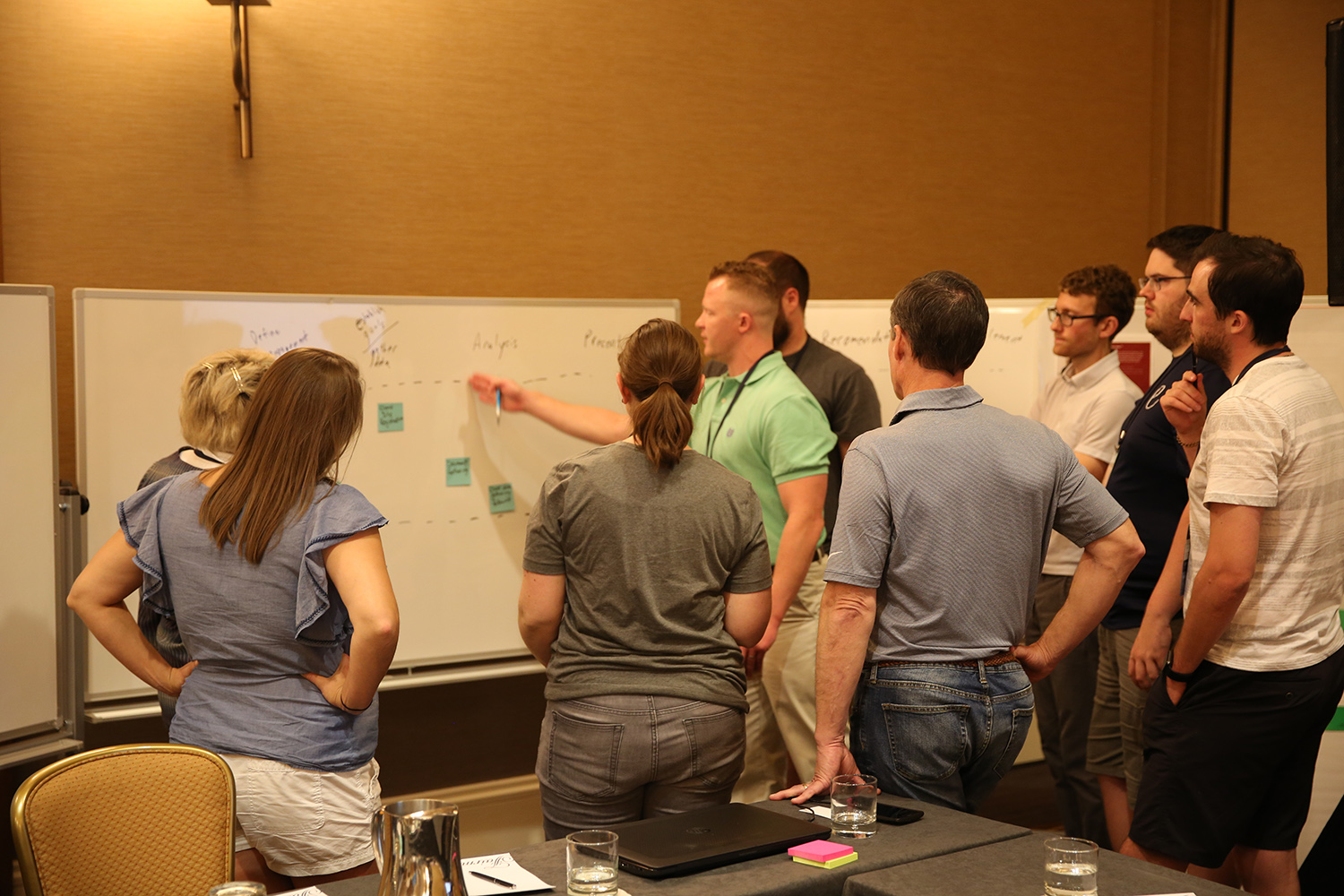 Soon, the room was full of white boards branded with complex diagrams and sporadic notes. And late into the night, the groups brainstormed ideas to solve the Hackathon's problem statement.
Stay tuned to see who wins tomorrow!