Speakers at the 2018 eMoney Summit delivered inspiring keynotes, educational breakout sessions, and … product announcements!
In case you missed it, Jess Liberi, our Head of Product, presented our company product vision. She covered not only what we're building, but why and how. And perhaps most importantly, for whom.
We evolve our platform to anticipate and respond to changing customer expectations and to help you overcome your challenges. We believe that success depends on embracing change and challenging existing conventions.
Check out a quick recap of the 2018 eMoney Summit, then read on to learn about some of the biggest announcements from our company and product vision!
https://emoneyadvisor.wistia.com/medias/857uoq6sc8?embedType=async&videoFoam=true&videoWidth=500
---
FOUNDATIONAL PLANNING – Produce More Plans for More People
Many advisors consider creating a personalized financial plan as a complex and time-consuming process. In fact, 72 percent of advisors claim that creating a new financial plan is a "long and tedious process," according to a 2017 Cerulli study.
Our goal was to create a planning experience for a client's essential needs and goals through a consolidated end-to-end planning experience. Foundational Planning is easy to navigate but also thorough enough to act as the foundation for a planning-led relationship,"- Jess Liberi, eMoney Head of Product
Foundational Planning, scheduled for release in early 2019, offers an intuitive and scalable planning solution for both individual and enterprise wealth managers. It requires fewer inputs from advisors and offers step-by-step guidance throughout the data gathering process. Simply put, advisors can produce more plans for more clients.
Check out a sneak peek below and click here to learn more about Foundational Planning.
---
ALWAYS BE INTEGRATING – Salesforce, Addepar, iRetire, and more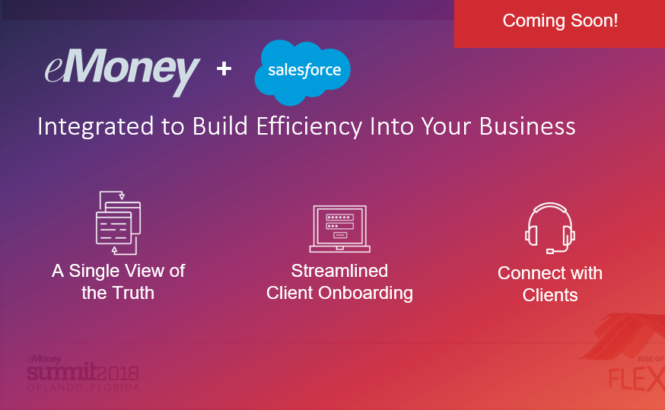 Following the 2017 Summit, we released two new integrations—Charles Schwab and Envestnet's Tamarac. A few new integrations are right around the corner, including BlackRock iRetire, Addepar, and Salesforce.
With the iRetire integration, we are seamlessly connecting their planning module to eMoney, allowing you to use both platforms while providing a consistent client experience.
Meanwhile, Addepar's client, account, and holdings data are already automatically delivered from Addepar to eMoney through our data aggregation. The next phase of the Addepar integration will allow mutual clients to more deeply integrate workflows with access to the Addepar reports within the eMoney Vault, single sign-on capabilities, and more.
In the 2017 InvestmentNews technology survey, only 15 percent of advisors said their integrations included embedded functionality or workflows. So it should come as no surprise that the same survey found that 79 percent of advisors list "a lack of technology integrations" as a serious challenge to their business. Firms were also asked about their top concerns about buying technology. Unsurprisingly, the highest rated response was "improved workflows." – Jess Liberi, eMoney Head of Product
The Salesforce integration, releasing in the coming months, will be the first financial planning app available on the Salesforce AppExchange.
Our focus was first to create "the single source of truth" that's so essential to business operations by ensuring that the integration passes key client data between both platforms. This way, no matter which system you use to onboard new clients or update their information, you'll never have to enter information more than once or worry that your data is out of sync.
For Phase One, this means when you create a client in Salesforce, you can click a button to automatically create the client in eMoney, with key information already pre-filled. It also means that notes and tasks entered in either system will sync and that any alerts you create in eMoney will also display on your Salesforce dashboard, keeping you and your team informed of key events and milestones.
Learn more about the Salesforce integration.
Are you looking for a more customizable integration with Salesforce?  We've made that possible as well. Keep reading below for more information on our larger Open API strategy.
---
AN OPEN API STRATEGY – Data Extracts, APIs and Components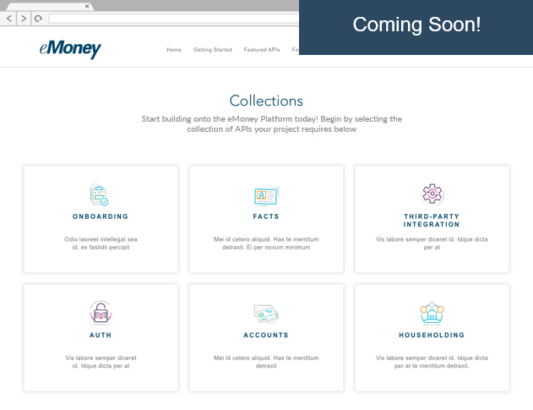 To improve efficiencies for our clients, we are building a new library of APIs that will make power technology partnerships such as integrations or firm-wide implementations of our platform possible.
When all is said and done, we will have more permanent connections that require less upkeep, that pipe in more accurate data, that are more secure, and that make the experience better for everyone involved – for us, for you, and for your clients." – Jess Liberi, eMoney Head of Product
This winter, we will unveil a new open-API strategy that will allow our partners to easily and securely access client, planning and account data, interactive UI components, and more, through an online developer storefront. The new eMoney API store will allow partners more flexibility and the ability to use eMoney data or components outside of the eMoney platform.
With the API store, firms will be able to use eMoney data in custom reporting or analytics dashboards to power their business decisions.
---
That's just a sneak peek at what's to come. So stay tuned as we roll out these initiatives in 2019!