Summit Day 1
Underneath the bright Arizona sun, eMoney employees, prominent FinTech providers, and hundreds of the industry's best advisors from across the nation all gathered together to experience three days of non-stop training, practice management, and networking for the fourth eMoney Advisor Summit. And as the eMoney team was hard at work setting up the Fairmont Scottsdale Princess hotel, over 600 advisors streamed in, eager to get the event started.
Now that you've seen the #eMoneySummit17 main stage, take a look at this time lapse to see how it came together. pic.twitter.com/D3LarNSqxJ

— eMoney Advisor (@eMoneyAdvisor) September 25, 2017
Check out this advisor's perspective as they walked into the opening session of #eMoneySummit17 pic.twitter.com/O9LfDiMYN4

— eMoney Advisor (@eMoneyAdvisor) September 25, 2017

Early arriving attendees were greeted to 1:1 coaching sessions courtesy of some of our top trainers a few hours ahead of opening remarks from our Master of ceremonies Mike Hemmert. After taking care of some housekeeping, Mike set the scene for eMoney's CEO and Head Nerd (Mike's words not ours), Ed O'Brien. As the guiding force behind eMoney's innovation, Ed proudly and enthusiastically introduced this year's theme: Plan It Forward.
After Ed passionately detailed the integral role advisors play in shaping their clients' futures, he introduced the best keynote speaker we could ask for: Guy Kawasaki. Guy is an American marketing specialist, author, and Silicon Valley venture capitalist. Most notably, however, he was one of the original Apple employees responsible for marketing their Macintosh computer line in 1984. And his presentation left the audience with equal parts wit and wisdom.
Fueled by his clever insight and comedic delivery, dotted with stories from his time in Steve Jobs' Macintosh Division, Guy's talk took the audience through 10 points for mastering the "art of enchantment." He stressed the importance of the right smile (apparently crow's feet are a good thing), gave us the rules of a good presentation (don't try to be as good as Guy), and of course, emphasized the need to use technology (couldn't agree more).
.@GuyKawasaki is every bit as awesome as I always thought he would be. #eMoneySummit17

— Ryan W. Neal (@ryanWneal) September 25, 2017
The morning was closed by Stephen Langlois, eMoney's Head of Business Development and resident scholar of all things financial technology.
#emoneysummit17 Steve Langlois explains aggressive feature rollout – impressive progress pic.twitter.com/bGrv0IBoDC

— Thom K. Hall, CFP (@ThomKhall) September 25, 2017

After a much needed lunch on the hotel grounds, Jeffrey Kleintop, Chief Global Investment Strategist for Charles Schwab, took the stage. Jeffrey encouraged us all to take a deep breath and relax; by all indicators the economy is good. And it's staying that way.
We're experiencing the slowest Fed rate hike action in history- chance next recession into 2019(but no one knows for sure)#eMoneySummit17

— Cathy Curtis (@cathycurtis) September 25, 2017
To round out the first half of the afternoon, Jeffrey Bush brought some sense to the the United States political landscape with his talk, "A View from the Hill." He went through all the day's most pressing issues from healthcare to tax reform to the national debt, providing much needed insight into what these issues mean for financial advisors. He even made his slides available for those who email: slides@jeffbush.net.
Jeff Bush giving a family analogy to our US fiscal issues. Just add 7 more zeroes #emoneysummit17 pic.twitter.com/8dRPAByAgw

— Bud Heintz (@bud_heintz) September 25, 2017
After a quick break, Fintech Feud flipped the traditional panel discussion on its head, pitting a group of three advisors against three FinTech notables for game show hosted by Trish Haskins of Fidelity whose one-liners could give Steve Harvey a run for his money. The game show featured FinTech trivia, audience interaction, cheesy music, and that famous Family Feud buzzer, among many hysterical moments. Needless to say, it was a big hit.
Fintech Family Fued at #eMoneySummit17 pic.twitter.com/AcPAYSkhyd

— Ryan W. Neal (@ryanWneal) September 25, 2017
Kicking off the #Fintech Feud at the #emoneysummit17. This is a great idea! pic.twitter.com/a7UNmYX5Hc

— Alex Chalekian, CEP® (@AlexChalekian) September 25, 2017
Oh my god this is actually amazing. #eMoneySummit17

— Ryan W. Neal (@ryanWneal) September 25, 2017
To end the first day, Andy McAfee gave us a scientific take on the future of business. He presented his data driven thesis on emergence of the Second Machine Age, which will blur the division of labor between machines and rely on heavily on the power of crowdsourcing.
Live from the eMoney Hackathon
For the uninitiated, the eMoney Hackathon is a three-day long contest that pairs together teams of financial advisors with eMoney developers to brainstorm new product ideas and code a working piece of tech, all in the hopes of creating a new eMoney feature. This year, participants were given a problem statement and tasked to find an innovative way to help solve challenges advisors face when onboarding new clients.
With the problem in hand, participants gathered together the Sunday night before the official start of the Summit.
After being split into five teams, the Hackathon kicked off with a round of process mapping, wherein each team outlined what they saw as an advisor's entire process in eMoney. And with this information, the Hackathon was off and running.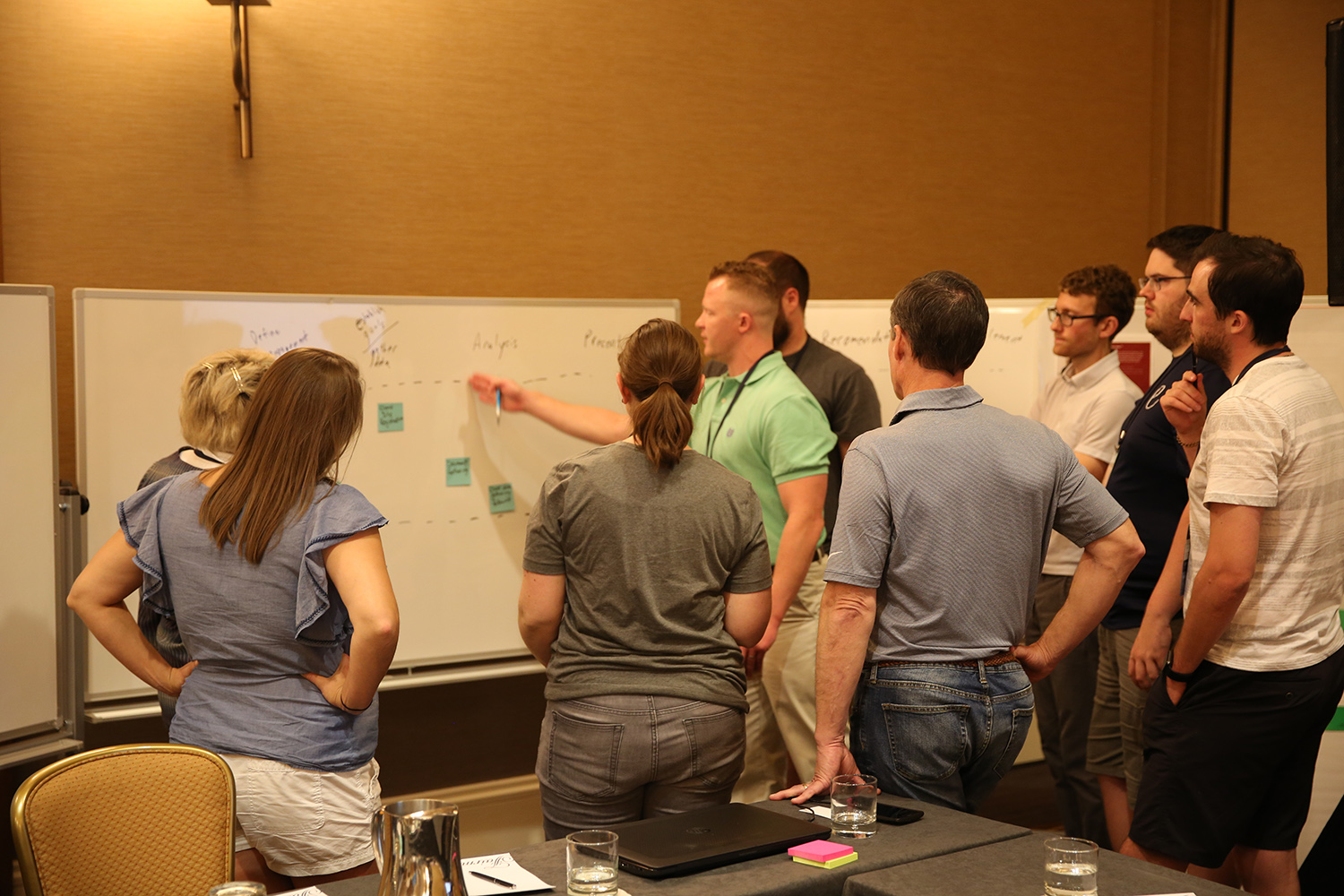 Soon, the room was full of white boards branded with complex diagrams and sporadic notes. And late into the night, the groups brainstormed ideas to solve the Hackathon's problem statement.
Summit Day 2
After a successful day one, all the advisors were back bright and early for a full day of Summit activities. Getting it all started (after a big breakfast of course) was an Ask Me Anything session with the acclaimed advisor, coach, and CEO, Ron Carson. Fresh off a complete company rebrand, a serious change in broker dealer and custodian, and sporting brand new beard, Ron was a wellspring of wisdom thanks to his long and successful tenure in the financial services industry (and also apparently as an avid mountain climber).
Some of the best tidbits of "Ron-sense" included "pick your partners well," "always start with the client experience," "don't be distracted by non-alpha activities," and "provide solid career path in order to keep young talent." There was much more, but don't worry, Twitter users took to posting the rest.
Provocative Q from @rchusker – If you're afraid to ask for referrals, is it because you're not proud of your own services? #eMoneySummit17

— MichaelKitces (@MichaelKitces) September 26, 2017
Building a career path for next generation important for them AND setting future client experience too. – @rchusker #emoneySummit17 pic.twitter.com/zpZkUFzAEo

— Paul West (@PaulWestCoach) September 26, 2017
Ron on #millenials: want value beyond a doubt. Developing a menu of services for them. Digital important. @CarsonWealth #emoneysummit17

— eMoney Advisor (@eMoneyAdvisor) September 26, 2017
Michael Kitces, Partner and Director of Research at Pinnacle Advisor Group followed Ron's Ask Me Anything with his talk: Industry Trends Shaping Financial Advice. He started with a fresh take on the classic story of the Luddites, an infamous group of nineteenth century craftsmen who resisted the inevitable rise of technology brought on by the industrial revolution. Drawing parallels to today's world, he showed how technology has historically killed financial advisor business models, how financial advisors have time and again consistently adapted and continually improved their value stacks.
"What are you going to do the add the value on top?" tech forces us to keep moving up the value chain. @MichaelKitces #emoneysummit17 pic.twitter.com/rupJ2BLMSd

— #MoneyNeedsMe (@brunchandbudget) September 26, 2017
Getting everyone to lunch was two hours of interactive breakouts. Led by eMoney power users, these sessions were an opportunity to share best practices between professionals, and in that spirit of sharing, slides from each presentation will be shared next week.
After the advisor-led breakouts, the Summit got back to technology with a series of breakouts from all our great sponsors.
#GameChanger was said 3 times afterwards from attendees of this @CarsonGroupLLC session. #emoneysummit17 Help improve the #ClientExperience https://t.co/E4vSDZoKMo

— Paul West (@PaulWestCoach) September 26, 2017
As everyone made their way back into the main hall for a few more keynotes, a few stopped to send some love over to the DJ:
Loving all the break music to get the group ready for the general sessions! #emoneysummit17 – https://t.co/2CYOMmaIfZ

— Kristen Moran (@KMoranlkwdite) September 26, 2017
The DJ Treasure Big Trez at the #emoneysummit17 …Great music! pic.twitter.com/394QVoHUZH

— Wealthbox CRM (@Wealthbox) September 26, 2017
Kicking off the afternoon was the President of Fidelity Institutional, Mike Durbin, with his presentation, The State of the Wealth Management Industry in 2017. He outlined the main drivers of value for financial advisors, which included to: Build better outcomes for clients, infuse digital into your DNA, and create a sustainable, enduring firm.
Our final keynote speaker of the day was Clara Shih, CEO and Founder of Hearsay. Straight from Silicon Valley, Clara demonstrated how technology has transformed the way we build relationships and sell our services. She posed the provocative question: Why do so many advisors market their services like its 2007? And then took the audience through how it is they can bring their marketing up to 2017 by embracing such technological change as text messaging and social media while still remaining compliant with the many regulations in our industry.
The Hackathon Takes Center Stage
Between speakers, and under the leadership of two-time Hackathon emcee Bill Winterberg, attendees got a video recap of day one of the Hackathon, but most importantly, got to see live demonstrations of each group's piece of newly developed technology.
Team Hacktical Jokers went first and displayed their artificial intelligence onboarding system. They staged a typical advisor-client conversation as the technology tracked their words and pulled out all the pertinent data to then fill the eMoney system.
Team Equihacks was next with their innovation known as The Lifeline. As information was entered into their sleek interface, the client's lifeline was instantly built in front of them on screen.
Next was Team Road Warriors with what they called The eMoney Roadmap. Featuring an integration with Tightform Survey, Advisors can customize which questions their clients will answer during the onboarding/data gathering (or roadmap) process.
Fourth up on stage was Team Baby Got Hack. Their innovation was the simple, yet extremely practical idea of scraping a wealth of information from a client's 1040 document, which had been uploaded in seconds from the client.
And finally, Team Show Me the eMoney came onstage with their MyWealthPath, which was a flexible workflow that let clients input information at their own pace, allowing them to pick and choose which sections to complete whenever they had the chance.
And after a quick break, the winner was announced. With the votes tallied and the judges consulted, Baby Got Hack, with their document scraping onbaording process was announced as the winners of the second annual eMoney Advisor Hackathon.
Summit Day 3
To start of the final day of the 2017 eMoney Summit, a surprisingly alert and large crowd filled the main hall at 8:00 am sharp to watch eMoney's Jess Liberi run through the eMoney Product Roadmap.
.@emoney_jliberi 👏🏻👏🏻👏🏻#emoneySummit17 https://t.co/rvx7SwzADB

— Joanna Armandi (@j_armandi) September 27, 2017
As our Vice President of Product, Jess provided first hand insight into what influences our product vision and just what it takes to create a new eMoney feature. She walked everyone through a number of new features and products including the Automated Managed Platform, Lead Capture, Advisor Assurance, and more. But most important of all, she announced the release of the all-new Advisor Branded Marketing.
.@emoney_jliberi announces Advisor Branded Marketing at #emoneysummit17 – attendees get this free for 3 months 🎉🎉🎉 pic.twitter.com/7kPpVleeog

— Jason Lahita (@jlahita_ficomm) September 27, 2017
My article on @eMoneyAdvisor's marketing tools introduced at #eMoneySummit17: https://t.co/UuphgApQMO

— Ryan W. Neal (@ryanWneal) September 27, 2017
The remainder of the morning was filled with the wildly popular eMoney breakouts, trainings, and one-on-one sessions all geared toward providing advisors with the opportunity to learn how to better use their software. Session topics ranged from advanced planning tips to best practices for the client experience and even breakouts dedicated solely to feedback.
Connor Sung and Caitlyn Conlin discussing how to show your value throughout your efficient processes in eMoney. #eMoneySummit17 pic.twitter.com/iTnMeIUaIg

— eMoney Advisor (@eMoneyAdvisor) September 27, 2017

After another round of eMoney breakouts, it was time to close Summit out. Attendees were treated to a wonderful presentation from well-known White House photographer Pete Souza, who took nearly 2 million photographs of former presidents Barack Obama and Ronald Reagan. With such a wealth of behind the scenes photos from our nation's highest office, Pete was able to guide everyone through some of the most seminal moments in American history as well as some of the sweetest.
.@PeteSouza walking us through his time at the White House using the photographs he took. #eMoneySummit17 pic.twitter.com/SWQrjMYW4k

— TJ Hill (@TJunior1014) September 27, 2017
And just like that it all ended. Three inspiring, informative, action-packed days in the books. Until next year!