You play a critical role in your clients' lives—especially during this time of uncertainty and market volatility. We know it's paramount that you have the resources you need to continue to communicate with your clients.
With Advisor Branded Marketing, you can email clients directly from your eMoney platform and proactively share timely content that speaks to current events. Let's look at how to create, send, and track email engagement with Advisor Branded Marketing.
Create Your Email
Open the Emails tab inside Advisor Branded Marketing, and either click Create Email to create a blank template or search our existing templates.
Advisor Branded Marketing includes basic email templates you can open by clicking Start Email beneath the template name. When using a template, be sure to customize the message to add your own personal touch.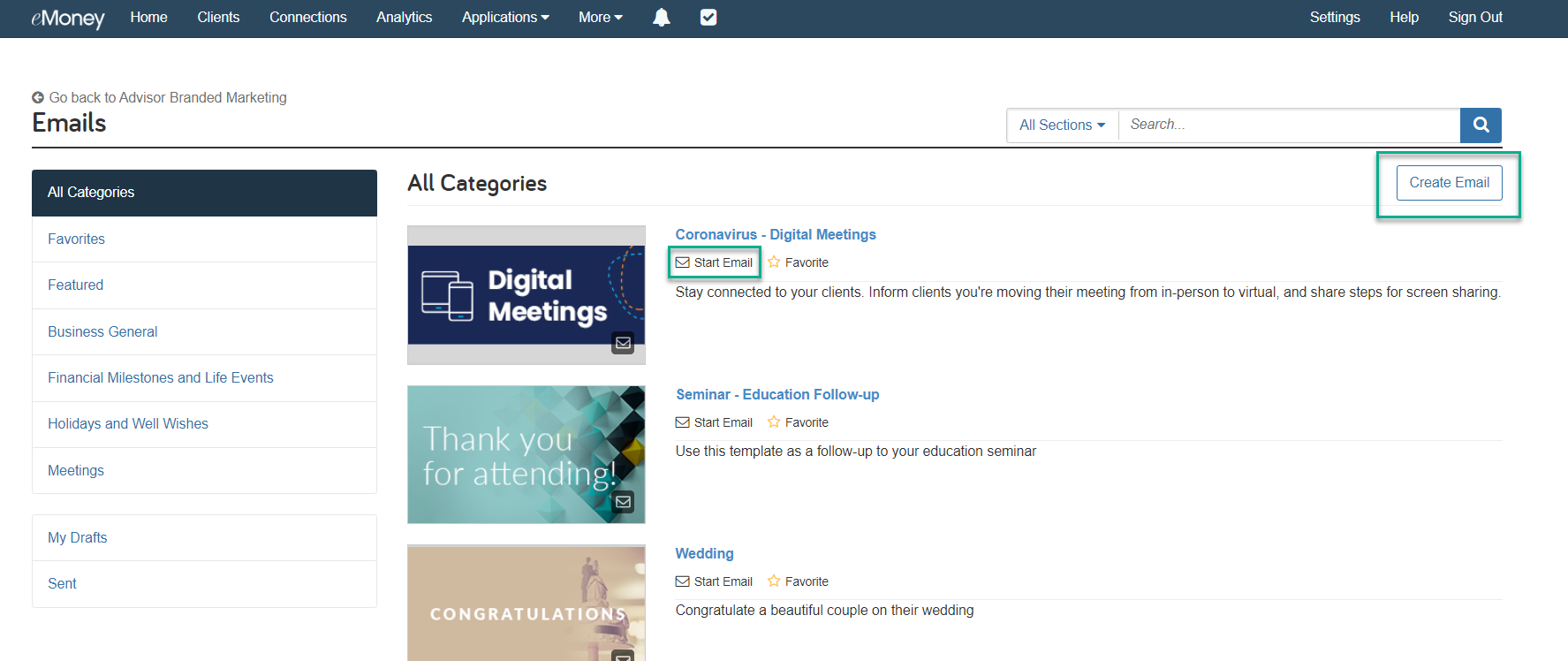 Customize Your Email
Once you have the email open, select Edit to customize the subject line, the header image, and the body copy of the message.
Add a personal greeting at the beginning of the message and include any additional comments you'd like to share with your clients.
Most templates include an optional header image. You can remove or replace the image. If you are replacing the image, we recommend using a 600×100 pixel JPG or PNG.

Attach Content to Share
Next, attach timely and relevant content to share with your clients, by finding materials from the Content Library section of ABM.
Click Select Content to Share, filter by Industry Insights to browse the most recently added content, and select Add Content. You can attach one or more articles to your email.
**Industry Insights are updated every week with new and topical content.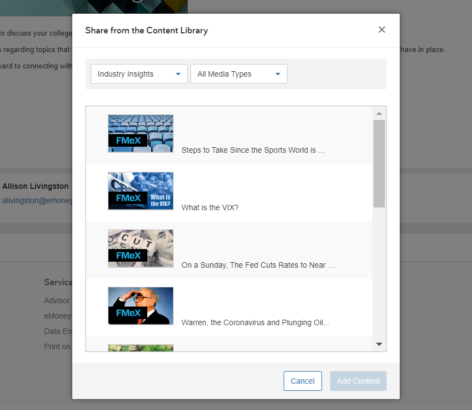 Add Your Recipients
Now, it's time to add your recipients. Click Add Contact(s) to create a recipient list. You can select:
Clients – Choose clients from your eMoney client list. Clients will need to have an email address entered in their client profile to add to the recipient list.
Groups – Choose a client group. You'll need to create a group from your client list for options to appear here.

To create a client group: Select Clients on the top toolbar > Manage Groups > Add Group
To add a client to the client group: Select Clients on the top toolbar > Click on the drop down arrow next to a client name > Check the correct group

Additional – Add any additional email addresses for clients, prospects, and others who aren't in your eMoney client list yet.
If you select more than one client or add a client group, all clients are automatically blind copied and will not see the other recipients.
If a client replies to the email, you'll receive responses directly in your email server inbox (Outlook, Gmail, etc.). You will not have an inbox in Advisor Branded Marketing.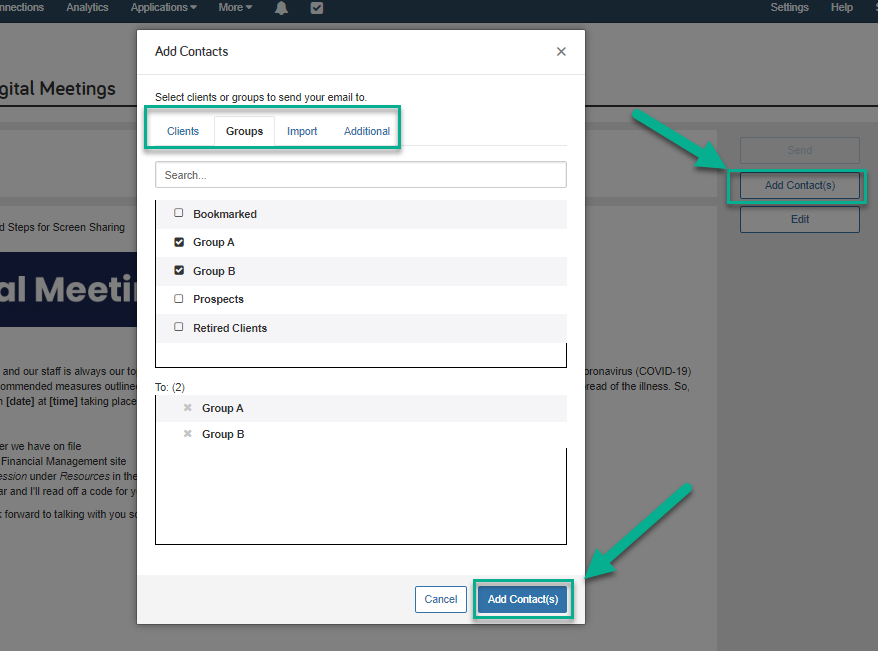 Track Engagement
After sending an email, you can check to see if it was delivered successfully and if the client opened the email. Click Sent to view a list of all your sent emails, and then select the subject line of an email to see:
The recipients
Whether the email was delivered without error
Who viewed the email
Now you're all set to start directly engaging your clients through Advisor Branded Marketing!
Have a question or need assistance? Our Client Support team is here to support you in any way we can. Give us a call at 888-362-8482 or send us an email.