Would you like to include financial information from an institution that isn't yet available on your eMoney platform?
We can help! But before you submit a new connection suggestion there are a few steps you should take to make sure the institution isn't already supported. In fact, over 40% of connection requests we receive already have active connections available!
Here are some quick steps you can take before submitting a new connection request:
Make Sure You're Selecting the Right Connection Type
If you're searching for the connection on the advisor side of the application you have the choice between Advisor Managed connections and Client connections.
Advisor Managed – These are connections that use the advisor's own credentials to access accounts for multiple clients.
Client – These are connections that use the client's credentials and only access accounts for that particular client.
If you're not sure, check both!
Be Less Specific
Yes, you read that correctly. When searching for connections it pays to be less specific. One of the most common mistakes is searching for very specific institutions. When you copy and paste institution names you might even pull over trademark (™) or registered (®) symbols which will prevent your institution from populating.
For example, if you're looking for one of our 10+ Wells Fargo connections start by searching simply for Wells Fargo – not Wells Fargo Advisors – FCCAccess Client): FCCAccessOnline – because just one misplaced space can result in no matching results.
You can also search by the financial institutions URL and the same advice applies. If you're searching for Fidelity Investments just search for www.fidelity.com, there may be a lot of superfluous information included in the URL if the website uses cookies or the client is logged in when they're copying down the URL.
Pay Attention To Details
Finally, pay close attention to the type of account many institutions use separate websites for different lines of business (e.g. Personal Banking, Business Banking, Investment, Mortgage, etc.)
Still Can't Find the Right Institution?
If you've followed the steps above and still can't find the right financial institution for your connection. It might be time to submit new Connections Request. Go to the Support section of your eMoney footer and click Request a New Connection.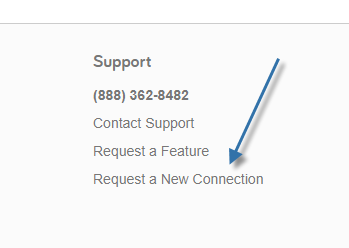 Then search for an existing Connections Request for your desired institution. If one exists, add your vote! We prioritize development resources based on the number of unique user requests (repeat requests from the same user are not counted). Or if a request doesn't currently exist submit a new one!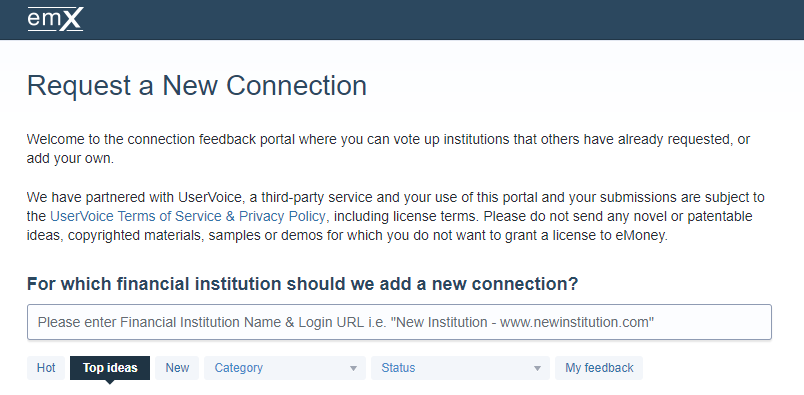 ---
Questions? Give us a call at 888-362-8482 or send us an email.