The latest updated Advisor Branded Marketing video, released this April, is designed to help your clients help their aging parents.
Advisor Branded Marketing subscribers can share this video to explain how their clients can protect their parents by monitoring their savings, spending, and investments.
---
In addition to the new video, we've also released two new client guides this month.
Addressing Care Options Now for Your Aging Parents Will Pay Dividends for Everyone – is meant to show children of aging parents face many decisions. Help them start thinking about the many areas they'll need to consider.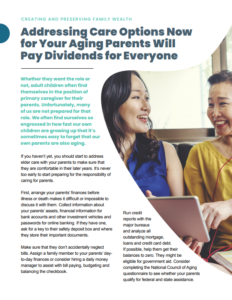 A Practical Approach to Helping Aging Relatives Prepare for the Future – helps your clients improve outcomes for the people who matter in their lives.
Interested in learning more about Advisor Branded Marketing? Sign up for a demo today!