With analytics, you can make data-driven decisions to differentiate your business and better serve your clients.
On September 18, we're updating our Basic Analytics platform. We're rolling out the first set of charts that enhance the insights previously accessible only through our Advisor Opportunity reports.
New charts being added to Basic Analytics include:
Client Mortgages by Interest Rate (New)
With this chart, it's easier than ever to monitor clients' outstanding mortgage balances and develop recommendations on how their terms compare to current market conditions.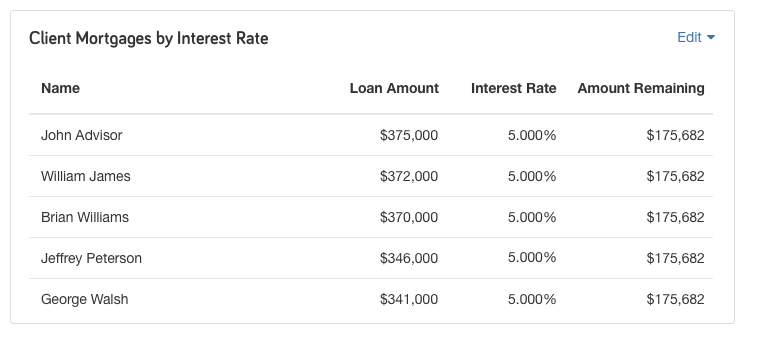 Vesting & Expiring Options by Date (New)
The Vesting & Expiring Options by Date chart provides an overview of events related to your clients' stocks. With this information, you can closely monitor upcoming vesting and expiration dates to help your clients determine the best action to maximize their investments.
This chart also provides additional details on the asset name, grant number, and current value of the stock options.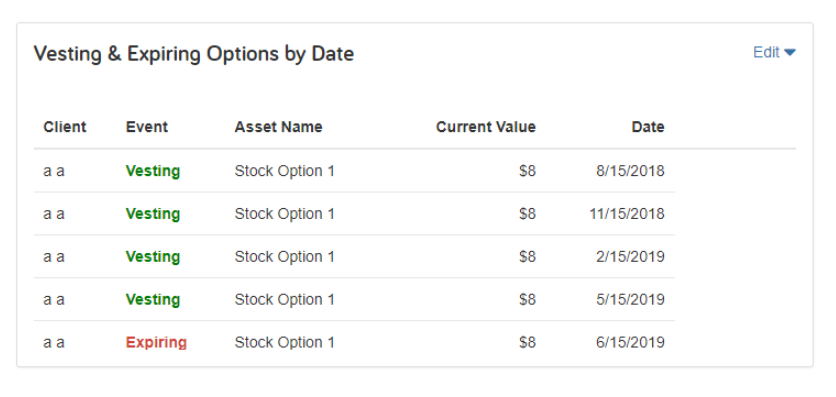 We're even adding three charts previously only available through Advanced Analytics to Basic Analytics!
Insurance Policy Anniversaries
Top Clients by Assets Under Management
Client by Net Worth
After these charts are released, we will discontinue the corresponding Advisor Opportunity reports on September 25. Learn more about the Advisor Opportunity Report discontinuation here.
Additional Chart Coming Soon
Following the release of the Basic Analytics charts above, we're adding an additional chart focused on client insurance policies. Stay tuned for more on this chart – coming soon.
Insurance Policies by Client (New)
Does your client have sufficient life insurance? Are both your client and their spouse insured? Answer these questions and more with this chart designed to provide insight into your client's insurance coverage.