Pre-retirees and soon-to-be retirees often express concern about retirement income. Unfortunately, advisors struggle to help these clients because current approaches to retirement planning are time-consuming and resource-intensive.
Given the constant demand for retirement planning, advisors need intuitive tools that position them to meet the financial needs and goals of their clients. Being able to visually demonstrate a client's income and expenses is fundamental to any planning conversation and is necessary for instilling confidence.
The Decision Center is designed to help you collaborate with your clients and demonstrate how their decisions impact their financial futures. With the new Cash Flow Overview, you can increase the value you provide to clients by having an interactive retirement income conversation right within Decision Center.
With the new Cash Flow Overview, you can:
Assess a client's retirement expenses and sources used to fund them
Streamline your planning process
Increase client engagement through an interactive experience
The Cash Flow Overview will provide clients a holistic view of their salary/bonus, Social Security, distributed investment income, required minimum distribution, other income sources, withdrawals, and expenses to show them exactly where they stand and how much they may have to adjust their current lifestyle to enjoy the retirement they deserve.
The Cash Flow Overview will be the foundation for future Decision Center enhancements that will empower you to help your clients achieve their financial goals.
Visit the Decision Center today to start using the new Cash Flow Overview.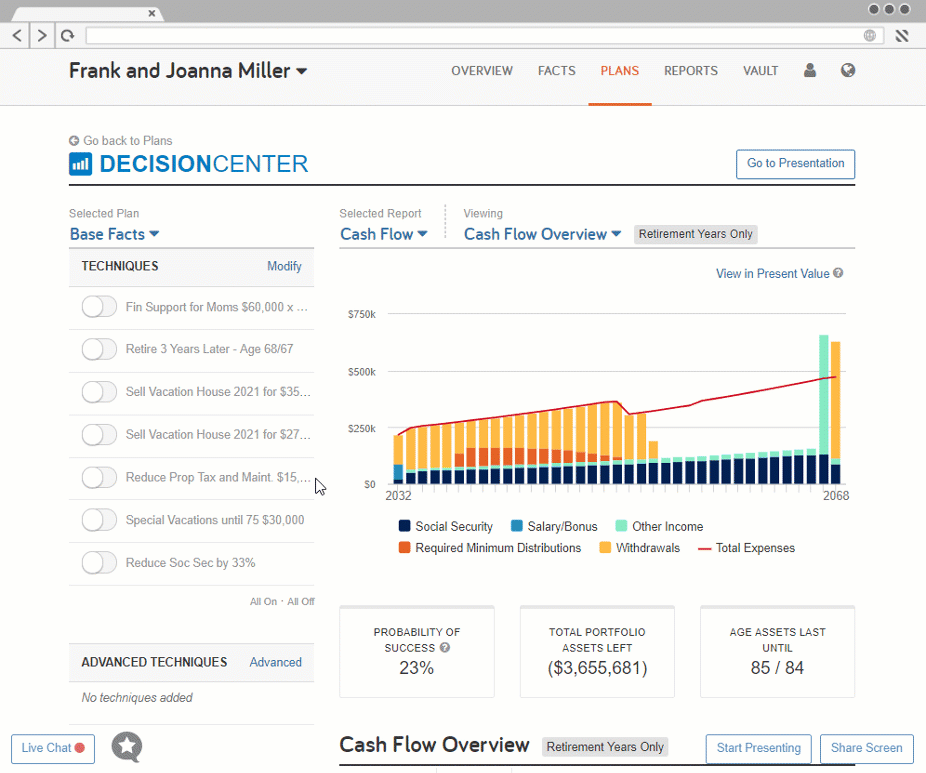 The next enhancement to the chart will give you the ability to define what timeframe is used in the view: pre-retirement years only, retirement years only, or all years.
Access the Cash Flow Overview in the Decision Center under Selected Report > Cash Flow. Cash Flow Details is still available under the new Viewing drop-down menu.
For more information on this release or the Decision Center, send us an email or call us at 888-362-8482.