eMoney's new brokerage integration with Schwab Advisor Center® enables advisors to work seamlessly between the two platforms.
Developed to fit your workflow, the Schwab® integration features multiple single sign-on points within eMoney so you can access the technology you need, when and where you need it.
https://youtu.be/C_JC7gHFKr4
Key Features of the Schwab integration include:
Single sign-on from eMoney to the Schwab Advisor Center homepage
Single sign-on from eMoney to Advisor Alerts section of Schwab Advisor Center
Support for One Time Password (when enabled)
Ready to get started?
Log into eMoney and click on the green Turn On button on the Schwab OpenView Gateway® integration support page. Then click the blue Connect button.
Next, you'll be prompted to enter your user ID and password, and to accept the User Agreement, before clicking Subscribe to initiate the integration.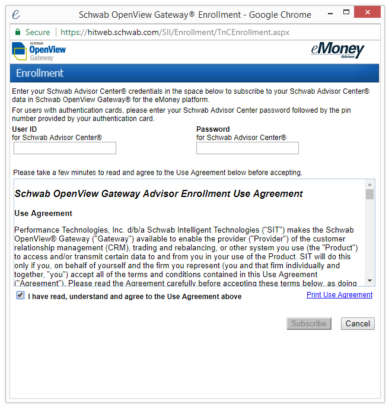 Value-added integrations like this relieve you from unproductive and administrative tasks, so you can spend more time building relationships and positioning your business and your clients for growth.
---
Questions? Give us a call at 888-362-8482 or send us an email.