In December 2018, we released the Connections Status Report (CSR), giving admin users the ability to view top used connections and the health status for most used connections across their book of business, in real time.
We know how important connections-related support is, so we closely monitored feedback from users like you after launching. Based on user requests, we've released additional features to the Connections Status Report: filtering and client-level data.
Key Features
Admin Accessibility – This report provides Admins with the ability to see the status of all connections associated with their end-clients.
Real-time Status Updates – Instead of updating once per day, the report is updated in real-time, ensuring Admins can see up-to-date connection statuses at any moment.
New Additional Features
Access to an Expanded List of Available Institutions – Launching with select institutions, we have continuously worked to expand the list and you can now see the health status for all institutions associated with client accounts in your firm's book of business.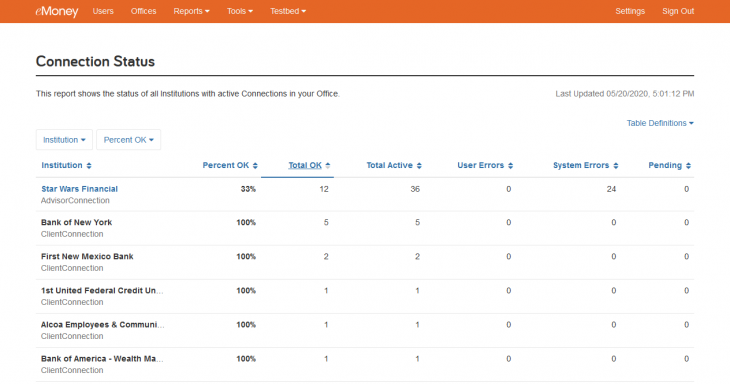 View Impacted Clients by Institution – Launching with the ability to see the health status of institutions, you can now drill-down further and see which clients are impacted. Admin users can click the name of an institution on the Connection Status table taking them to a new page with a table showing all clients with errors at the selected institution. The table has the following columns:

Client Name (Including connection owner)
Last Updated
Status (Credentials Needed, General Error etc.)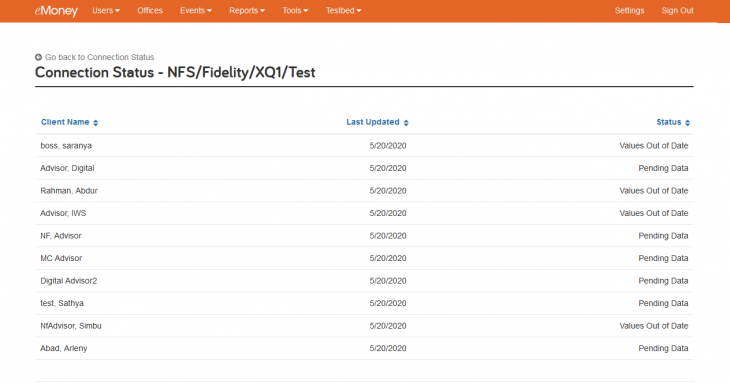 Filter by Institution – Launching without the filtering experience, you can now use the Institution filter to search for specific institutions. You can also select one or more institutions to narrow down your search results.
Our team is excited to share these enhancements, as these CSR improvements will satisfy some of the top support requests we hear. We are committed to ensuring advisors and their clients have a seamless aggregation experience, and continue to strive to partner with you to keep your team ahead of Connections issues.