In December 2018, we released the Connections Status Report (CSR), giving Admins the ability to view top used connections and the health status for most used connections across their book of business. Since the release, Admin users had very positive reviews and have requested the ability to drill down to the office level to see the status of all connections associated with their end-clients.
In June 2020, we are targeting to release the second phase of the CSR which will add the ability to view the report at the office level and access a list of client names in error state. Additionally, the work to build this report includes building a Connection Status Service that serves as the foundation for the Connections Health Monitor (CHM) to be released in early 2021. The CHM will proactively detect institution level connections problems and provide alerts to client and advisor sites to ensure customers know what data may be affected due to a connection problem.
Enhancements in More Detail
View CSR at the Office Level – This enhancement provides Admins with the ability to see the status of all connections associated with their end-clients. This includes all attributes associated with the office level and is configurable to be turned on at the office level.
eMoney Support User Access – Soon, internal eMoney Support will have the ability to see the status of all connections across all installs, allowing support users to search and see this list at the office level.
Real-Time Status Updates – Instead of the report updating just once per day, it will soon be updated in real-time, ensuring Admins can see connections status at that moment.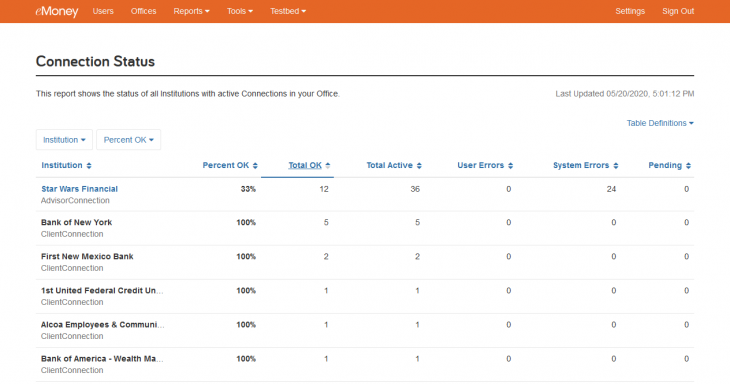 List of Client Names in Error State – Admin can click the name of an institution on the Connection Status table taking them to a new page with a table showing all clients with errors at the selected institution. The table has the following columns:

Client Name (Including connection owner)
Last Updated
Status (Credentials Needed, General Error etc.)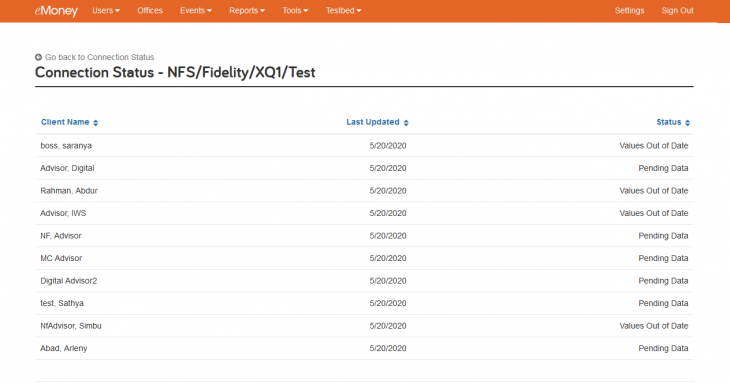 Our team is looking forward to this enhancement, as these CSR improvements will satisfy some of our top ten Support requests we hear most often. We are committed to ensuring advisors and their clients have a seamless aggregation experience, and continue to strive to partner with you to keep your team ahead of Connections issues.