As your business grows, your responsibilities increase, and there's less time to get everything done. Working as efficiently as possible is a key to success. With the latest Vault update, you can drag and drop files into sub-folders within the Vault, saving you time in your day.
This small improvement is just one of many enhancements we've made to the Vault experience in the past year.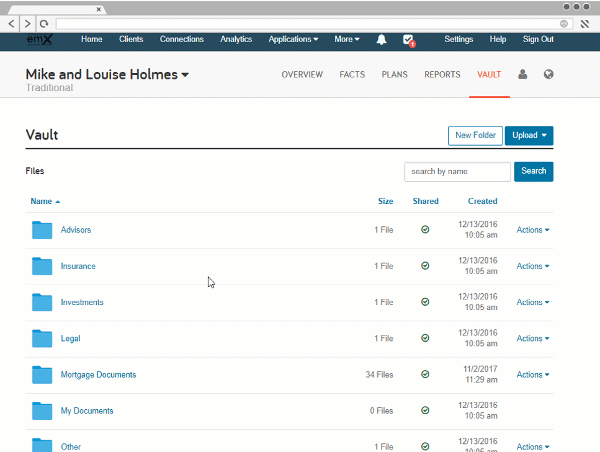 ---
Learn more about all the Vault enhancements released over the past year by watching our release recap webinar.
---
The latest updates unified the Advisor and Client Vault experiences while adding new functionality to make the Vault more intuitive for new clients.
Additional enhanced Vault features include: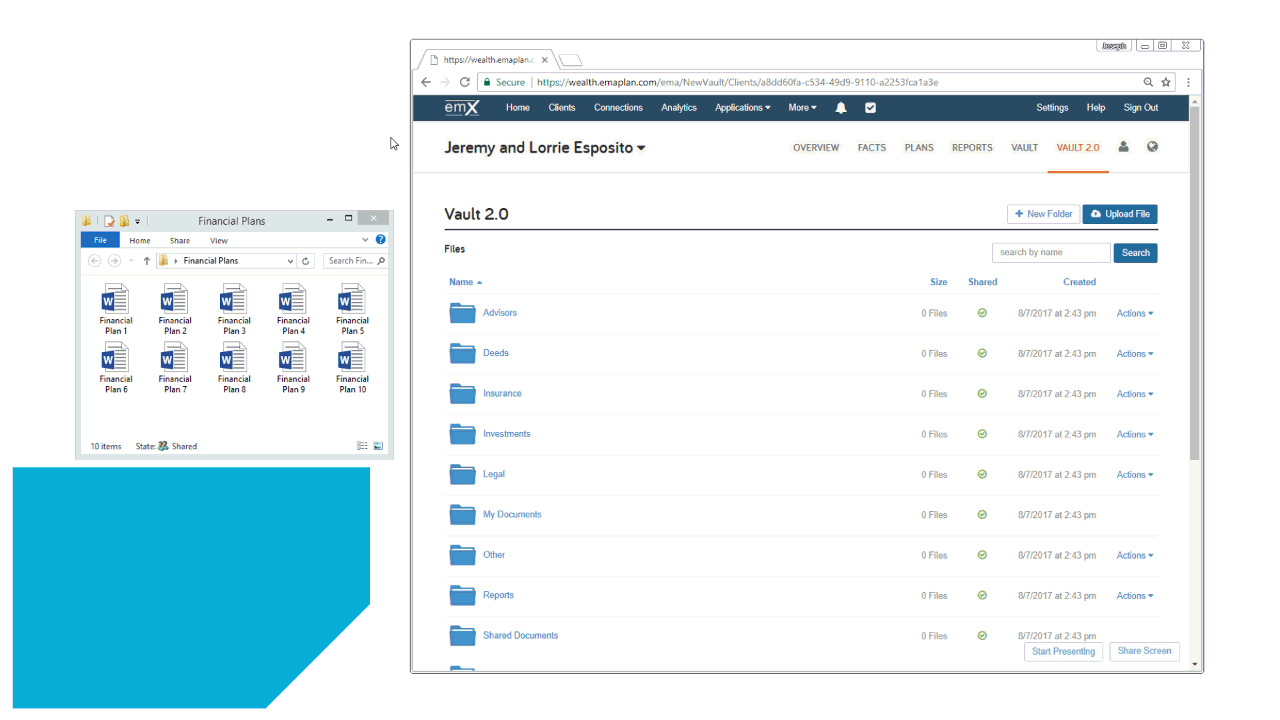 Drag and Drop Functionality
The process of uploading files to the Advisor and Client Vaults has been simplified. You can now select, drag and drop all applicable files from your desktop or folder directly into the Vault.
Bulk Document Uploads
In addition to drag and drop functionality comes a new bulk upload feature.  Restrictions on the number of simultaneous uploads have been removed, allowing you and your clients to quickly back up and transfer all of your important documents.
Track the Progress of Uploads
Your new progress bar allows you to easily identify the progress of your file uploads, so you can quickly see when your new files will be available in the Vault.
Search for Documents by Name
We've made it easier to find the document or report you need. Our new search functionality allows you to quickly search every folder in the Vault, identifying documents by name.
Easily Identify Shared Documents
Based on user feedback, we've created an easier way to adjust document and folder visibility. A green check mark signifies that your document is shared and visible to your clients.
Upload All Files Types
The choice is yours. Any file type, except for executable files, can now be safely uploaded to the Vault.
New File Type Icons
Our new icons will help you quickly locate the file you're looking for by allowing you to easily identify pictures, PDFs, spreadsheets and more.
---
Questions about the Vault? Send us an email or call us at 888-362-8482.