The Life Insurance Gap Analysis in Foundational Planning enables you to easily demonstrate if your clients' current life insurance and other resources provide adequate protection for their families.
Next month, we're updating two key aspects of the Life Insurance Gap Analysis that will allow you to:
Set the Effective Tax Rate, making it easy to model taxes by giving an option to apply a separate tax rate to both pre- and post-retirement expenses.
View and add the Details and Assumptions section to the Life Insurance Gap Analysis report.
Effective Tax Rate
The Effective Tax Rate will be added in the Future Needs section and survivor expenses will be increased by the Effective Tax Rate in the Cash Flow Summary View providing clients with a more realistic picture of their expected gap.

Details and Assumptions Report Section
This new section shows a detailed breakdown of the individual expenses, liabilities, and resources that go into the Additional Life Insurance Required Gap calculation. This includes three sections:
Immediate Needs – the first immediate expenses and the liability pay-offs
Future Needs – the survivor's pre-and post-retirement living expenses and goal expenses
Current Resources – the assets and life insurance death benefit available on hand for the survivor to meet their needs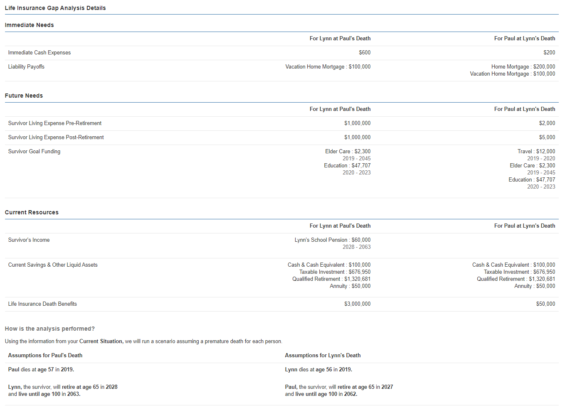 Advisors will also have the ability to choose whether Survivor Cash Flows and Assumptions and Details are included in the report. This setting is controlled within the Details tab of the report.
Questions? Give us a call at 888-362-8482 or send us an email.