At eMoney, we want to empower financial professionals with the marketing tools and resources they need to acquire, retain, and engage their client base. We do this so you can simplify lead generation, improve your digital presence, and generate new business with digital marketing technology designed to help you accelerate growth.
In a recent study*, we found that prospective clients are relying less on advisor referrals from friends and family and instead 42 percent of respondents are starting their process to find a financial advisor through an online search. Additionally, one-third of those surveyed said they are more likely to choose an advisor who is active on social media.
As communication methods evolve, so must the tools that financial professionals use. We'll be making significant advancements to our marketing solution to support this evolution—substantial enough that the current product name would no longer fit the vision. That's why we're excited to share the next evolution of our Advisor Branded Marketing platform—Bamboo.
Bamboo grows faster than any other plant in the world and does so with very minimal effort. We believe marketing technology for financial professionals should be no different—it must accelerate the growth of your business and be simple to execute. This new brand identity is just the first step in the journey towards our next-level marketing technology solution for financial professionals.
As we venture into 2021, we invite you to generate more leads and grow your planning business with Bamboo.
More Marketing Updates
In-App Access Point Update
Released January 27, 2021
Our advisor marketing functionality will not be changing at this time. However, the access point to Bamboo will. Bamboo will not appear under the More tab but as an independent item in your top navigation toolbar.
Campaign Analytics Enhancements
Released January 27, 2021
Gain more in-depth insight into who is engaging with your campaign, where they're seeing your marketing messages, and when. This release enhances the experience by adding an overall email engagement view, additional details on leads and opportunities, and channel engagement data.
Keep reading below to learn more about the latest enhancements to the Landing Page and Generated Leads, Channel Engagement, and Overall Email Engagement charts.
Landing Page and Generated Leads
From the Landing Page and Generated Lead chart, you can now access a detailed table of who is engaging with your marketing campaigns. Simply click on the total number beneath Landing Page Visits, Leads, or Opportunities to view.
Note: Name and Email Address data are not available for landing page visits generated via social media. However, this data is available for leads and opportunities.
Channel Engagement Chart
This chart shows which channels (including email and social) are the most effective for driving landing page visits. You can leverage this data to understand where you're having success and which channels have success with the associated campaign. We mark the associated campaigns on the timeline for reference.
Overall Email Engagement
Now available within Campaign Analytics, you can view a consolidated table of email engagement across all campaigns.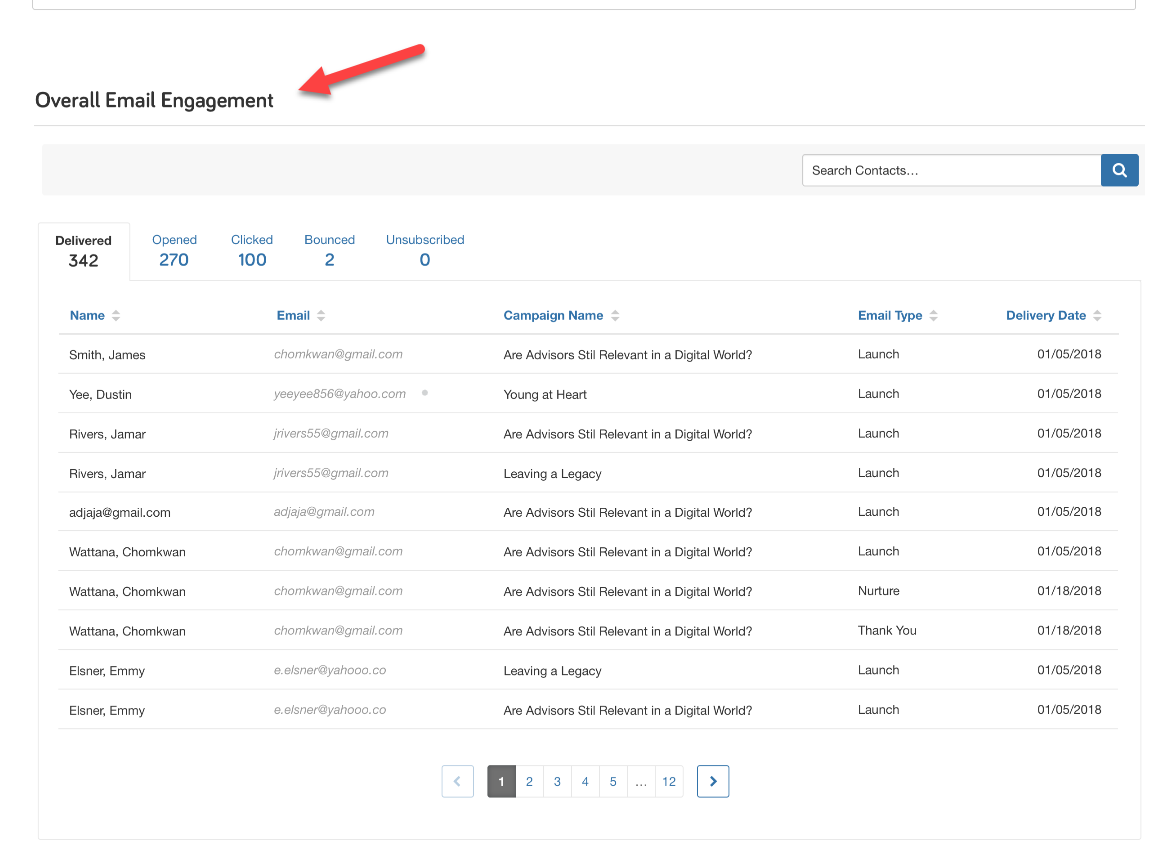 Not a current Bamboo subscriber? Learn more about the next evolution of our marketing platform or sign up for a demo today!
*Source: 2020 eMoney Consumer Marketing Survey, September 2020, n=2,000