Our latest integration provides easy access to Box's online storage through the eMoney Vault, allowing you to share sensitive information online with auditors, investors, analysts, and other teams without compromising the security of your documents.
What is Box?
Box is an enterprise content management platform that solves simple and complex challenges, from sharing and accessing files on mobile devices to sophisticated business processes like data governance and retention.
Within financial services, Box seeks to help institutions comply with FINRA and SEC requirements by enabling them to retain and delete their content online in accordance with SEC ruling 17a-4 (also known as WORM) for broker/dealers.
How does eMoney integrate with Box?
The Box integration enables you to access documents stored in Box directly from the eMoney Vault. It also allows you to easily transfer documents from the Vault to your Box platform.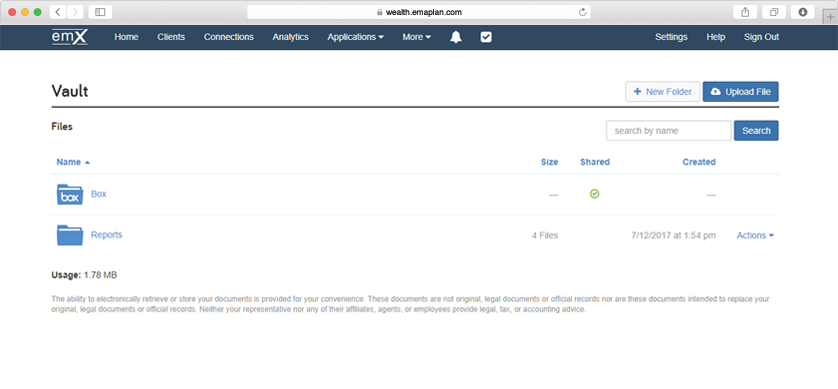 With this integration, 17-4a (WORM) compliant storage software is available directly in the eMoney Platform. Now, you can easily access your Box account from the Money Vault to safely store all your most important documents.
Ready to Get Started? 
Check out our Box Integration User Guide or follow along with the steps below.
Log in to your Advisor Site and click Applications on the navigation bar, and select View All Applications.
2. Next, select the Box Integration tile to reach the support page for this integration.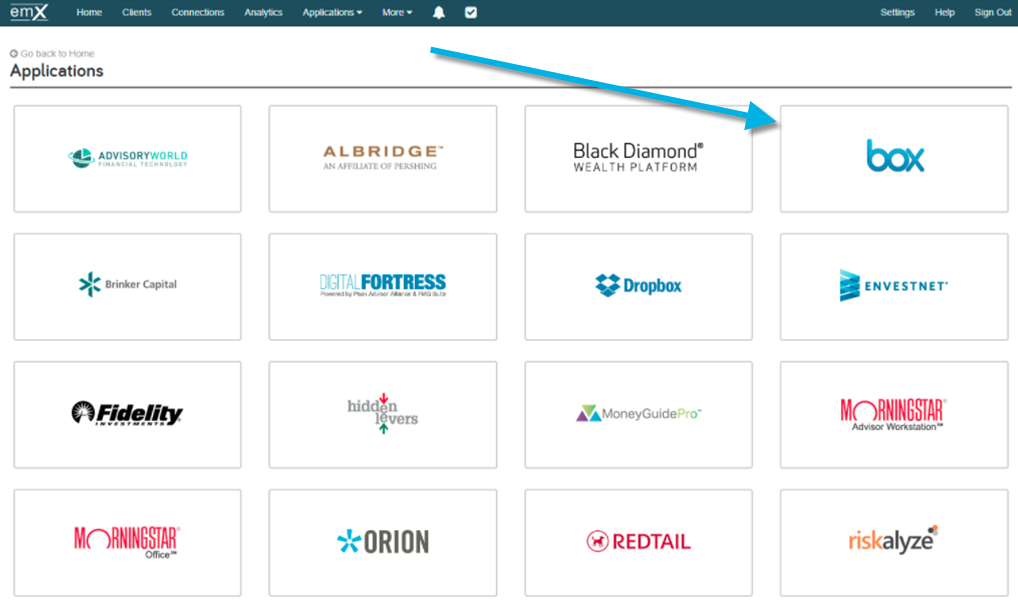 3. On the Support Page, click the green Turn On button then click Connect and follow the instructions.
4. Finally, you'll be prompted to enter your Box credentials to finalize the integration. Then you're ready!
Note: While the Box integration's authorization window currently initiates via pop-up window, we're working to frame it into eMoney as part of our January release. 
---
Stay tuned for more integrations releasing in 2018 including Tamarac and Schwab!