Gain more control of your data in your Analytics platform by excluding unwanted clients. You can now filter specific clients out of your Analytics dashboard by switching real clients – which you may have created for demo purposes – to sample clients. (but don't worry, you can switch them back!)
Here's how…
On the Client list, find the client you want to change. Expand the client menu and click Demote to Sample Client.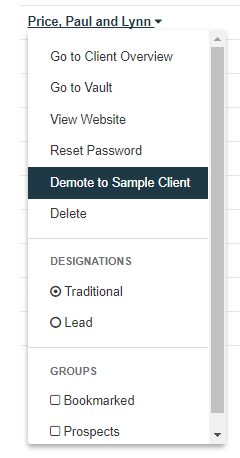 That's it!

Note a few limitations apply to sample clients:
Vault documents cannot be uploaded from an external source
Connections cannot be added for sample clients
All reports and presentations will have a draft watermark on them
 Pro tip: Moving a client to a sample client disables their connections, so note that any clients who are demoted to sample clients will lose active connections.