With eMoney's Sample Clients, you can use the Decision Center to show potential clients how you engage with them — without having to gather a single fact.
Each Sample Client has been built to align with common prospect scenarios, so whether you're presenting to a business owner, retiree or a millennial family just getting started (with our new sample client, the Rosens) – you have the case you need to demonstrate your value.
So we're introducing a new Sample Client, the Rosens, and adding new details on newly created Sample Clients so you have even more realistic scenarios – like support for aging parents and detailed college expenses to share with potential clients.
Note: Existing Sample Clients will not be impacted by these changes, only newly created Sample Clients will include the enhancements.
Here's what's changing for newly created Sample Clients:
Every Sample Client is being updated to realign with their intended story. This includes making updates to birth dates and income and expense timing to ensure family member ages are appropriate for their scenario and expenses associated with family members (like college and support for parents) better align with the overall plan.
We've also made changes to Sample Clients' investments by fine-tuning holdings quantities and growth rates to better align market appreciation with their stories, as well as allowing for growth "By Asset Mix" to represent a more age-appropriate level of growth and risk.
Lastly, we've updated the techniques in the Decision Center to improve the presentation and storytelling experience.
All of these changes will allow a smoother and more fluid conversation around the Sample Clients' financial plans.
Meet the Millennials – Keegan and Taylor Rosen
The Rosens are a brand new Sample Client intended to appeal to a millennial audience. Their plan is intended to be successful in the base case, with issues arising when they begin to plan for having their first child and purchasing their first home.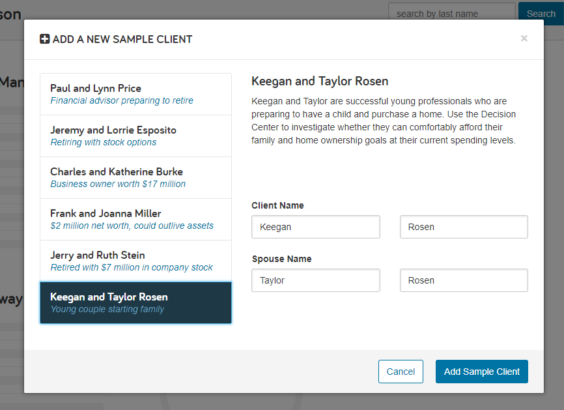 In the Decision Center, you'll find multiple pre-built techniques that walk through the Rosen's goals. These techniques are designed to help you highlight everything from their desire to purchase a home, to having a child, and planning for future college expenses. It also proposes the possibility that Social Security might not be fully funded when they reach retirement age.
The story these pre-built techniques create can be easily expanded upon with modifications like adding a second child or purchasing a larger home in the future. There is also a potential conversation starter concerning their large amount of student debt.
---
Questions about how to integrate the new and updated Sample Clients into your presentations? Give us a call at 888-362-8482 or send us an email.