When working with a new client, entering a variety of data in the Facts section can take time. So if you're looking to present an introductory analysis of your client's finances on the spot, eMoney's Needs Analysis tool can help you put together your first client presentation before you've entered their full data profile.
And with restyling enhancements coming next month to your Needs Analysis tool, you'll be able to evaluate your clients' needs in a newly refreshed platform.
What is Needs Analysis? 
Needs Analysis is a modular planning tool, ideal for conducting a simple evaluation of a client's individual need, like life insurance or long-term care, or a custom need, allowing you to create simple, targeted evaluations of your clients' needs, including retirement, insurance, and education modules.
With the Needs Analysis tool, you can easily show your clients and prospects how you can help them protect their families, plan for their goals, and prepare for retirement.
What's Changing to Needs Analysis? 
Over the next few weeks, you'll notice a few small changes to the look and feel of your Needs Analysis tool. You can expect to see a modern, fresh feel to your Needs Analysis platform, while enjoying all of the current functionality and system calculations that exist today.
It will begin with updates to the fonts, headers, and report text then next week you can expect to see updates to the chart visuals.  See below for a sneak peek of what to expect.

Need a Refresher on How to Get Started?
If you're a little rusty on how to use Needs Analysis with a new or existing client, follow the steps below to get started:
From Client Overview page, select "Plans"
Under "Tools" you'll see Needs Analysis
Click the "Add" button, and choose from one of our standard templates, or select "Custom" if you're looking to address several needs

Here you'll be prompted to rename this analysis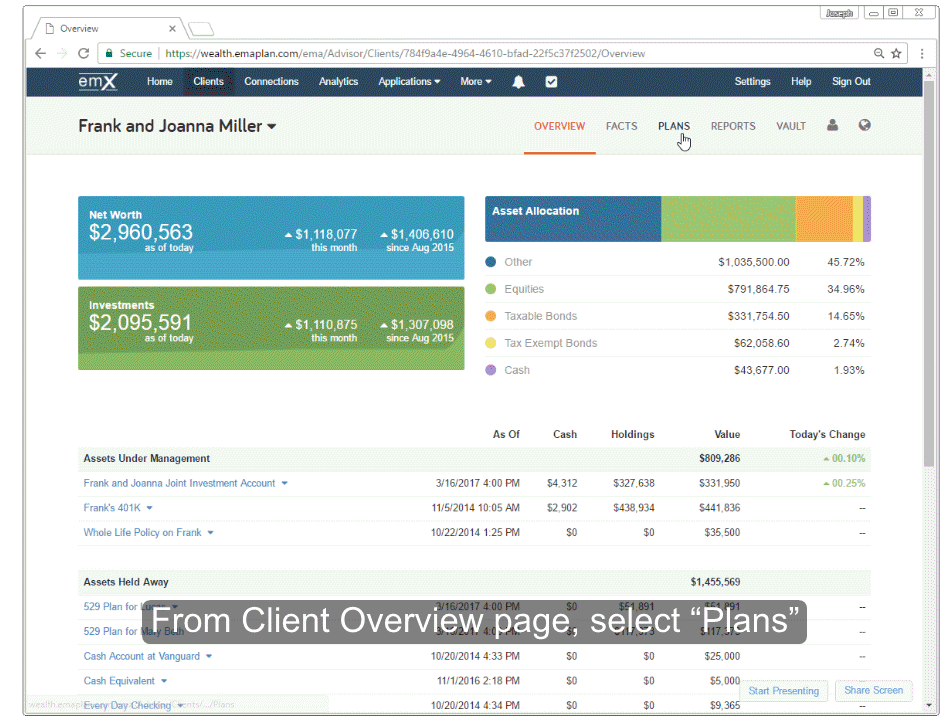 Now you're working within a client deliverable
Each hyperlink takes you to a page of the deliverable

You'll notice that pages with a pencil icon require data entry
Click the fields that require data
If you've already entered this info into the Facts section, the data will be pre-populated within each page
If you are working with a new client, this will be available already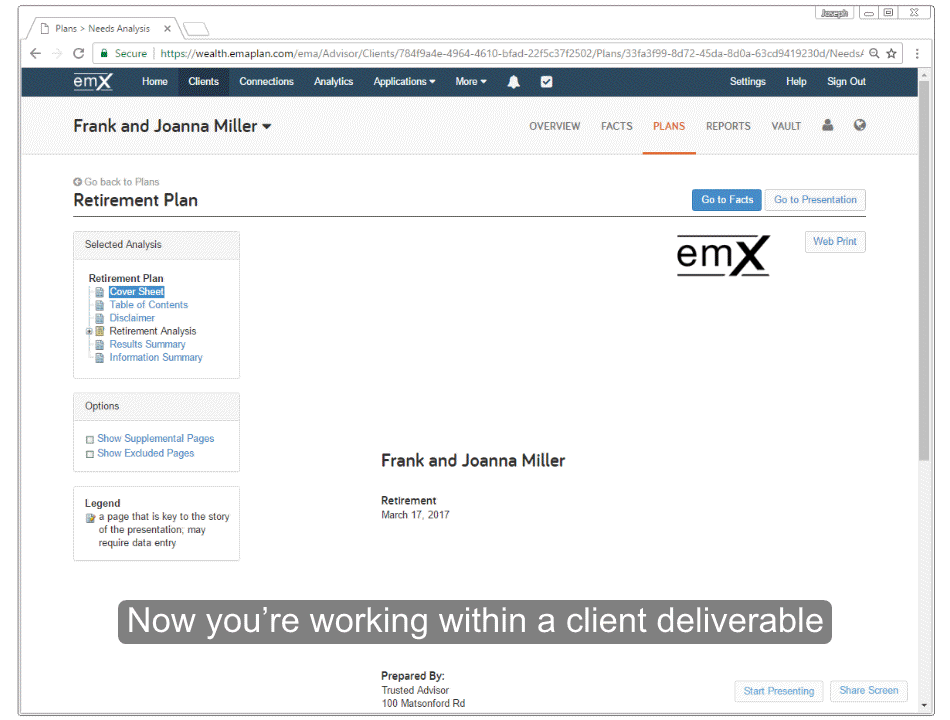 You'll notice a "scorecard" to your right, which summarizes your client's information
Once the data is entered, your analysis is complete. To see the finished product, select "Go to presentation"

Here, you can exclude pages by unchecking the box next to each page
To view the finished product, select "View Online Presentation"

When you're ready to deliver to your client, select "Request Printable Version" to have the report sent directly to your client's Vault