Whether you're just getting started with eMoney or are an experienced user with questions about the software, you'll find the resources you need in The Knowledge Base.
The Knowledge Base is a one-stop tool where you can find helpful resources to assist you with using eMoney. Not to mention, it is available for your direction 24/7. And you won't have to bother calling into our Customer Support Team for guidance. This tool is conveniently located within the Help tab on the Blue Navigation Bar on the top of your page.
Knowledge Base Search Bar 
All available how-to's, user guides, and videos are searchable in the Search Bar that is found in the Help tab. Take advantage of this to search for specific topics in the software that you'd like to research. Forget how to input an annuity? We've got a user guide for that. This drop-down box will also show the most recently added and commonly used how-tos.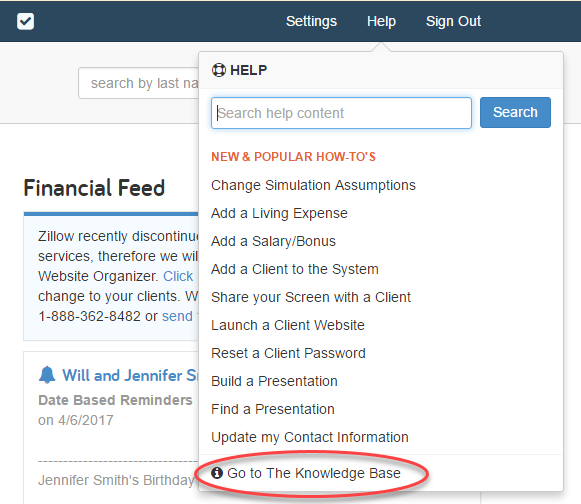 The Knowledge Base is accessible by clicking "Go to the Knowledge Base" at the bottom the Help tab. This is where you can take courses and browse the available resources. 
Courses

The first tab of the Knowledge Base is great for onboarding new users in your firm. If you are just getting started with the software, this user-friendly program includes how-to's, user guides, and videos that you can review at your own pace. Just follow the courses from left to right, starting with client onboarding and fact input then ending with planning and analytics.
Resources

All of our how-to's, user guides, and videos live in the Resources tab of the Knowledge Base. This area is best for browsing the expansive learning material that we have available 24/7 when our Customer Support Team is not available.

HOW-TO'S
The "how-to's" were constructed to guide you step-by-step through different activities in eMoney.  This easy to use tool will walk you through the process of a task in an instinctive approach to learning common actions within our system. "How-to's" can get you sharing your screen with a client or changing simulation assumptions. With our expanding library of "how-to's" and dozens currently available, you will be an eMoney pro in no time!