eMoney Advisor offers features that are geared towards your prospective clients. From Traditional Lead Capture to our revamped Advisor Branded Marketing , our prospecting tools can help you build your book of business. We designed these tools help you attract potential clients and demonstrate your value.
---
Advisor Branded Marketing
Let us worry about marketing to your clients and so you can have more time to focus on productivity of your business. Our Advisor Branded Marketing subscription provides you with media to generate new clients and tools to engage existing clients and allows you to reach your clients at any phase of your client process. You can share media on digital channels to catch the eye of potential clients. Start your marketing campaign now and sign up for a demo today!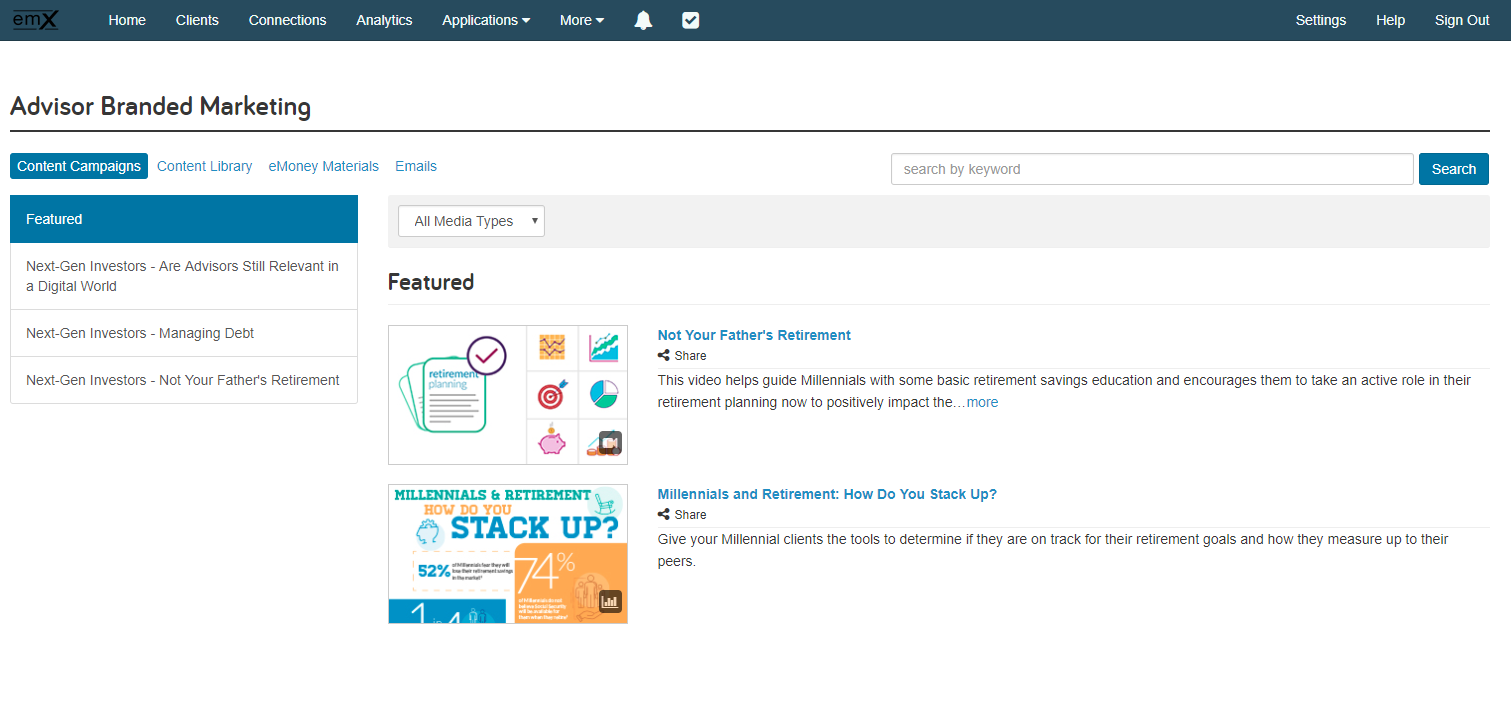 Lead Capture
Lead Capture attracts prospective clients to sign up for an advisor's or firm's services. Create a link to this interactive tool in your Settings tab and include it in your email signature, corporate website, or social media accounts. By clicking on the generated link, clients can select a goal, view a funding gap, and request a consultation with you. Once they complete Lead Capture, they will be added to your Clients tab as a Lead Client so you can easily keep track of prospects.
Best Practice: Customize the Headline and Body in the Settings tab to brand it specifically to your firm.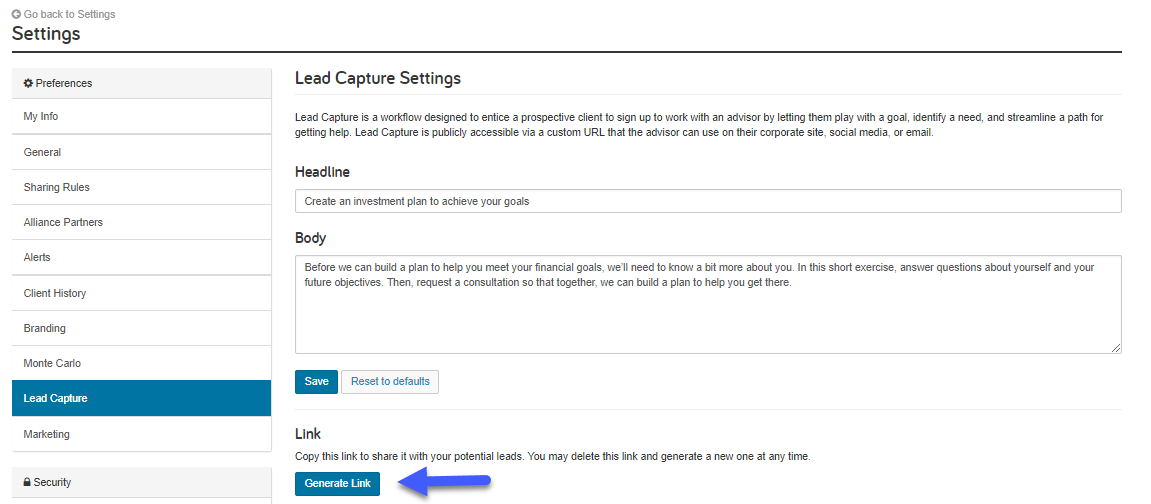 Needs Analysis
Once you have basic information about the client in eMoney from Lead Capture, you can create a deliverable to analyze their current needs. Our quick and easy Needs Analysis requires minimal information to produce something tangible for the prospect. When your Basic Facts is complete, you can build a preliminary Needs Analysis presentation in under 30 minutes to and advise them on a solution.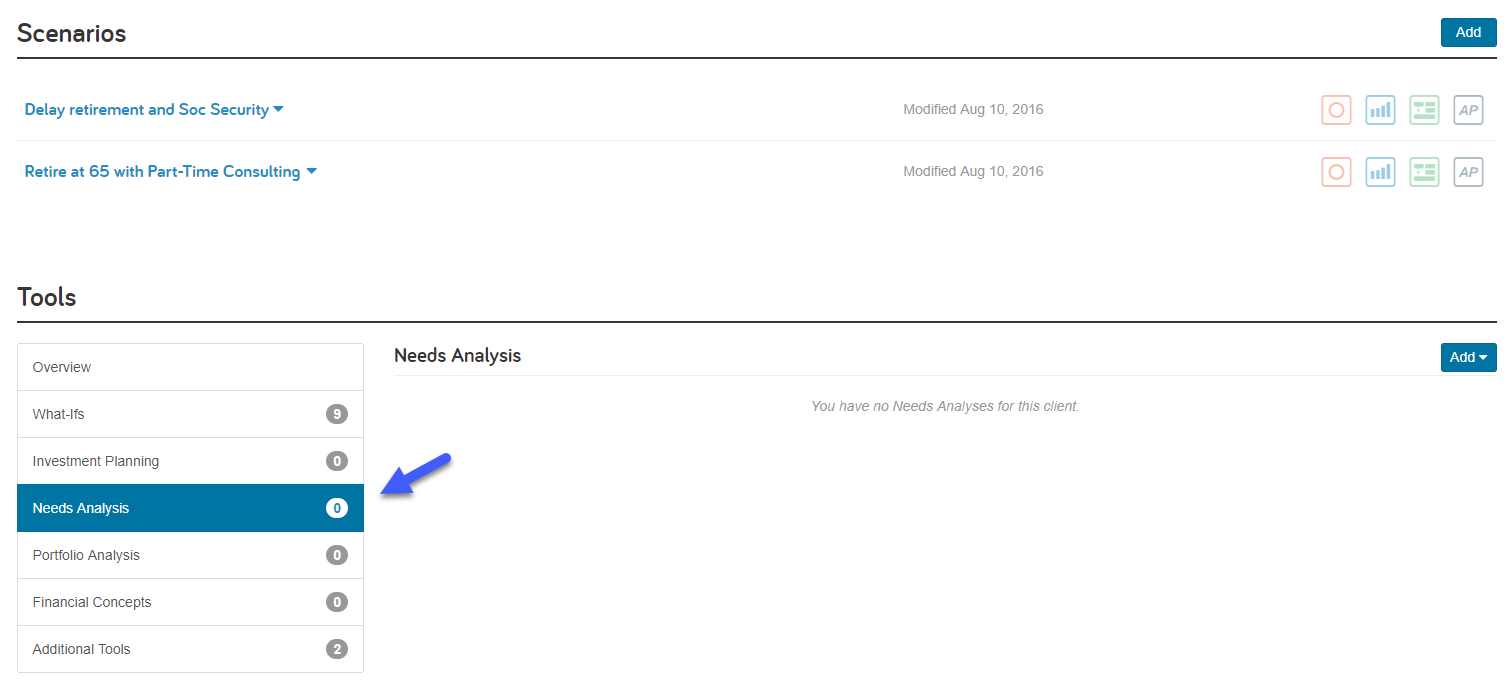 Sample Clients
Sample clients are already pre-filled with all the Facts and Advanced Planning Scenarios so you don't have to spend time creating your own. Utilize your Sample Clients to show a prospective client the eMoney Client Website, reports, or interactive planning tools without exposing any confidential information belonging to your clients. This will allow you to grab their attention and show your prospects what your firm can do for them.
Best Practice: Edit the Sample Clients to match the profile of your typical client so will be relatable.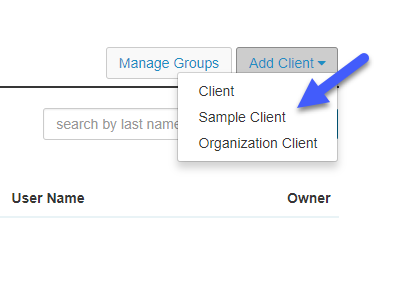 – Marah Hoffman, Success Coach
---