Sharing Rules allow an advisor to share clients, they own, with other advisors, planners or assistants in or out of their office. They can either share all your clients or share individual clients for specific people.
When setting up your Sharing Rules you have the option to Share All Clients, create an Individual Sharing Rule, or make a Private Client.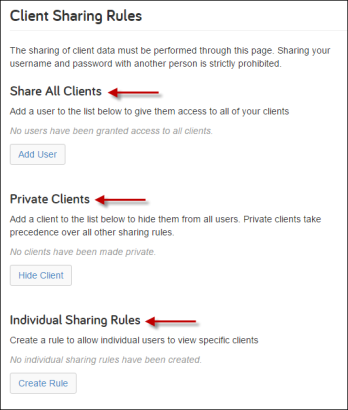 Share All Clients, much like it sounds shares every client under your ownership with the exception of Private Clients and allows you to Delegate Client Management to the users with whom you are sharing.
Delegation provides additional benefits beyond access to a client with delegation privileges a user can create or delete clients on your behalf, set up client websites, and manage your Investment Assumptions. allows those sharing your clients to have the same level of control over the client like yourself.
Private Clients remain held back and invisible even when Sharing All Clients. Advisors can make any client private. This typically happens when an advisor has their own information/plan entered and they do not want anyone else to see it.
Individual Sharing Rules can be set up when you only want to provide access to a single client.  Please note that delegation privileges are not available when using Individual Sharing Rules.
Sharing Rules FAQ:
I am an Assistant and my Advisor shared a client with me, but I cannot see their client site.
This typically signifies that the advisor did not check off the Delegation option when setting the rule. Have the advisor go back to Settings and delete the existing rule. Then create another one, but check off Delegation this time. Or, the client is private.
---
My advisor shared a client with me, but I cannot see any plans they created.
The most common cause of this issue is when you have an Assistant licenses you do not have access to the planning tools.
---
For any other questions please contact us at 888-362-8482 or email customerservice@emoneyadvisor.com. To continue learning on your own log into eMoney and head to The Knowledge Base, on your navigation bar under Help, for more information on eMoney features!