Advisor Analytics Pro brings you the powerful data you need in order to see, understand, and act on opportunities for both your clients and your business.
But with 20+ new and updated charts (and more to come), a fully customizable dashboard, and access for advisors and support roles, where do you start?
Follow this guide for 5 easy steps to getting started with Advisor Analytics.
1. Get Acquainted with Your New Tool
We've added a host of new charts and functionality to your Analytics tool, so before you get started analyzing data, take a look around to understand the new functionality. First, get the basics with our user guide and training overview video.
Next, learn how to add, remove, or filter your new charts with three new interactive How-To's. Just search for "Analytics" under Help on your navigation bar. Then, spend some time on the Add Charts screen to see the new insights available to you. Click the Preview link to see how the chart looks with your data, so you can determine the charts you'd like to see to your custom dashboard.
---
2. Customize Your View
Once you've added charts to your dashboard, you'll start to see your business come to life. The next step is to prioritize the information that's most important to you. Customize your dashboard by dragging and dropping your charts to create a personalized view.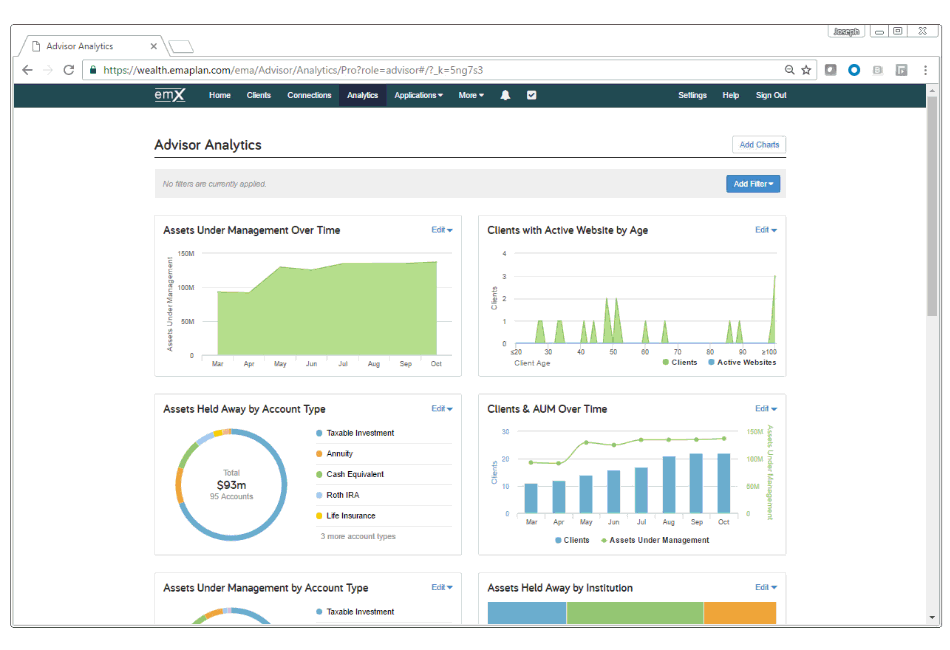 ---
3. Share Clients With Your Team
With Advisor Analytics Pro, your support staff has access to the same information as you, so you can identify opportunities – as a team. But your team members will only have access to see the clients you've shared with them, so get your team on the same page by sharing clients you'd like your staff members to see on their dashboards.
---
4. Establish a Plan
It's easy to get distracted by your newest charts and filters, but don't forget to set a plan for using Advisor Analytics Pro. Be sure to set your goals up front, by asking yourself questions like: Am I looking to increase my Assets Under Management (Or grow my business)? Do I want to increase client engagement?
Once you've determined the insights you hope to gain from your new tool, set a reminder to review your Analytics on a regular basis, like at the end of each month. Also plan to review your client's Analytics before each meeting.
---
5. Take Action
Once you've set up your dashboard and defined your objectives, it's time to take action.
If you've determined your clients aren't engaging with their client website, kick off a re-engagement campaign. Send your clients a video to help them understand the benefits of their personal financial management website.
Have you identified a client with an excessive interest rate or cash balance? Show them the value of refinancing or investing by using the Decision Center.
---
With deeper insights into your business, you have the information you need to make better decisions that influence the kind of experience you offer your clients, identify even more hidden opportunities, and ultimately grow your businesses.