Connecting all client accounts in one platform empowers advisors to offer a comprehensive financial picture and helps scale the financial planning process. However, when the accounts break or are not working, it can also become a major pain point for you and your clients.
So how do connected accounts work, what is being done to ensure a more stable connections experience, and how do you explain this to your clients?
What are Connections?
Your platform uses two types of Connections to aggregate client account data: Advisor Managed and Client connections.
The most notable Advisor Managed connection is our PNC Hawthorn Direct Feed, which lets you directly import the managed investment accounts for all the clients from your book of business via a secure bulk data file that is updated daily.
While your PNC Retail & Held Away Accounts connection uses a Direct Web Service, an API, to link to your clients' accounts like:
Checking & Savings
Money Market
Credit Cards
Taxable Investments
Insurance
Loans (Mortgage, Auto, Student, Personal, etc)
CDs and more
Advisor Managed connections are the recommended source of account data as these are established channels between your platform and the institutions that provide access to your entire book of business through one aggregation or connection source.
Client connections like PNC Bank – Personal Banking, link to only one client's account and relate to a client's assets not currently under management or to personal assets and liabilities like credit cards or home loans. Data for Client Connections is primarily gathered through screen-scraping and APIs.
Screen-scraping is the legacy industry standard and relies on using the client's username and password to log in to the institution's Web page to copy the account data.
Why are these connected accounts breaking?
With the increasing frequency of large consumer data breaches (almost 9000 since 2005 ), financial institutions are more concerned than ever about the risk of sharing credentials with third-party data aggregators. Many have even started blocking screen-scraping technology entirely—locking out clients from accessing their data through an outside source.
Beyond security concerns, screen-scraping also results in more frequent broken accounts as any changes to website design (site redesigns or even just a pop-up message) will cause the connection to break and can require a programmer to adjust the settings before it starts working again.
That's why we've been focusing on creating more API-based connections.
What is being done to improve the client connections experience?
We've already transferred some of our highest volume connections like Capital One, Fidelity, and Citibank to API-based data aggregation. These APIs alone make up over 1.4 million connected accounts. And, we will continue to transition millions more through the rest of 2019.. We're currently developing APIs for our top Connections by volume like Schwab and Bank of America with even more on the roadmap in the next year.
Share our Guide to Data Aggregation to help your clients understand why their Connections are breaking and why we're switching to APIs to create a more stable platform.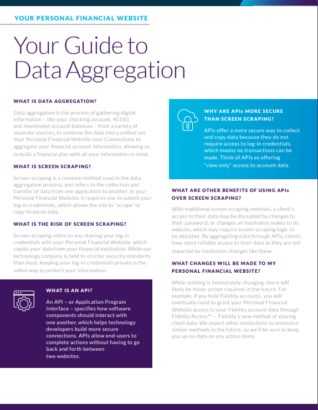 Then check out this guide on Introducing Connections to Your Clients for best practices on setting expectations and client connections management, or check out the Connections Resource Center for more information on Connections and client-facing resources.
Note: APIs require an agreement between the aggregator (eMoney) and the financial institution and allow users to authorize the transfer of data between their banks and eMoney without sharing their login credentials.
Smaller institutions may not have the technology to support API-based aggregation, and in these instances, we will continue to support parser-based (screen scraping) connections.