Fees commonly need to be factored in to a financial plan. In eMoney, you can enter fees in two ways— advisor fees and account fees. But which option will work best for you?
Let's look at how to input an advisor fee schedule, apply advisor and account fees, and where these fees appear on reports.
Advisor Fees
You can add a default fee schedule in your global settings to apply to all future clients or you can add a fee schedule for individual clients in their advanced facts. The fee schedule will only apply to assets under your management and advisor fees show as an expense on the Cash Flow report.
How to Enter an Advisor Fee Schedule
1. Global Fee Settings:
Go to your advisor Settings
Select Assumptions > Misc under Fact Defaults
Click into the Fees tab
Note: The default global fee settings only apply to new clients. Existing client fees are not updated. For existing clients, you need to use the Client Fee settings.
2. Client Fee Settings:
Go to Advanced Facts
Select Assumptions > Miscellaneous
Click into the Fees tab
3. Entering a Fee Schedule
Select whether you want to use a graduated schedule, which typically leads to higher fees.
Create the fee schedule, based upon assets under management, by defining the upper-end value and fee percentage for each range. You'll add one line at a time with no limit on the number of lines entered.
Fill in the field > Select Insert
View your Fee Schedule
Click Save
It's important to note that you can select if advisor fees are eligible for deduction on the client's income tax return. You will not have this option for account fees.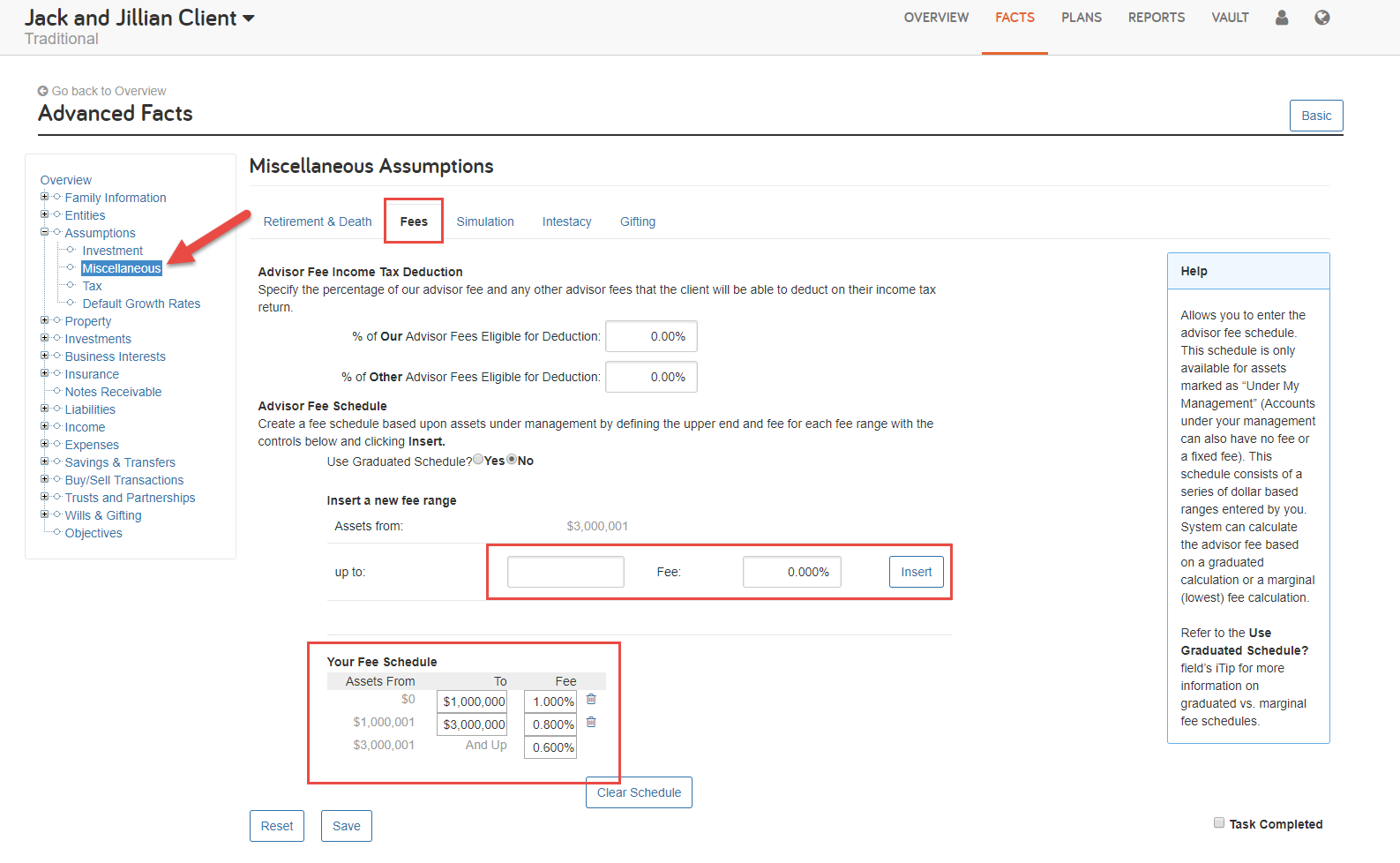 How to Apply Advisor Fees
Advisor fees require you to select the accounts subject to fees individually, since they are not automatically applied to all assets under management.
To apply advisor fees:
Go to a client's Advanced Facts
Click into an account under Investments
Confirm the asset is under your management on the Basic tab
Click into the Fees tab
Select the Advisor Fee Calculation:

No Fee Applied – no fees are applied
Use Fee Schedule – fees are calculated based on the fee schedule entered in your Assumptions
Use Fixed Percentage – fees are calculated based on the fixed percentage entered in the Fixed Advisor Fee field for this individual account

Click Save
You'll repeat the steps above for any asset subject to an advisor fee.
Advisor Fees in Reports
Advisor fees appear as an expense in the Cash Flow report. To view, navigate to Cash Flow > Total Expenses > Other Expense Flows > Additional Expenses. The report displays the total cost of advisor fees.
Account Fees
You'll enter fees on a client level and by account within Investments. Account fees decrease the growth in the portfolio.
How to Apply Account Fees
To apply an account fee:
Go to a client's Advanced Facts
Click into an account under Investments
Click into the Fees tab
Enter the fee percentage in the Account Fee field
If you enter an Account Fee and Other Fee, they're added and applied together
Click Save
Account fees show as a reduction of growth, not as an expense. Both gross growth and effective growth rates are visible on the Fees tab.
Pro tip: Effective Growth Rate is: Growth Rate – [(Account + Other Fee Rate)] * (1 + Growth Rate)]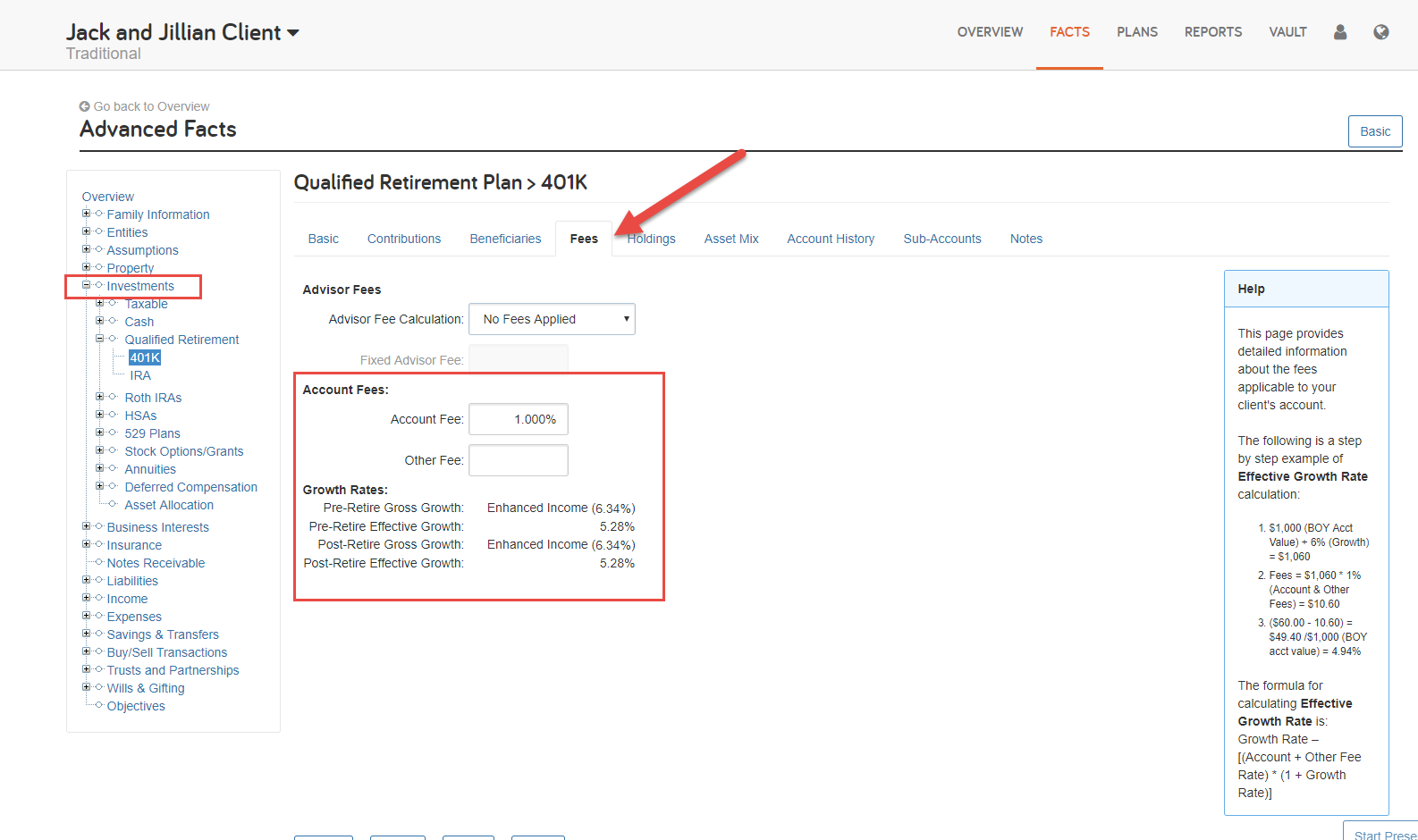 Account Fees in Reports
Unlike advisor fees, account fees are not visible on the Cash Flow report. You'll use the Ledger report to confirm the applied fee and to see the impact on account growth. Under the asset in the Ledger, there will be a line for Growth that includes the Account Fee Adjustment calculation.
Interested in learning more? Visit our Advisor and Account Fee user guide.
Have a question? Give us a call at 888-362-8482 or send us an email.