The Decision Center helps you collaborate with your clients and demonstrate how their decisions impact their financial futures. In Decision Center, you can view a client's Lifetime Portfolio Value, Monte Carlo, and Cash Flow.
Today, we'll look at how you can use the Cash Flow Overview to increase the value to provide to clients by having an interactive retirement income conversation within Decision Center.
Cash Flow Overview
When presenting to your clients, the Cash Flow Overview provides a holistic view of a client's salary/bonus, Social Security, distributed investment income, required minimum distribution, other income sources, withdrawals, and expenses, showing them exactly where they stand and how long their assets will last. You can scroll over any year for more detailed information or view the Cash Flow Details.
Using Decision Center techniques, you can quickly demonstrate changes to their current plan to show clients what they may have to adjust to enjoy the retirement they desire. The Cash Flow chart will update in real-time as you add and select techniques.
To view Cash Flow in Decision Center:
Choose a client and click Plans on their Overview page
Click Decision Center
Select Cash Flow from the drop-down menu under Selected Report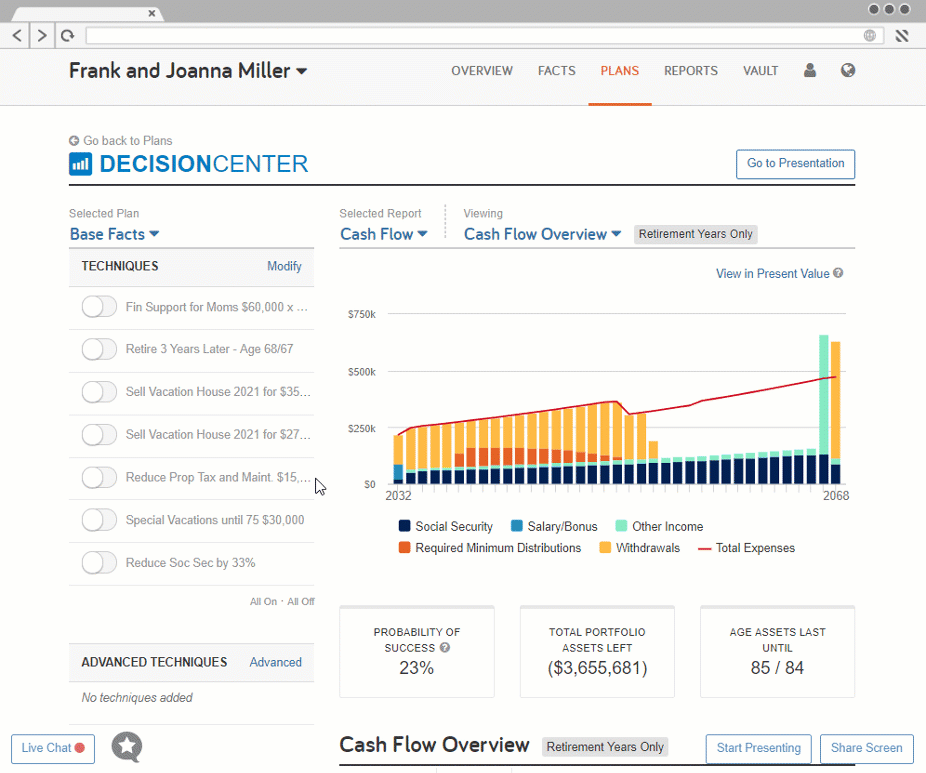 All Years, Retirement, and Custom Years View
Next, you can define which time frame is used in the Cash Flow Overview chart: pre-retirement years only, retirement years only, all years, or custom. This makes it easy to zoom in on the time periods that are most important to your clients.
You can select the years through the time frame menu or an interactive slider on the top of the chart.
With Cash Flow Overview, you can deepen conversations with clients at any stage of the wealth cycle and demonstrate in real-time how their pre-retirement decisions impact their financial futures.
For more information on adding techniques, check out Decision Center Techniques.
Questions? Send us an email or call us at 888-362-8482.