Every experienced financial professional knows that when it comes to your financial planning technology, continued client site engagement is just as important as initial adoption.
So what are some best practices you can use to improve the long-term adoption and engagement of your personal financial management site?
Don't roll out a blank slate
First impressions matter. To ensure your clients have a positive first impression of the client site, it's important to set up the basics beforehand.
This means connecting any managed accounts through your advisor connections and adding as much client information as you can, like family members and real estate properties. Let them fill in the blanks only after you've provided the broad strokes to limit the initial lift and elevate the client experience.
When you don't have a wealth of information to add in advance, the Onboarding Wizard is a great tool to provide a guided onboarding experience while gathering essential information. This tool is enabled under Manage Client Website > Onboarding Options. You even have the ability to customize your welcome message.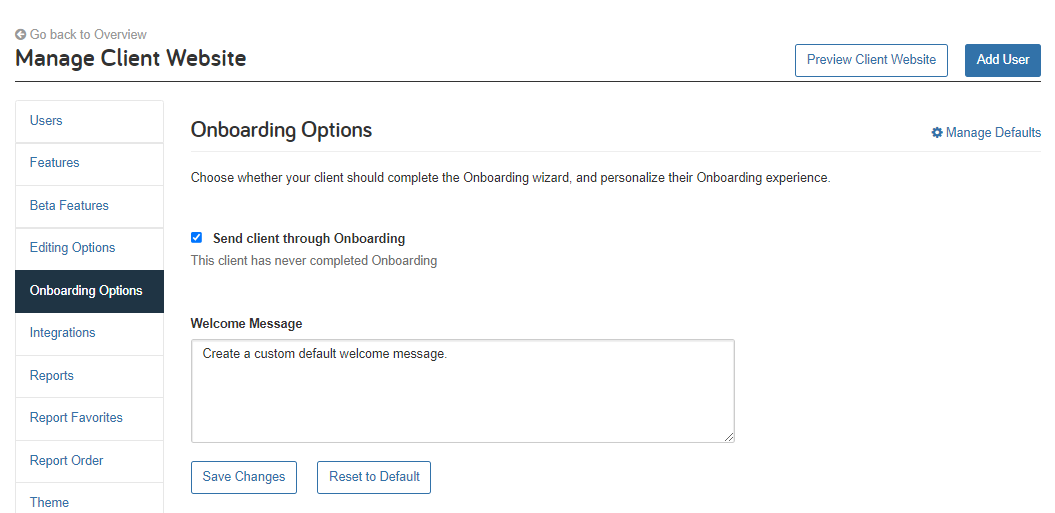 Once enabled, the first time your clients log in to their financial website, they'll be prompted to answer a short series of questions that will help populate the site with their family information, income, and other pertinent facts.
Send clients on a tour
Help your clients get acclimated with their new personal financial management site right away by recommending they Take a Tour of this Page as soon as they log in. Accessed through the Help menu this tour walks them through all the modules on the Home page and explains what to expect from each feature.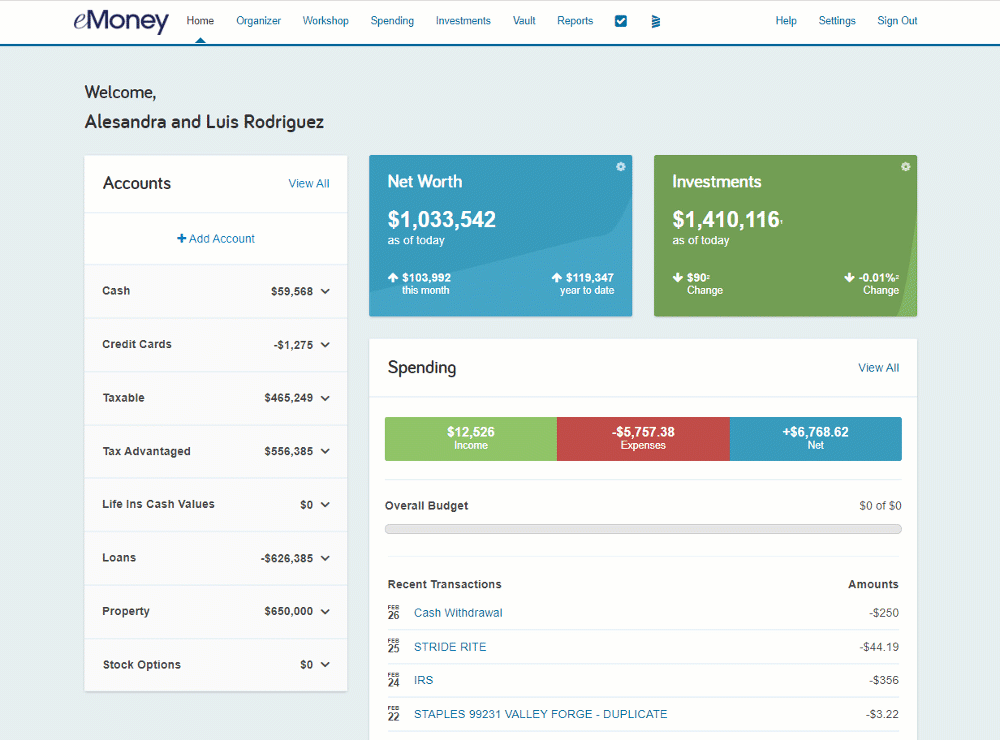 Integrate the Client Site
A number of the integrations available with eMoney have functionality that extends to the Client Site.
Be sure to enable these integration features to add even more value to their experience. Integrations like Riskalyze add a new tile to the Home screen showing the client their Risk Number and Envestnet allows users to single sign-on from their Client Site directly to the Tamarax portal via a link on the navigation bar.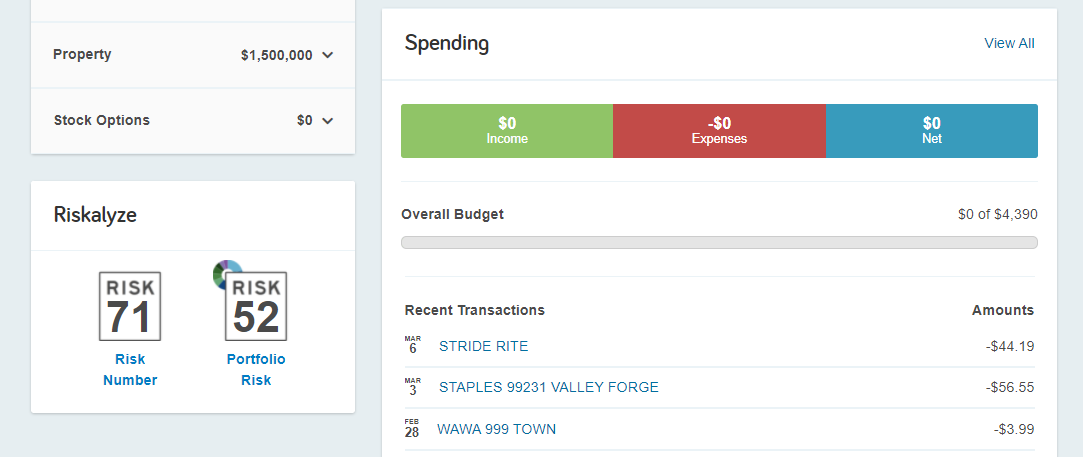 Encourage clients to add the website to their home screen
After ensuring your clients have linked all their accounts, encourage them to add the mobile page to their home screen. This provides streamlined access to their personal financial management site and encourages them to log in and monitor their accounts more regularly.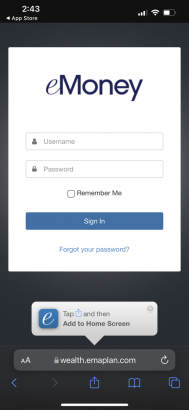 Simply encourage them to access the website on their mobile device, then click the Share button and select Add to Home Screen. For Android devices, just use the menu icon in place of share (the three dots).
Have clients customize their alerts
Working with your clients to configure their alerts after rolling out the client site can have a long-term impact on their engagement. You can set alerts related to personal finance, investments, and reminders about important financial housekeeping dates like insurance policy anniversaries.
Here are some of our favorite alerts from each category.
Note: Email recipients must be enabled with at least one valid recipient for clients to receive any email notifications.
Personal Finance
This category is great for clients who use Foundational Planning or are just looking to keep a closer eye on their spending and transactions.
Alerts like Low Cash Balance or High Credit Balance can keep them dialed in to what's happening within their accounts, while Large Expenses can help them keep an eye out for fraudulent transactions. Budget Exceeded is also useful for clients taking full advantage of the spending tools available on the client site.
Investments
If you have a client who loves to log in and check their holdings regularly, the Investment Activity alert can be a great resource for them to stay on top of the latest investment transactions. Excess Cash Position can also be helpful to ensure they're taking full advantage of their assets.
If clients are more interested in tracking individual securities, the Security Prices alert allows them to monitor individual stocks and mutual funds.
Reminders
This category covers a variety of topics from annual financial housekeeping tips, like reviewing your contributions, increasing savings, and making charitable donations in the End of Year Planning reminder, to simple reminders about essential dates like Insurance Policy Anniversary and Tax Filing Dates.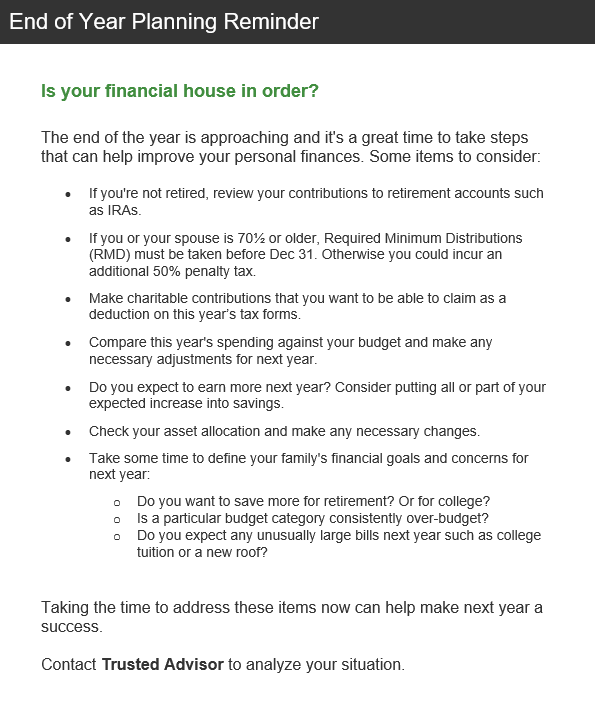 Additional Client Site Training and Best Practices