In our Guide to Getting Started with Bamboo, you learned how to create a marketing plan. Then, you learned how to implement your plan to attract prospects online.
Now let's take another look at the example marketing plan in your Getting Started Guide.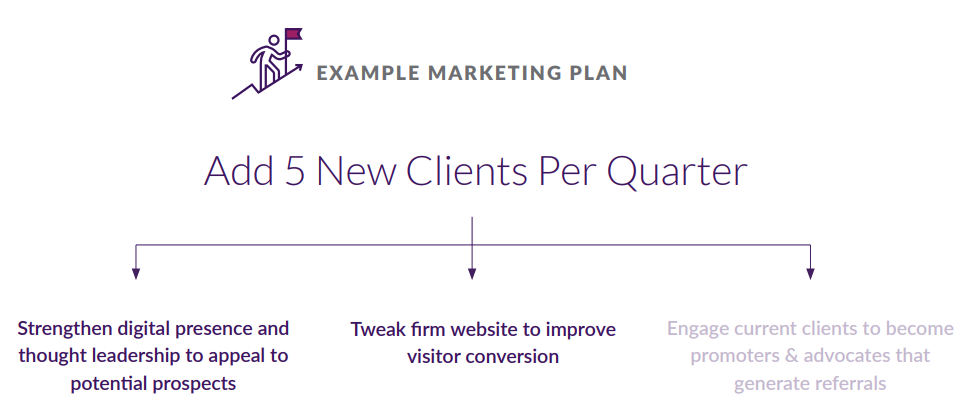 We'll build upon our first example strategy, "Strengthening (our) digital presence and thought leadership to appeal to potential prospects," and to execute on the second strategy "Tweak the firm website to improve visitor conversion."
By combining these strategies, you'll convert the attention you've earned online into real leads that can become clients.
But when a lead engages with your content and lands on your website, what do you do? Let's walk through some of the things you (or your Web designer) should be doing to optimize your website for conversions.
Focus their attention with a clear message.
A landing page is a Web page on your site that has been designed to capture and convert a prospect into an actionable lead. So it's important to make sure your landing page has a clear headline that highlights the reason they came to your site. This is your opportunity to be bold and straightforward.
Keep your copy simple, short, and in tune with the messaging that brought them to you in the first place. If your lead came to you from a college planning campaign, don't encourage them to learn more about retirement. Keep your message consistent.
Don't give them too many options.
Remove the clutter on your landing page. You've done the work to get them there, so right now you want to keep them focused on what's important. This means navigation options should be minimal and the content of your page shouldn't stray from the messaging you defined above.
You don't want competing information battling for their attention.
Keep your copy simple, short, and aligned with the messaging that brought them to you in the first place.
Be mobile friendly. 
60 percent of all searches are done on a mobile device. That's right, 60 percent! And, it's where most of your prospects are engaging with your content — whether it's on social media, email, or through your website. So it's important that your site is responsive.
Here are a few things to check to make sure your site is mobile compatible:
Ensure that your content is no wider than the screen (does not requires horizontal scrolling).
Make your text large and legible to readers using mobile devices.
Ensure that any clickable elements are spaced far enough apart to prevent erroneous clicks.
Make sure your page loads quickly by reducing file sizes.
Pro-tip: See how mobile-friendly your site is with Google's Mobile-Friendly Test.
Leverage video to increase engagement
Using video on websites can help you convert prospective clients by 80 percent. With a huge video library available in Bamboo, if you're not leveraging video on your landing pages, you're missing a great opportunity.
Videos like the Personal Financial Website Overview can easily be added to your financial services page to highlight the Client Portal as part of your client offering. Or favorites like Life in a Box can help you explain the power of having a single place from which clients can understand their entire financial situation.
Employ a clear call-to-action (CTA)
Finally, make sure your prospects know what the next step entails. When they fill out your form, what happens next? Consider using your Lead Capture link as a call to action. Not only will this automatically create the client profile within eMoney as a lead, it will also provide a smooth workflow you can leverage to collect essential information.
Pro-tip: For an even more in-depth look at how to unleash the full power of your website, check out the webinar recording for Beyond Your Website: How to Generate More Leads Online.
---
Stay tuned for the next part of this series where we discuss how to take your client retention to the next level!