Decision Center is an interactive cash flow planning tool that shows clients in real-time how their financial decisions can impact their plans.
Let's look at how you can use Decision Center – Techniques in a client meeting to help clients visualize their financial plans and see how potential changes can impact their goals.
What are Techniques?
When you open Decision Center, you'll see the Lifetime Portfolio Value chart that shows a client's portfolio as of today. There are two ways to present recommendations or alternatives to your clients within the tool—Techniques and Advanced Techniques.
Techniques are a quick and simple way to make changes to the client's plan. If your client wants to see the impact of retiring a year earlier – you can use Techniques to show this during a client meeting. By clicking Modify, you'll see the available options.
Green – Techniques that affect a client's inflows. For example, selling real estate or adding an income.
Red – Techniques that affect a client's outflows. For example, purchasing a car or adding an expense.
Blue – Changes to existing facts. For example, changing the retirement age or changing growth rates.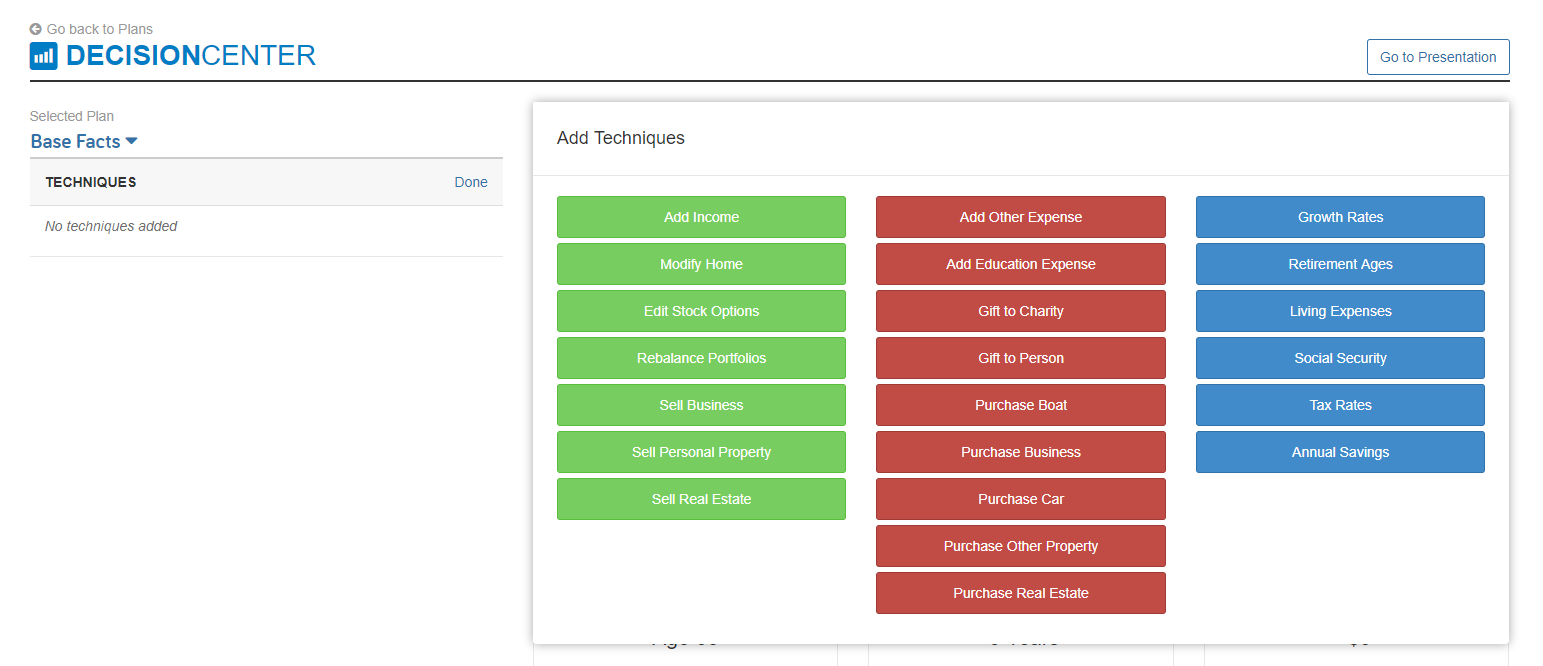 Advanced Techniques are the changes you've added within a scenario in Advanced Planning. Before a client meeting, you can prepare a scenario with your recommended changes to present in Decision Center. To access Advanced Techniques, you'll click on the drop-down arrow next to Base Facts and select one of your custom scenarios. All changes made within the scenario will appear under Advanced Techniques and can be toggled on and off.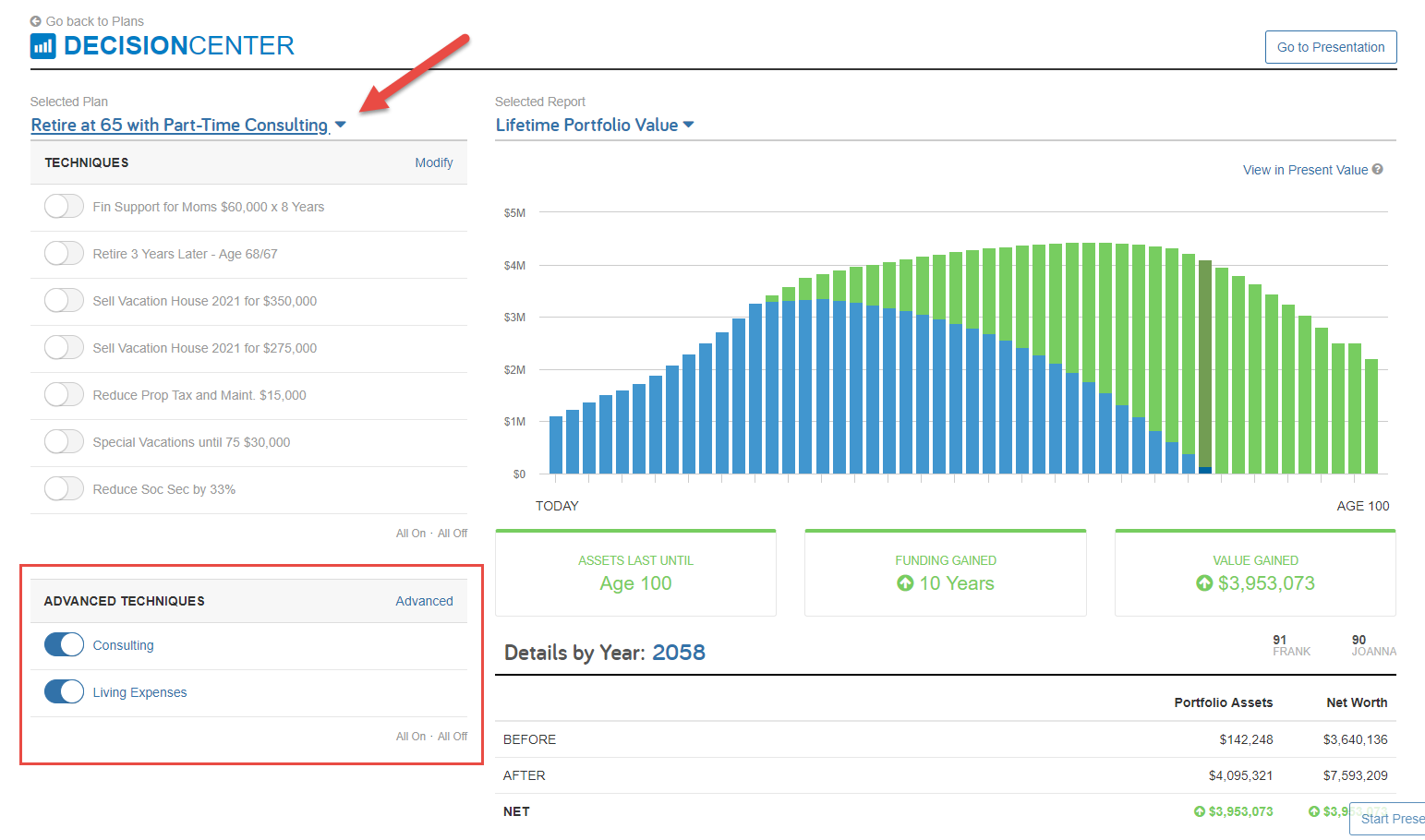 You can also layer Techniques on top of Advanced Techniques. For example, while you're presenting a recommended scenario to your client, they may want to know if they can now afford a vacation home. You can add the Purchase Real Estate Technique to see if this change is possible.
However, it's important to note that, when you turn on a Technique in Decision Center, it will not be saved to your scenario.
How to Add Techniques?
While Advanced Techniques are created within a scenario, Techniques are added in Decision Center.
To add a Technique:
Click into a client's Overview > Plans > Decision Center
Click Modify next to Techniques
Select a Technique
Rename the Technique and click Done
Click on the Technique name to add more detail, for example, the year the client wants to retire or the amount of their income or expense
Use the toggle to turn Technique on and off
You will repeat this process to add more Techniques. To remove a Technique, click on Modify and the red X next to the Technique name.
Presenting in Decision Center
Techniques only live within the Decision Center and Distribution Center. When adding a Technique in Decision Center, changes will not be applied to the Facts, Scenario, or Reports section of the platform.
However, each report in Decision Center — Lifetime Portfolio Value, Cash Flow, andMonte Carlo is dynamic and will update in real time to any Technique and Advanced Technique selected.
On the Lifetime Portfolio Value chart, you and your clients can see the impact of the selected Techniques. The bars will adjust as you add new Techniques and toggle Techniques on and off. Green bars will represent value gained, and red will represent value loss.
These reports help clients to see their plans and make more informed decisions about their financial futures.