As you are entering your client's data into the Advanced Facts, you notice you have the options under Expenses – Living, Education, and Other. While Living and Education expenses are self-explanatory, why would you add an item under Other?
Other Expenses gives you more flexibility. For instance, they can help you illustrate unexpected expenses—your client needs to use their emergency cash account to cover the cost of a home repair or to check if they've saved enough for a special trip they've been planning.
Living Expenses are automatically funded through cash flow. This means, if a client's expenses are more than their inflows (income), the liquidation strategy will use their available assets to cover the negative net cash flow.
But with Other Expenses, not only can you enter a one-time expense and select the year in which it occurs or add a custom reoccurring expense, you can even select a dedicated funding source—instead of funding through your normal cash flow.
How to Add a Dedicated Funding Source
After filling out the Basic tab and entering the annual amount, deductible type, and the date of the expense, you can take a detailed look at funding by navigating to the Funding tab.
Note: Education Expenses also have a funding tab.
In the Funding tab, the percentage of projected funding, the total cost of the expense, and the total funding split between dedicated and non-dedicated sources are displayed.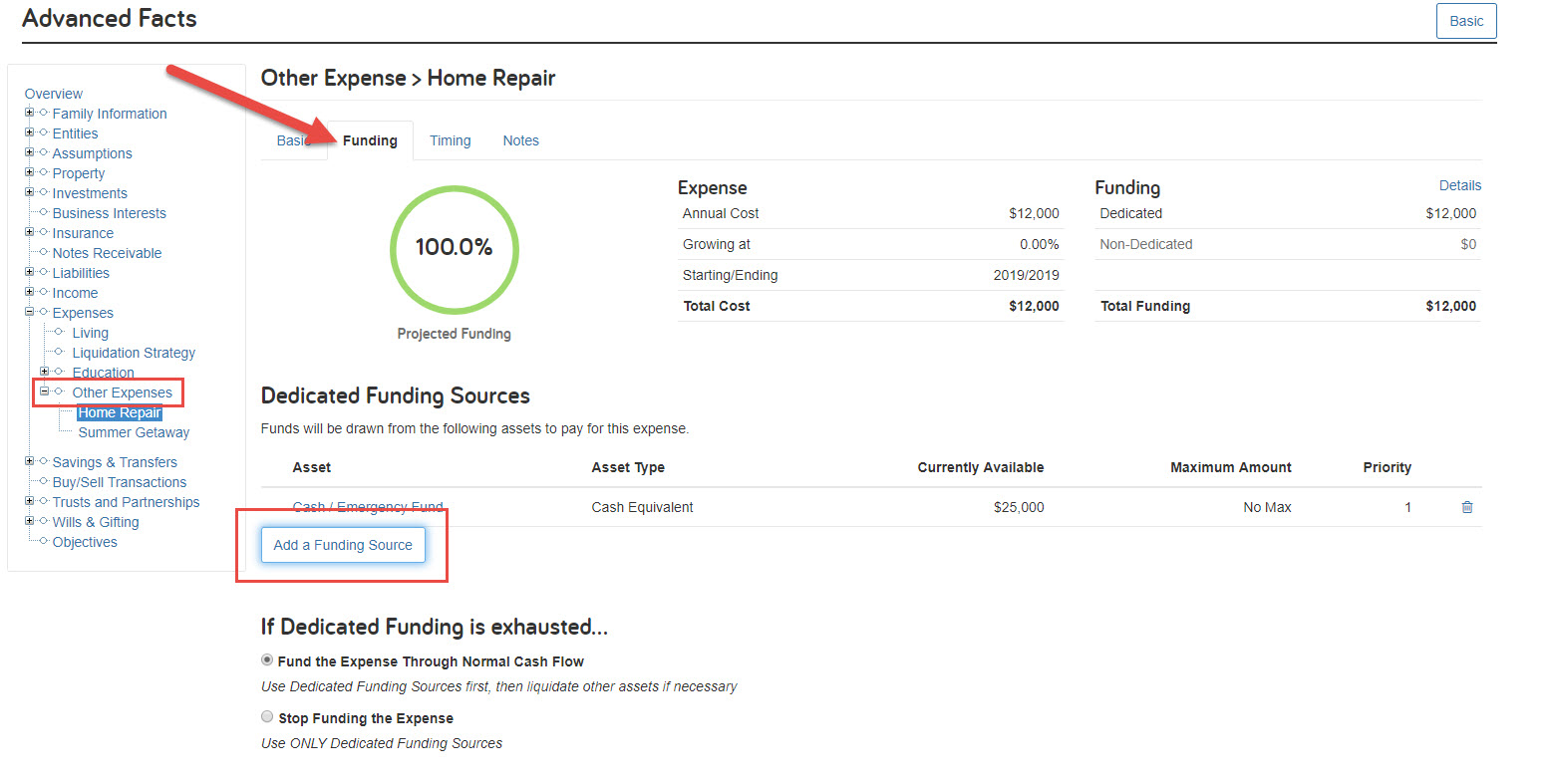 To add a Dedicated Funding Source:
Add a Funding Source
Choose an Asset(s) from the drop-down list
If you are adding more than one asset, assign it a number for priority order, and decide whether you want to use 100 percent of the asset or limit the total amount of withdrawals taken from the asset
Click Save
In the If Dedicated Funding is Exhausted section, you can decide whether you want to continue funding the expense after exhausting the dedicated funding sources. By selecting Stop Funding the Expense, eMoney will not automatically liquidate other assets using the default liquidation strategy.
Other Expenses are a great way to add home improvement, travel, medical, or new car expenses. They can help you illustrate funding an education expense with a 529 plan or funding a medical expense with an HSA account.
To check your inputs in the Cash Flow report, Other Expenses will show under the Total Expense column and withdrawals from dedicated assets will show under the Planned Distribution column.
Have a question? Give us a call at 888-362-8482 or send us an email.